Rider Tips
#AskDCTA: What are the Best Ways to Travel with Kids Riding DCTA?
June 26, 2018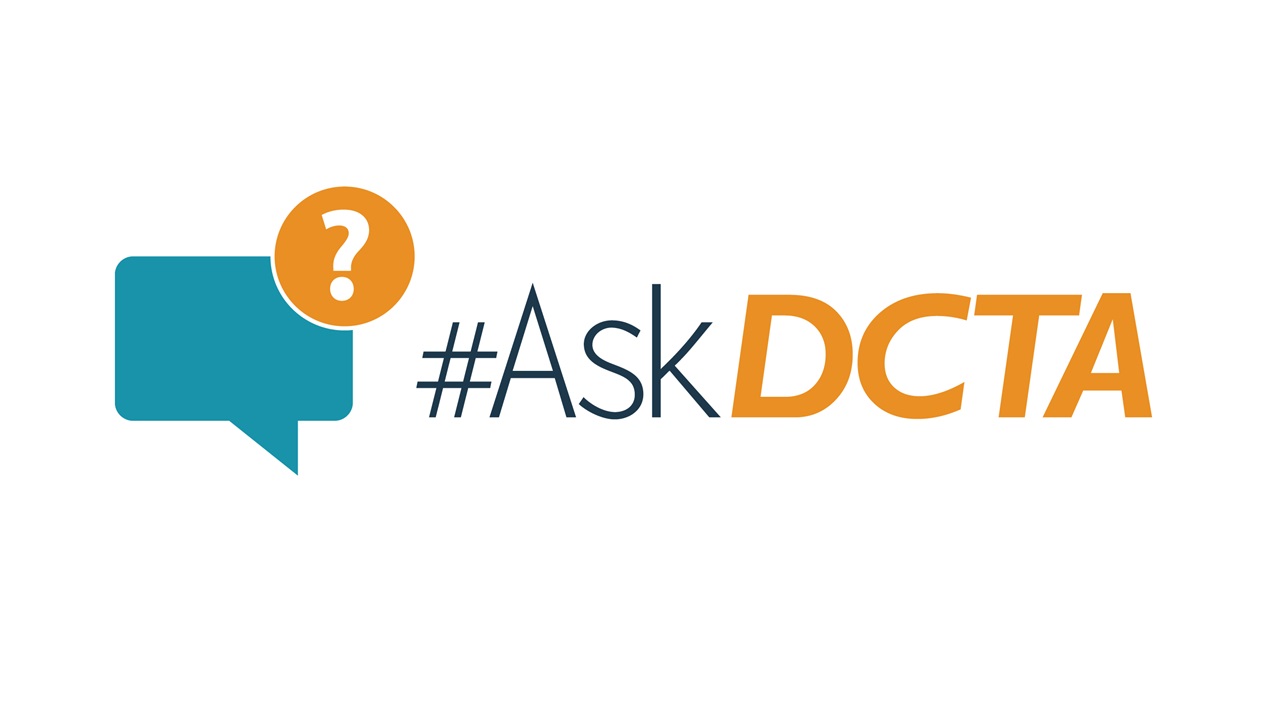 Have you ever wondered about DCTA's lost and found policy? Not sure how to ride DCTA with your bike? Now you can #AskDCTA! In our monthly blog content series, our customer service team answers frequently-asked rider questions to better engage with our riders and improve their experience when riding DCTA.
For the month of June, Samantha Balderas – Customer Communications Specialist – gave us some insight on the best way to travel with kids.
Can I Bring a Stroller on the A-train or Connect Bus?
Yes! Single strollers and carriers are allowed on our vehicles but oversized strollers are not. An oversized stroller is anything larger than a single stroller. It is the passenger's responsibility to ensure that their stroller does not interfere with the safety or comfort of another passenger. A stroller should not block the aisle and it should not have too many items hanging from it.
Passengers may utilize the space designated for wheelchairs or scooters to place their strollers during their trip. However, if a passenger with a disability boards the vehicle, they will be given priority for this space. Bus operators and train conductors may ask passengers with a stroller to move to a safe location within the vehicle, and may also request the passenger to fold up the stroller to ensure the aisle is kept clear. Our operators have complete discretion if they feel the stroller is compromising the safety of passengers.
Can Kids Ride DCTA Free?
Fare is not required for kids who are four and under. Reduced fare can be purchased for kids ages five through 18. A valid high school ID or DCTA-issued ID must be present when purchasing reduced fare for kids ages 14 and up.
Parents can also purchase our Summer Youth Pass for $30. The Summer Youth Pass is for riders ages five through 18 and is valid all summer long (June through August)! Kids and teens can get unlimited access to:
A-train
Denton and Lewisville Connect buses
Highland Village Connect Shuttle and Community on-Demand
University of North Texas (UNT) Campus Shuttles
Our Summer Youth Pass is valid June through August. Passengers 14 to 18 are required to have a valid high school or DCTA-issued ID. Passes can be purchased at:
DCTA's online ticket store
Downtown Denton Transit Center (DDTC)
Lewisville City Hall
Highland Village City Hall
For more information about fare for kids, check out our #AskDCTA blog post or visit RideDCTA.net!
What Key Safety and Rider Etiquette Tips Should Parents and Kids Follow?
Safety is a top priority for us! We want to ensure that passengers with kids arrive to their destination safely and on-time. Here are some easy to follow safety tips to remember for your next trip:
Follow Rail Safety Protocol
Cross railroad tracks ONLY at designated pedestrian or roadway crossings and obey all warning signs and signals. Parents and children should always stand away from the edge of the platform. Allow passengers to exit the A-train first before boarding. Children should not run through the A-train aisle and should always remain seated. Visit RideDCTA.net for more DCTA rail safety tips!
Follow Bus Safety Protocol
Parents and children should stand away from the curb while at the bus stop. Do not approach the bus until it comes to a complete stop. Allow passengers to exit the bus first before boarding. Running is not allowed on our buses and children should remain seated while the vehicle is in motion. Visit RideDCTA.net for more DCTA bus safety tips!
Keep DCTA Vehicles Clean
No food or drinks are allowed on our vehicles unless in closed or spill-proof containers. Before exiting the vehicle, make sure no trash or personal belongings are left behind. If a personal item is left on the vehicle, contact DCTA lost and found at 940.243.0077. Customer service hours are as followed:
Monday to Friday: 5 a.m. – 7 p.m.
Saturday: 8 a.m. – 4 p.m.
Sunday: Closed
Check out our #AskDCTA blog post to learn more about our lost and found policy!
Be Kind When Riding
Riders should follow our code of conduct while riding. Profanity and disruptive behavior is not allowed on vehicles and DCTA facilities. Offer seats to those who may need them. Shirts and shoes are required to ride our services. Make sure feet are not on the seats. Headphones should be used when listening to electronic devices. Learn more about our Rider Code of Conduct at RideDCTA.net!
We hope Samantha helped answer all your questions about traveling with kids! Have another question you want our customer service team to answer? Here's how you can submit them:
Send your feedback via our GORequest online customer service tool and choose the menu option "#AskDCTA Series"
Drop a note in the comments section on our Hop on Board
While we can't guarantee that every question submitted will be answered, we will consider all inquiries and will feature questions that will greatly benefit most of our riders!
---
Sign up for Updates
"*" indicates required fields