News to Use
2019 Recap: Our Top Milestones from the Year
December 30, 2019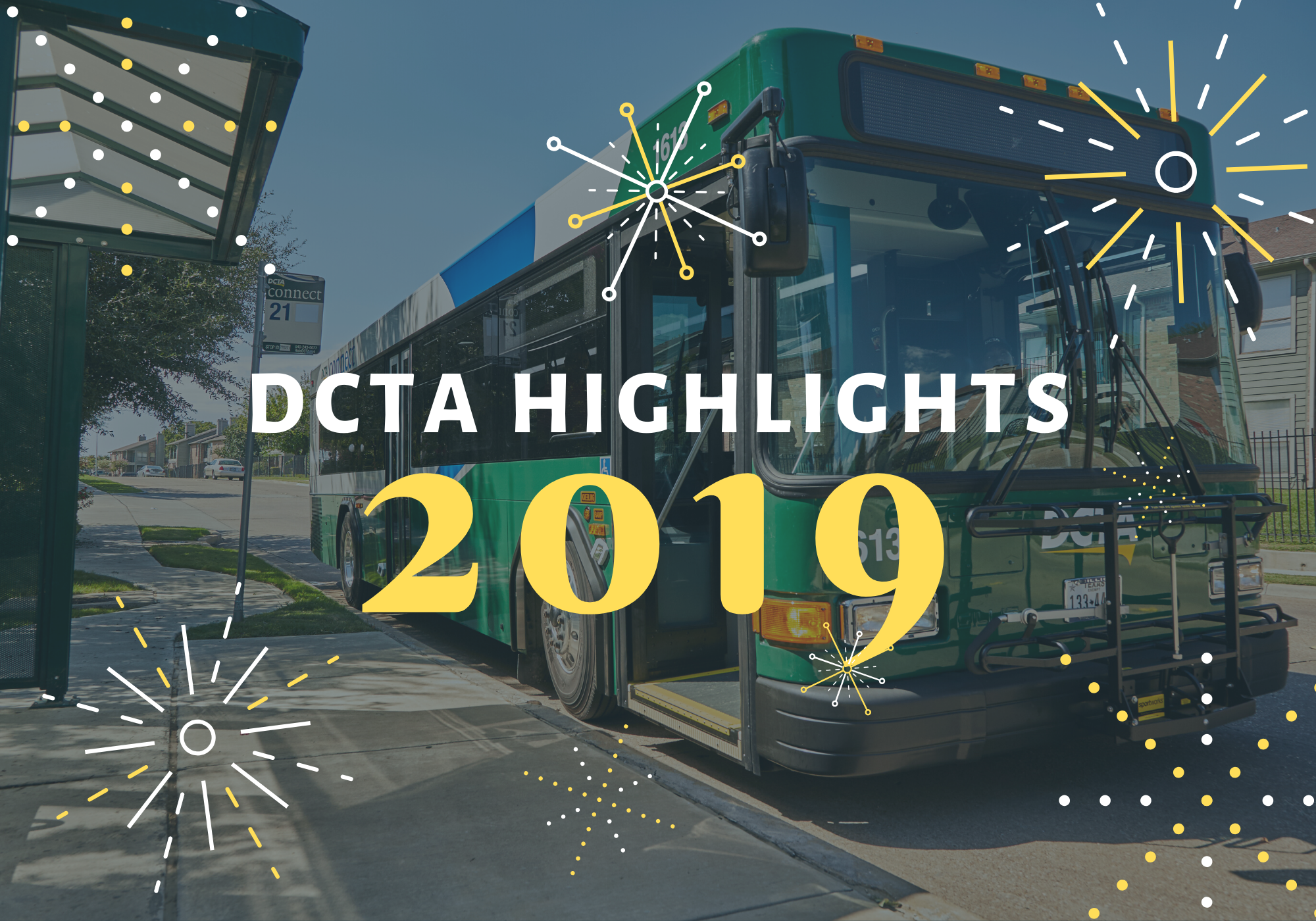 2019 is coming to a close, and it's time to reflect the year before setting goals for 2020! From renaming our Old Town Station in Lewisville to implementing Positive Train Control (PTC) safety technology to all our trains, we accomplished a lot. Read more in our blog below to learn about milestones we hit this year.
January 2019
To start off the year, we lowered our fares. Talk about a late Christmas present! Our new fare structure created a seamless integration with the regional transportation system (which includes Dallas Area Rapid Transit and Trinity Metro) and made it cheaper to #RideDCTA locally. Have you taken advantage of the lower fares yet?
In January, we also launched our Lewisville Lakeway On-Demand service! Replacing portions of Lewisville Connect Route 21, our Lewisville Lakeway On-Demand is a microtransit service that provides services to those needing transportation in the Lakeway business park area in Lewisville and its surrounding areas. Passengers can easily schedule a ride with the Spare app and get picked up and dropped off where you need, on-demand! Make sure you stay tuned because this project is over yet — we may expand the zone in 2020!
May 2019
Fast forward to May and we were busy launching our new Mobility as a Service (MaaS) contract model. The on-call contracts allow us to allocate up to $2.4 million of our annual operating budget to offer a variety of mobility services via task orders. This is one of the first MaaS contracts of this type in the U.S. and other public entities can even utilize it for their own agencies. What's next for our MaaS contract? Read what our CEO Raymond Suarez has to say about it. Say hello to the future of public transit!
Along with Mobility as a Service innovation, we also expanded our Collin County Transit subsidized taxi voucher program we operate with the McKinney Urban Transit District (MUTD) to include the town of Prosper. Prosper residents are now able to use Collin County Transit, which provides on-demand transportation for older adults, individuals with disabilities and low-income residents in the designated service area.
June 2019
In June, we hosted our very first National Trains Day event with the cities of Denton, Lake Dallas, Corinth, Highland Village and Lewisville. Every year people across the U.S. join together to visit their favorite trail for a walk, run or bike ride in observance of "National Trails Day." The goal of the event was to get residents out on our A-train Rail Trail and get active. The cities set up booths along the trail participants could stop at on their way. We had so much fun watching everyone walk, run and bike on the A-train Rail Trail with us! Check out more photos from the event here.
July 2019
In July, we released the results from our 2019 Passenger Satisfaction Survey and learned that many of our passengers are enjoying the ride and greatly appreciate our staff. Want to learn more about our survey results? Watch our short video below!
August 2019
August brought the end of summer vacation, back-to-school fun and of course, service changes! This year was an especially busy service change season because not only did we update schedules and rename the University of North Texas (UNT) campus shuttles, we also added midday A-train service and increased frequency all day! Four northbound and four southbound trains were added to the schedule which reduced service gaps and provides more options for passengers in the middle of the day. We also increased trip frequency to just 30-minute weekday gaps.
As if that wasn't enough, we also added Positive Train Control (PTC) safety technology to all of our running passenger trains! This technology helps make our passengers safer by preventing human error such as train-to-train collisions, derailments triggered by excessive speeding, unauthorized train movement onto sections of the track and movement of a train through a track switch left in the wrong position. Want to learn more about PTC and why it affected the train schedule? Check out our blog below!
October 2019
In October, we honored our longtime board chairman Charles Emery by renaming the Old Town Station in Lewisville the "The Charles Emery Old Town Station." Charles and his family contributed so much to DCTA over the years that he is considered the "father of DCTA." What better way to honor him than to make him a part of our Lewisville station forever! Read more about Charles' contributions in our recent birthdayblog post!
That's a wrap for 2019 and we are ready for what 2020 has in store for us. What do you think is our most significant accomplishment this year? Let us know in the comment section below!
---
Sign up for Updates
"*" indicates required fields