News to Use
5 Things to Know: FY'18 Strategic Planning Guidance Report
May 29, 2018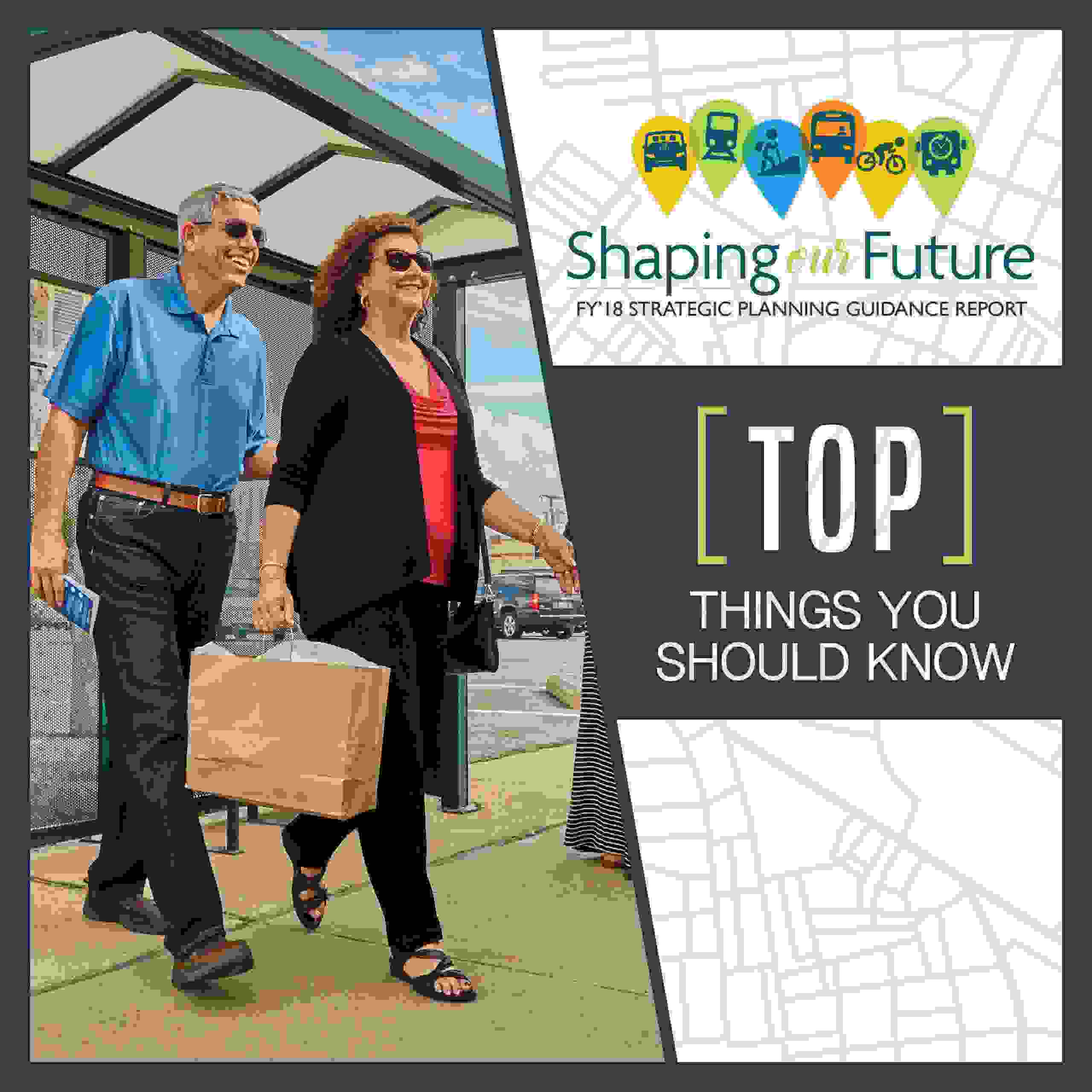 Having a strategic plan is key to putting your best foot forward to achieving your goals! That's why we've put together our FY'18 Strategic Planning Guidance Report – that our board of directors approved – which focuses on key priorities to enable us to providing safe, customer-focused and efficient mobility solutions and be a leader in advancing mobility alternatives.
This report highlights our commitment to offer more alternative and innovative mobility options to improve the quality of life where residents live, work and play. Check out our top five highlights from our plan which will help us become a leader in advancing mobility alternatives in the many communities we serve:
Main Priorities Set by our Board of Directors
Denton and Collin counties are projected to be the nation's fastest growing economies over the next five years, according to an Oxford Economics forecast. With this impending growth, check out quick video below which highlights some of the priorities and guidance our board of directors have put in place for us in FY'18 (October 2017 to September 2018).
Key Goals to Reach (Immediate, Short and Long-Term)
We have focused heavily on key immediate, short and long-term goals to reach soon and in the next few years. Check out our quick video below to get a snapshot see some of our goals featured in our FY'18 Strategic Planning Guidance Report.
Operational Priorities to Improve Mobility
Providing innovative and enhanced mobility options for our riders is key to our future growth in communities we serve. We are preparing for future technology advances and shifting demographic and ridership behaviors to keep up with the impending growth in North Texas. Watch our quick video below to see some of our operational priorities we plan to put in into place to ensure we expand beyond providing traditional public transit services.
Specific Ways to Increase Ridership
It's no secret that many agencies across the country, including us, are experiencing decreased ridership. With lowering gasoline prices and increase in new technology and car ownership, it's imperative that we have a strategy in place to increase ridership to address the challenges we face:
Assess where our riders go and what they value
Develop possible service enhancements in existing service areas
Propose fare structure changes to improve ridership
Improve first and last mile connections
Provide regional leadership in innovative services (Transportation Network Companies [TNCs], Autonomous vehicles, etc.) to grow ridership and improve operational efficiency
Prepare a feasible plan to add a station near North Central Texas College (NCTC) in Corinth
We've already put many of these plans into place! Check out this recent Metro Magazine article that highlights how we are redefining the traditional public transit model for our communities.
Progress Made from Last Fiscal Year
It's important many times to look back to see how to take successful steps forward! Since FY'17 (October 2016 to September 2017), we've experienced numerous successes that has enhanced operations, demonstrated the agency's commitment of financial stewardship and more innovative mobility solutions to better serve riders. Specific project highlights include:
Implemented bus service changes (consistent headways, improved coordination) in Lewisville, Denton and Highland Village
Began single A-train car operations which resulted in $1 million in savings annually that will allow for increased availability of fleet to increase A-train service levels
100 percent of Positive Train Control (PTC) installation completed
Received a clean FY'17 financial audit
Executed service contract with the City of McKinney (on behalf of MUTD) for elderly and persons with disabilities in McKinney, Celina, Prosper, Melissa and Princeton
Continued elderly and disabled service in the City of Frisco and expanded to serve portions in the City of Plano
Garnered strategic acquisitions initiated $178,200 in federal grants beyond formula funds and $5 million in North Central Texas Council of Government (NCTCOG) transportation development credits awarded to us
Want to see our entire FY'18 Strategic Planning Guidance Report? Visit DCTAFuture.net to view and download our entire report. Don't forget to drop us a comment below and let us know your thoughts on our plan and what you find most important for us to do to improve mobility in your community!
---
Sign up for Updates
"*" indicates required fields