News to Use
Get to Know Beverly Webb
March 10, 2015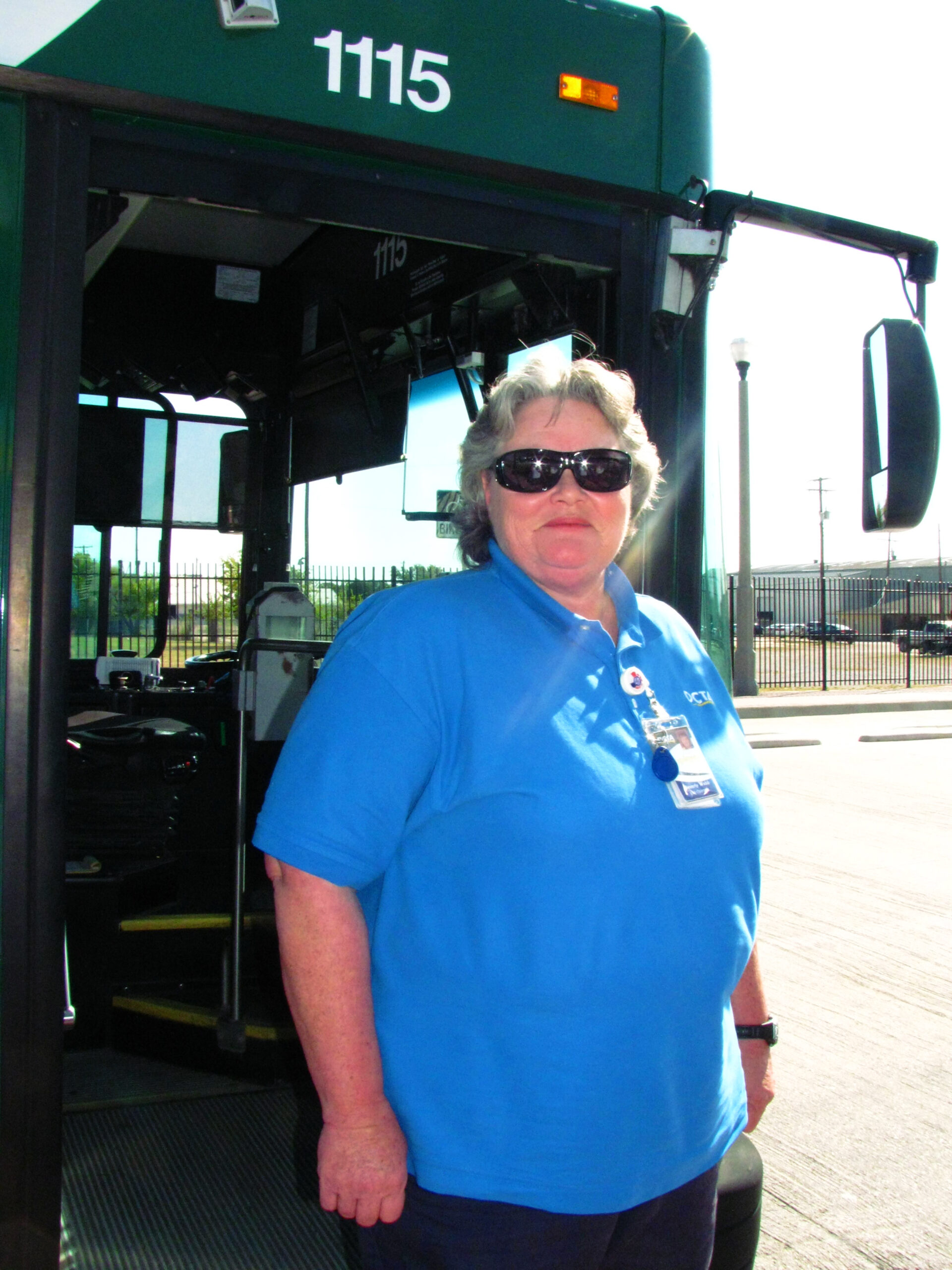 For bus operator Beverly Webb, her job isn't just about knowing where to turn and where to stop the bus. Her job is about knowing her customers.
"I always try to learn my passengers' names," Webb said. "They pay my wages. Learning their names and where they're going is just good customer service."
She frequently is outside her bus at the Eulene Brock Downtown Denton Transit Center, looking for her regular passengers at the times they frequently ride. When asked what her favorite part of her job was, she answered without hesitation.
"The customers," she said. "I do know a lot of people that ride my routes. I'm a people person and you meet all kinds of people. I like it."
Bob Neander, director of operations for DCTA, emphasized that Webb is constantly working to fulfill the expectations of regular passenge

rs.
"There's nothing more important for her than making certain that each customer feels respected and valued," Neander said. "Each passenger feels a sense of confidence that DCTA is providing an excellent and safe service. I think it's because of that kind of attitude that reflects the source of our product quality. It translates into better service, which brings more service and builds a stronger company in the end."
Not only is Webb dedicated to customer service, Neander said, she sees her job as a liaison between customers and the services she provides.
"She feels a sense of accomplishment by recognizing the needs of our customers and following through those potential to satisfy those needs," he said. "I think one of the things that I like about her as far as customer service – her goal is to surprise the customer with outstanding customer service."
Webb has driven a variety of routes – Connect routes 2 and 3 in addition to her current route 5 in Denton, routes in Lewisville as well as UNT Shuttle runs – and said she finds one unavoidable part of her job as the hardest – the frequent road construction around Denton.
"When they have road construction, I can't get to my customers and they have to walk," she said. "For some, that's quite a ways to walk. That's something that upsets me."
Webb is quite accustomed to driving larger vehicles. Aside from her six years of driving DCTA routes, she has 12 years of driving a bus under her belt. Previously, she drove a schoolbus for special needs children. She also has driven a semi-truck previously. But back when she was growing up on the family ranch in the Panhandle town of Mobeetie, she also used to get around in a different way.
"I used to rodeo. I rode bulls," Webb stated proudly. "My baby brother Don Ray Howard used to be on the (Professional Bull Riders circuit)."
For the most part, Webb says she really likes her job and the time usually flies by.
"I get to the office just after 5 (a.m.), sign in and get to my bus seven minutes before I have to leave. I have my regulars so I know to look for them and the next thing I know, I'm on my last run and it's time to go."
---
Sign up for Updates
"*" indicates required fields