News to Use
Public Transit and Mobility Trends to Watch in 2019
January 11, 2019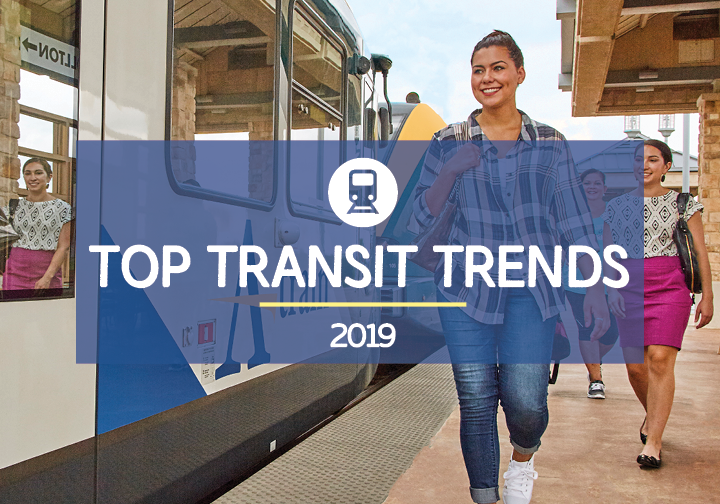 Mobility is changing rapidly across the country, and technology advancements continue to improve transit service offering and impacting our choice between driving a vehicle or riding public transit. The positive outlook for public transit is contagious, and we've got the latest information on what mobility and transit trends to look for this year!
Microtransit as a Key Solution for Ridership and Improved Mobility
It's no secret that many public transit agencies have struggled with declining ridership due to continued reliance on cars and the growing popularity of Transportation Network Companies (TNCs) like Uber and Lyft. Many public transit agencies are evolving with new modes of transportation, and specifically focusing on microtransit and the positive impact it can have for increased mobility.
Microtransit service offers real-time flexible routing and scheduling of vehicles and provides short tips in a defined area. It uses vehicles that are smaller in size than traditional transit vehicles and, therefore, moves fewer people per trip. Microtransit complements mass transit because it is more flexible and offers passengers curb-to-curb or door-to-door travel and is immediately responsive to rider demand.
We at DCTA have taken note of the many benefits of microtransit and have expanded our footprint in this area with the launch of our Denton Enterprise Airport and Lewisville Lakeway On-Demand services to provide more mobility options that are affordable and adaptable for our passengers.
Positive Train Control (PTC) to Continue to Make Headlines
As of January 1, 2019, all commuter-rail systems have met the congressional end-of-2018 deadline requirements for positive train control (PTC) implementation. All commuter railroads, including DCTA, had installed all PTC hardware, acquired all necessary radio spectrum, completed all employee training, initiated PTC testing in at least one territory; and submitted a revised plan and alternative schedule to the Federal Railroad Administration (FRA).
Even with this positive momentum for all commuter rail systems for PTC implementation, many of them are still pushing towards the finish line while tackling and overcoming challenges such as testing, funding, etc. Expect to see more headlines splashed with updates on PTC, implementation updates and more. You can check on our PTC implementation progress here.
Mobility as a Service (MaaS) Changing the Way You Travel
The way we travel is constantly changing, and public transit agencies initiating mobility as a service (MaaS) will be a hot topic in 2019. What is MaaS you ask? is a consumer-centric model of people transportation. MaaS is an on-demand, real-time platform that can include any combination of transport methods such as car and bike sharing, taxis and car rentals/leases, and provides everything for the consumer from travel planning to payments.
MaaS will be on the street in both public and private forms. Private companies are leaping in first, but many public agencies across the U.S., including DCTA, are incorporating it and looking to create better service models. Public transit agencies have great knowledge of the communities they're serving and the public mandate to provide equitable service to all will give public and transit agencies the opportunity to continue to provide enhanced mobility with rapid response to changing rider demands.
Autonomous Vehicles Continue to "Drive" into the Future
This is the one mobility trend that is really picking up speed this year! Many private companies, public entities and transit agencies are gearing up for self-driving vehicle solutions with various cities throughout the country announcing plans to launch autonomous vehicle projects in 2019.
Just this month, the U.S. Department of Transportation (USDOT) announced $60 million in grant funding which will be available for AV demonstration projects. The funding is available for various types of projects that will test the safe integration of self-driving vehicles on U.S. streets and transportation systems.
Looking back, some notable AV projects that launched in 2018 includes our partnership with drive.ai and the Frisco Transportation Management Association (TMA) for the pilot launch of the AV program in the City of Frisco which was the first AV pilot program on public roads. In addition, the City of Arlington partnered with drive.ai became the first city in Texas to offer on-street autonomous transportation service to both Arlington residents and visitors. In conclusion, be ready to potentially ride in a self-driving car this year!
Have a question about any of these news stories or have another interesting transit story to share besides the ones we mentioned? Comment below to share your thoughts with us!
---
Sign up for Updates
"*" indicates required fields