News to Use
#RideDCTA to get to your 2019 Black Friday Deals
November 22, 2019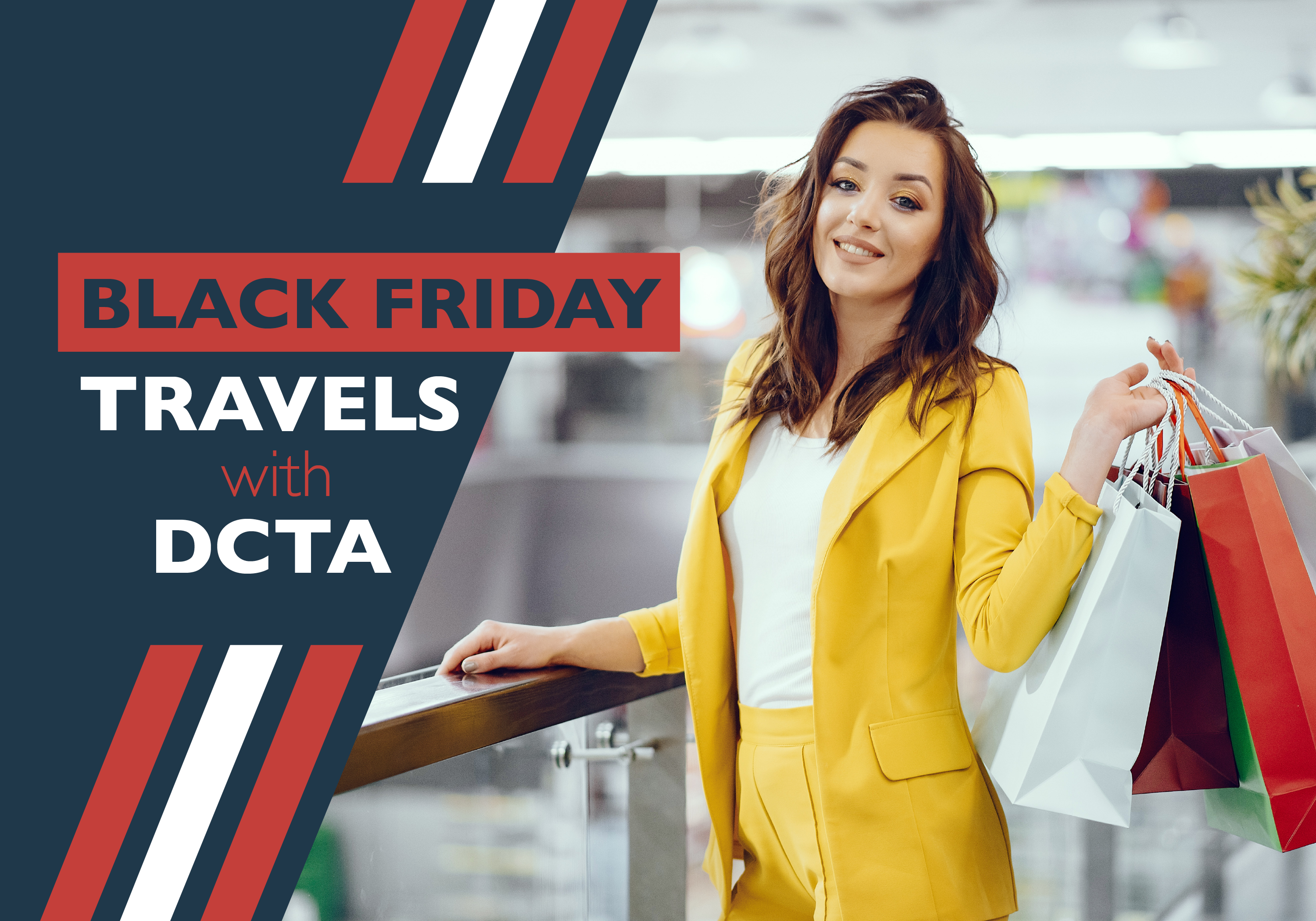 Black Friday is here, and it's time to make a game plan for this year's unbeatable deals! Give your car a rest and let us do the driving for you! Grab a group of friends and hop on our A-train, Denton, Lewisville Connect Buses, Highland Village Connect Shuttle or schedule a Lyft ride to get you to all your favorite local shopping destinations, including Golden Triangle Mall, the downtown Denton Square, the Shops of Highland Village and Music City Mall in Lewisville.
Here are a few tips to make your travel and shopping experience even smoother:
Check the Schedule – Don't forget we will not operate any service on Thanksgiving Day, but once we get our turkey fix, we'll be back at it Friday, November 29, with a modified schedule. Go ahead and eat that extra slice of pumpkin pie while you look at our holiday service schedule so you can beat the traffic, avoid the parking lot chaos and investigate all the good deals you won't be missing out on.
Get the Inside Scoop –Our convenient Transit Tracker provides real-time information on our service arrival times via web browser, text message or by phone when you dial in for automated voice information. You can also download the free Transit Tracker mobile app from Google Play or Apple iTunes for instant information on transit-vehicle locations, nearby stops, step-by-step transit directions and notifications about when to leave for your next trip.
Plan Ahead – Be sure to check your route's arrival time before heading out for your shopping trip. Always arrive at your stop at least five minutes earlier than the scheduled departure time and have your fare in hand. When buying your ticket, make sure you are buying the correct ticket for your journey! Whether you are buying your ticket online or in person, determine whether you need an a.m. ticket that is valid until 11:59 a.m. or a pm. ticket that is valid until 12:00 p.m., or a Day Pass if you are planning to shop 'til you drop.


Have a Strategy – Consider in advance the stores you'd like to visit and the items you're looking for. There are also several free Black Friday smartphone apps that you can download to compare prices before you get there, including ShopSavvy, Shopular, The Coupons App, Santa's Bag, as well as store-specific apps. But be aware! The Better Business Bureau reported in 2017 warning consumers of phony retail apps that look like the real thing. Be sure and evaluate apps before downloading them. Warning signs to look for are apps with no reviews, poor grammar and no history of previous versions.
Don't Buy More Than You Can Carry –If you plan to buy a lot of items (or some bulky ones), bring a folding cart for your shopping bags. If you don't have a cart or choose to bring one, we ask that you only carry on two bags maximum. Rest assured DCTA is mobility-convenience friendly if your trip requires the use of a folding cart, wheelchair, stroller, bike or other types of carriage, we're ready and able to accommodate you!
Create a Family Plan with Your Kids – If you're shopping with children, discuss what to do in case you're separated. Select a central meeting place, make sure they know they can ask mall personnel, store security or a DCTA employee for help and make sure they have your cell phone number memorized and write it down for them to carry in their pocket. Children ages 5-18 also have a reduced fare when they #RideDCTA!
Know What's on Sale … and What's Not – Black Friday is the right time to buy televisions, computers, small appliances, clothing and even food, especially seasonal specialties such as chocolates and nuts. Home furnishings, on the other hand, are better left for after-Christmas sales. Some websites that can point you toward the best items to shop for on Black Friday include NerdWallet, DealNews, Business Insider and BlackFriday.com.
Pack (and Dress) for Comfort – Grab a reusable water bottle to stay hydrated —spending money can make you thirsty! Remember to wear comfortable shoes, dress in layers and bring along a phone charger, just in case! Don't forget to grab a big reusable bag or two from home to reduce the number of plastic bags you'll carry and make your ride home easier. First-time rider? Check out our blog post on the best riding tips for the winter from seasoned riders themselves!

Make DCTA Your Best Holiday Deal of All! — Traffic on Black Friday is sure to be hectic – so leave your car at home and let us help make your shopping experience easy, comfortable, safe and convenient! You can relax and rest easy after a day of shopping on our A-train, Highland Village Connect Shuttle, Denton Connect Buses and Lewisville Connect Buses.
What are your favorite places to shop for the best deals?
Comment below and let us know how and where you #RideDCTA on Black Friday!
---
Sign up for Updates
"*" indicates required fields