News to Use
Roundup: Monthly Chatter in Public Transit
February 12, 2018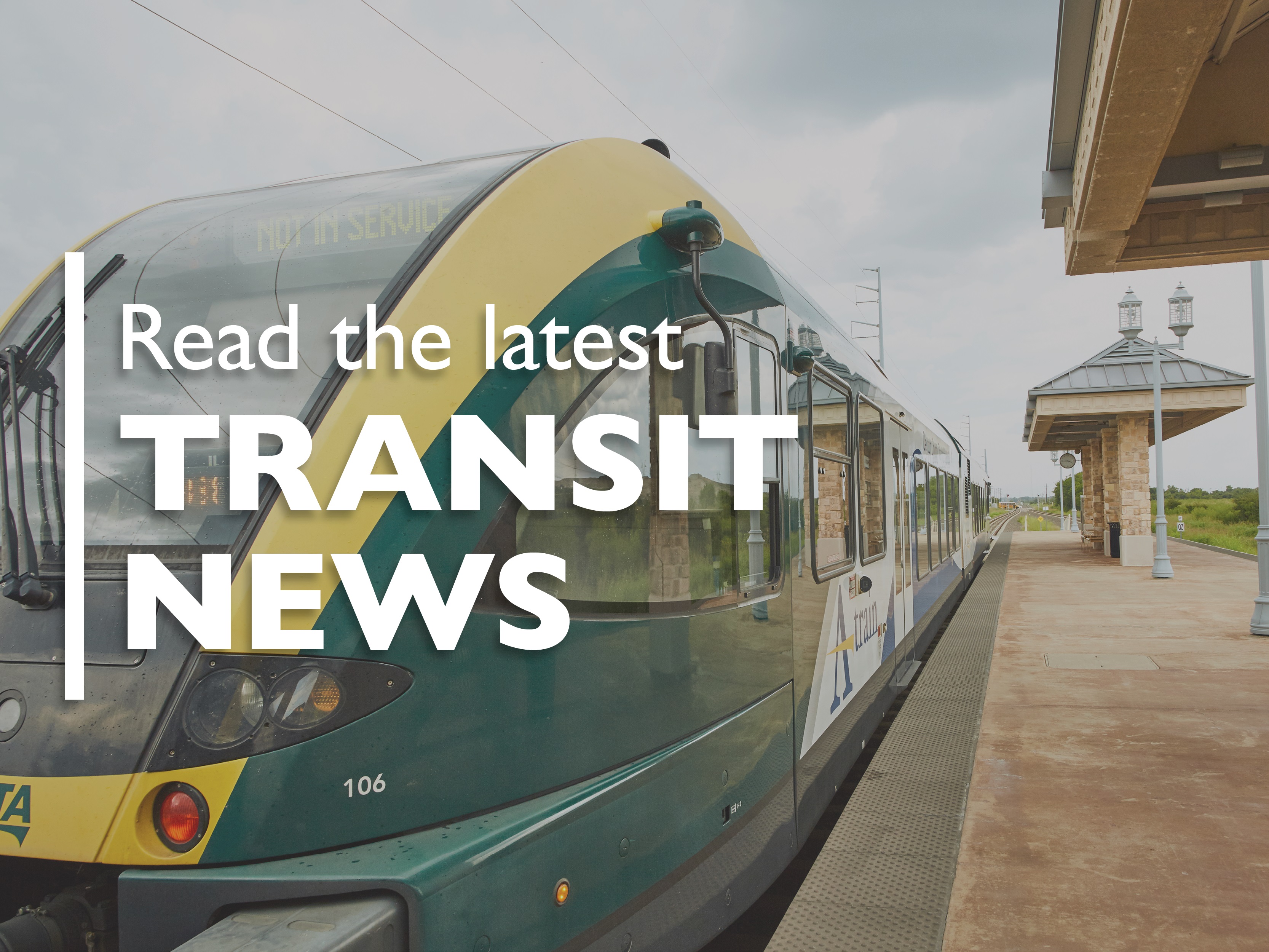 Want to know what's trending in the world of public transportation? Here are just a few recent stories that are riding the high-speed news rail!
Plans Unveiled for New North Texas Bullet-Train Station
In late January, Texas Central Partners, LLC (Texas Central) unveiled details of its planned bullet-train station in downtown Dallas. The terminal will be built on a largely vacant 60-acre plot, just south of the central downtown business district in the Cedars neighborhood. Within walking distance of the Kay Bailey Hutchison Convention Center, the station will also be near the interchange linking Interstates 30 and 35 and include connections to Dallas Area Rapid Transit's light-rail system and buses.
So, what does that have to do with DCTA? Consider this! It takes at least 4-1/2 hours to drive the 280 miles between Denton and Houston — longer if you get stuck in traffic (which is almost inevitable, right?).
With this new high-speed line, however, you could climb on the A-train in downtown Denton, transfer to a Dallas Area Rapid Transit train in Carrollton, arrive in downtown Dallas in less than 90 minutes, and connect there with the Texas Central line and arrive in Houston 90 minutes later – a potential time saving of 1.5 hours!
Even with wait times between connections, you could get from Denton to Houston in four hours without ever having to tap a brake, honk a horn or stop for gas or a bio-break. Instead, you could enjoy that trip by reading a book, working on your laptop, enjoying a movie on your smart device, or simply relaxing and taking in the view!
Transit Companies Join Forces in a Mobility Manifesto
Fifteen transportation and technology companies recently signed a list of "shared mobility principles for livable cities." The doctrines include lowering emissions, boosting data-sharing and prioritizing "people over vehicles." The goal of the initiative is to align cities, the private sector and society around a shared vision for transportation – one that is connected, autonomous, shared and electric.
American Public Transportation Association (APTA) Senior Adviser Richard White commented on the growing trend in partnerships between transit agencies and ride-sharing companies for first- and last-mile connections, describing these relationships as "building blocks for our transportation systems of tomorrow."
Signees of the manifesto include Pittsburgh Mayor Bill Peduto, Paris Deputy Mayor Jean-Louis Missika, Keolis (which operates the Massachusetts Bay Transportation Authority's commuter-rail network), ride-sharing companies Lyft, Uber, Zipcar, and others. Together, the 15 companies that signed account for 77 million passenger trips per day. For details on the shared principles, click here.
Ridesharing and Public Transit: It's Collaboration, Not Competition
A new study by the Shared-Use Mobility Center (SUMC) for the Transit Cooperative Research Program (TCRP) finds that peak use of rideshare services like Uber and Lyft comes on weekends and evenings, not during rush hours when public transit use is highest.
The 10,000-person survey analyzed data for rideshare trips in Seattle, Nashville, Los Angeles, Chicago and Washington, D.C., and rider surveys supplied by four large public transit agencies. Researchers found that transit remains resilient during times of day when it provides core services and moves the greatest number of people most efficiently, and that the use of rideshare services takes place mostly during off-peak hours.
Other key findings included:
Rideshare companies are used, to some degree, by people in communities across the socioeconomic spectrum. While urban core areas had the highest volume, rideshare trips started and ended in nearly every zip code in the central counties of the regions studied.
Peak-hour rideshare usage was concentrated primarily in urban cores, along relatively short, contiguous corridors between dense neighborhoods — often taking place within a single zip code. The only notable exceptions were airports, the highest non-core areas of rideshare activity in most of the regions studied.
A correlation exists between frequent rideshare usage and lower rates of car ownership among many of those surveyed.
"In a congested environment, generally nothing is more efficient at moving lots of people than public transit," said SUMC executive director Sharon Feigon. "But … people want flexibility and frequency, and services like Uber and Lyft are filling in the gaps."
Demand on the Rise for Inner-City Bus Transportation
America's scheduled bus lines, after hitting a rough patch, are again on the move and adopting some surprising strategies to attract new customers, according to researchers at DePaul University's Chaddick Institute for Metropolitan Development. After being financially hurt for several years by cheap fuel prices and a soft economy, intercity bus lines rolled into the 2018 with renewed momentum.
More than two dozen new services became available last year, while existing brands like BoltBus, Go Buses and Megabus launched service in several new cities. Greyhound Lines introduced extensive new schedules in the Northeast.
In addition to overall sector growth, the study also found that luxury options and tech-oriented transformations are pushing bus transit into some exciting new directions:
Business-class and luxury bus services are growing in destinations that, traditionally, have not experienced a strong demand for bus service, particularly in Florida, New England, the Northeast and Texas. Their service features often include reserved seating, comparable to that on most airlines.
The most heavily publicized new service of 2017 was Cabin, which launched service between Santa Monica and San Francisco with "private sleeping cabins" in addition to onboard lounges with conventional seating, and attendants who work to keep passengers comfortable.
Tech-oriented bus lines and startups are using crowdsourcing and dynamic scheduling to attract new markets. Services Rally Bus and Skedaddle operate only when enough travelers express a willingness to pay for a set route and time.
The convenience of e-ticketing is becoming more universal on major bus lines. Trains and buses are beginning to blend their reservation/transfer technologies as well, to enable passengers to buy tickets involving bus-rail connections with a single click.
Have a question about any of these news stories or interested in another transit topic? Comment below to share your thoughts with us!
---
Sign up for Updates
"*" indicates required fields