News to Use
Updates are underway for the new DCTA website
February 15, 2019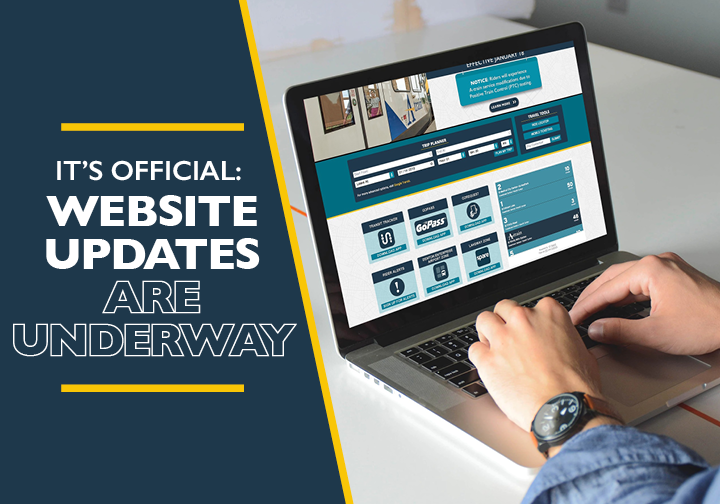 Change can be scary, but our newly renovated website encompasses the convenience and innovation that shows just how important change can be! Our website — which relaunched in August 2018 — is an easy way to get to know DCTA, find out more information about our services, learn about our fares and more. But with every change comes some road bumps, and we know some things on our new website might not have worked out like they were initially supposed to.
Well, we've been listening to our passengers, and we're going to do something about it!
Below are the changes coming to our website in the next couple of months, so here's a quick guide to what you can expect to see with the updates and how to use them.
Redesigned homepage
Although our homepage provides a variety of helpful tips and information, we want to make sure our passengers have easy access to the resources they use every day. In the home page redesign, some updates you can expect to see include:
A smaller promotional web splash in the scrolling carousel
Embedded Transit Tracker widget that shows real-time updates on the location of our vehicles
An easier way to read and subscribe to enRoute News (our monthly digital passenger newsletter)
A revised homepage with single-click options for all our travel tools and accompanying apps
Since the homepage is most likely the first thing you see when you come to our website, important information needs to be front and center!
These updates went live on Feb. 8. Check them out here!
New individual route pages and schedules

Sometimes when undergoing change you learn things were completely fine before and the old way might have been better. This is why we are now going back to individual route pages for each route. In this round of enhancements, you will see:
New stylized route listing with single-click options for each route
Refinements to A-train, bus and on-demand pages to include consistency
Individual web pages for each route, including the A-train, each University of North Texas (UNT) page and Lyft programs
Each map and schedule will be listed on the respective route pages, making it easy for you to look at each individual route you may need!
This update is expected to go live by Feb. 21.
Removal of the interactive maps and schedules
During website changes, we also learned some things just didn't turn out how we envisioned them. Because of this, we are getting rid of the interactive maps on our schedules and maps pages once the individual route pages and schedules go live. This update encompasses:
Don't worry – you can still use our Trip Planner to see the maps. But now route schedule and map information will always be accurate, up-to-date and easy to read!
This update is expected to go live by March 4.
Addition of an easy-to-use dropdown menu
It's no secret that our website hosts a lot of information — ranging from schedules and discount program information to Freedom of Information Act requests, news articles and more! But sometimes it can be hard to find information straight from the homepage. Gone are the days of "trial and error clicking". Now you can look forward to a comprehensive dropdown menu listing information within each section on the website!
Website visitors will now have the ability to find what they need to know quickly and easily without having to guess where it is or search it.
This update is expected to go live by March 16.
Slight changes to the media center
The media center on the website is the one stop shop for all news from DCTA, and we want to make sure visitors can easily find out everything new happening with us. Updates to the media center aim to make the user experience easier and includes updates like:
Media contact information on each article
Reduction in carousel image size
Chronological listings in the media center carousel
These updates are expected to go live by April 16.
We're so excited for all of these changes being implemented in the coming months! What do you think about the upcoming enhancements? Do you have any ideas for future website updates we should implement? Let us know in the comments section below!
---
Sign up for Updates
"*" indicates required fields