News to Use
Transportation Resources for Veterans in Denton County
November 3, 2023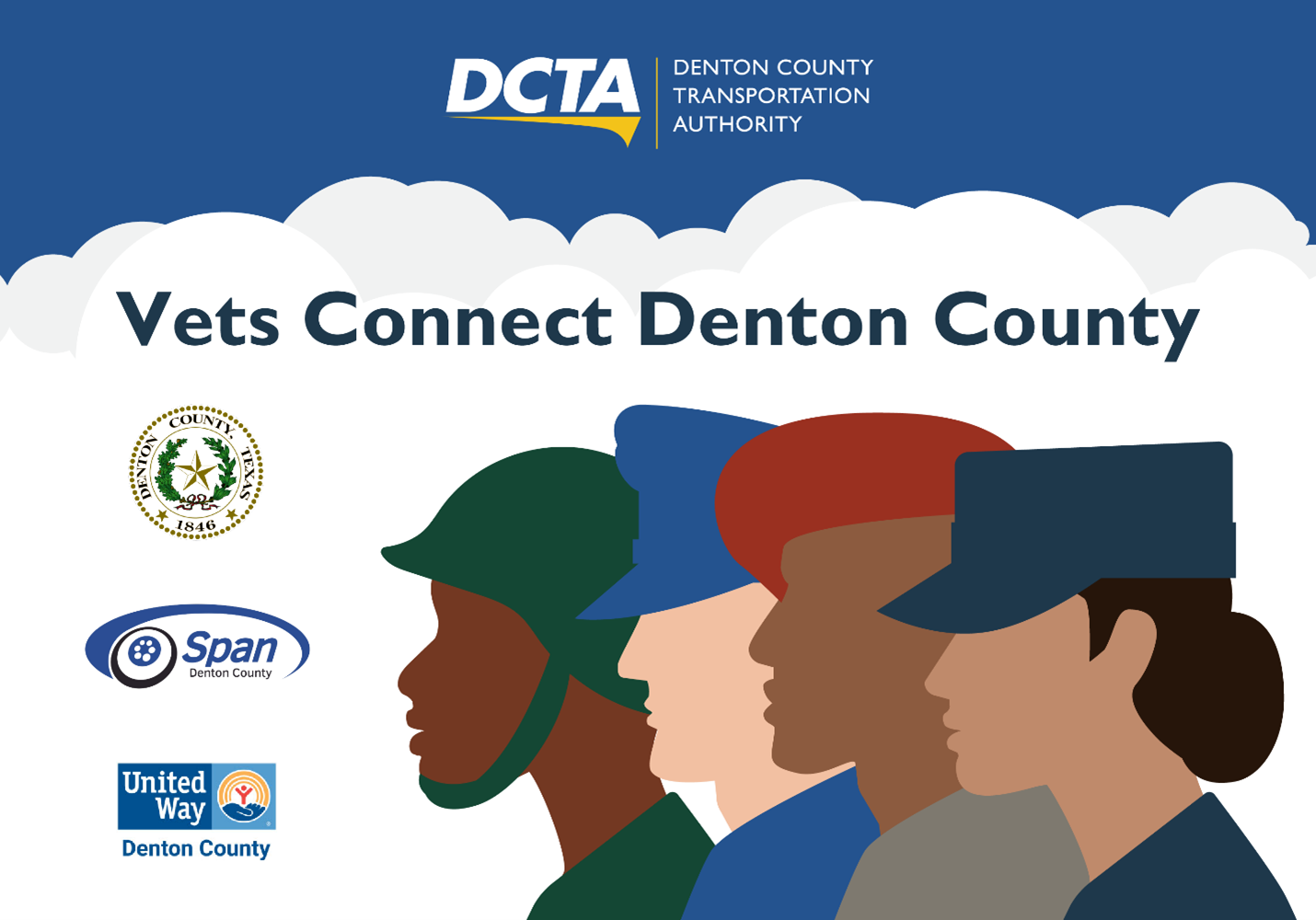 Plus a FREE DCTA ride on Veterans Day!
Denton County Transportation Authority (DCTA) is joining forces with Denton County Veterans Affairs, Denton County United Way, Span, and Denton County to commemorate and recognize veterans for their service by providing transportation assistance throughout Denton County.
Throughout the week, all five organizations will bring awareness to public transportation options for Veterans within Denton County. PLUS, to show our appreciation, DCTA will provide veterans and active military personnel with FREE rides on Veterans Day! Just show your military ID on the A-train, Connect Bus, GoZone or Access. Take a ride with us for a fun-filled Veterans Day!
Here are five agencies supporting Veterans in their daily lives with public transportation and resources:
Span is a private, nonprofit organization that offers FREE ride-shared transportation service for Veterans living in Denton County to the Veteran Affairs hospital in the DFW area. The organization can pick up and drop off to Veterans Service Office in Flower Mound, Roanoke and more!
Tips to riding with Span:
Complete a rider application prior to scheduling a ride
Call Span's transportation line (940) 382-1900 to schedule a free ride-share service
Transportation is available Monday through Friday
Home pick-up service is available to riders with a qualifying disability
Early morning pick up times vary
For more information about the service, visit the Span website.
Want to learn more on how to utilize transit to access veteran services? Look no further, DCTA and Span are here to help! Download our Veterans Resources flier for transportation services from DCTA and Span.
United Way Denton County is a local affiliate organization that helps veterans and their families to access health care, provide educational opportunities, and more!
Services offered by United Way Denton County:
Veterans Center Clinical Counseling – help eligible Veterans and their dependents through behavioral health challenges
Denton County Veterans Coalition – collaborates with other Veteran organizations and community resources to resolve Veteran issues
Texas Veteran Commission – assist Veterans with a counselor to file their VA disability claims
Veteran Community Navigator – works with Veterans and their dependents to provide referrals for their specific needs
For more information, visit the United Way Denton County website.
Denton County Veteran Affairs provides vital assistance to Denton County Veterans and their dependents in filing VA benefit claims, disability retirement, and obtaining lost military records. In addition to filing benefit claims, Denton County also provides support with a treatment program and a veterans' coalition.
Here are Denton County veteran resources:
Claims for Insurance Payments
Educational Benefits
Veterans Treatment Court Program
Veteran Community Navigator Program Referral
Contact the Veterans Service office on how to acquire benefits and additional resources for yourself and dependents.
For more information, visit the Denton County Veteran Affairs.
BONUS! Denton County will host their annual Veterans Day Ceremony on the downtown Denton Square Friday, November 10 at 11 a.m. Don't miss out on the celebration and recognition to all those who served.
As a community, we thank all Veterans for their courage and commitment to serving our nation this week and every day!
Happy Veterans Week, DCTA Riders!
---
---
Sign up for Updates
"*" indicates required fields