News to Use
Behind the Scenes: Meet Safety Manager Louise Francois
October 1, 2020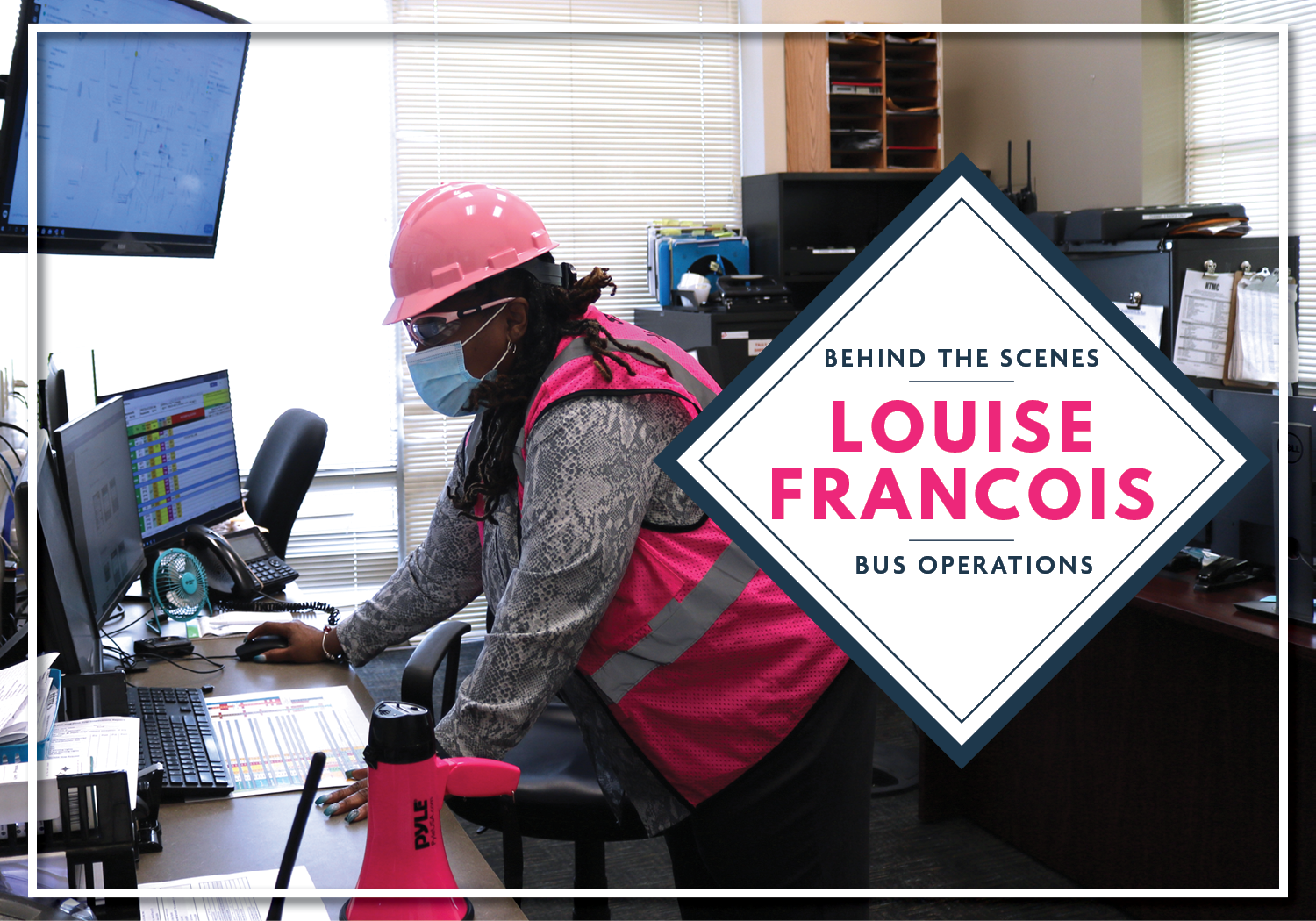 When asking multiple employees to describe Louise Francois in one word, many of them had trouble. Not for a lack of words but because there were too many to choose from. Integrity, personable, confident and awesome were all top contenders to describe her. We're taking you behind the scenes to meet someone who keeps the wheels turning at DCTA and North Texas Mobility Corporation (NTMC), a local government corporation set up by DCTA.
Francois is the safety and security training manager for bus operations and has been with us for about a year and a half. Starting her transportation career in 1996, she is no stranger to the inner workings of getting passengers where they need to go. From driving a bus in New York City to working as a dispatcher, parts clerk, maintenance assistant and more, she knows her way around a transit system.
Though she's worked in many different areas in transportation, her favorite role is getting to interact with passengers. Working as a bus operator for an Americans with Disabilities Act (ADA) program, she got a lot of one on one time with passengers.
"You get used to [the passenger's routines] and become familiar with them," Francois said. "You know this one is going to dialysis on this day, etc. and when you don't see them you worry about them. So, it's the one-on-one interactions with the passengers that's my favorite."
When you love your job as much as Francois does, you don't mind putting in the overtime to make sure you get the job done and get it done right. Francois is the first one to step in when someone needs help, or something has gone wrong and needs to be fixed. In the course of our interview, she needed to pause to handle a situation on the radio, cover the dispatch desk and find a driver a ride to his shift switch meetup location. She never stops.
"If there's one person in the whole organization that I know if I have a problem at midnight and need someone to take care of it, it's Francois," senior director of mobility services Troy Raley said.
During the coronavirus (COVID-19) crisis, her days have become busier making sure our bus operators have the proper safety equipment like gloves, masks and hand sanitizer, but the core of her job and her love of what she does has not wavered. She spends her days hopping back and forth between maintenance, dispatch, the office and the bus driver room making sure everything is in running order.
Her work at DCTA started before she even arrived for her first day on the job. Wanting to understand our transit system and know what she was about to step into, Francois played a little "undercover boss." She rode the system and got a feel for how things operated and used that knowledge to get a jump start on her hard work at the agency.
"I rode the bus for a while before they knew who I was," Francois said. "It wasn't to get anybody in trouble it was just to see what I was getting myself into. "
With the passengers at the heart of everything she does, Francois is a vital asset to our agency, and we are so thankful for all the hard work Louise puts in.
"The passengers are your bread," Francois said. "Without the passengers, there's no 'us'."
Is there a DCTA employee you think should be featured in our "Behind the Scenes" blog series? Let us know in the comment section below! Don't forget to send us a good word about your operator too through our GORequest system.
---
Sign up for Updates
"*" indicates required fields