Rider Tips
Celebrate National Bike Month 2016!
May 5, 2016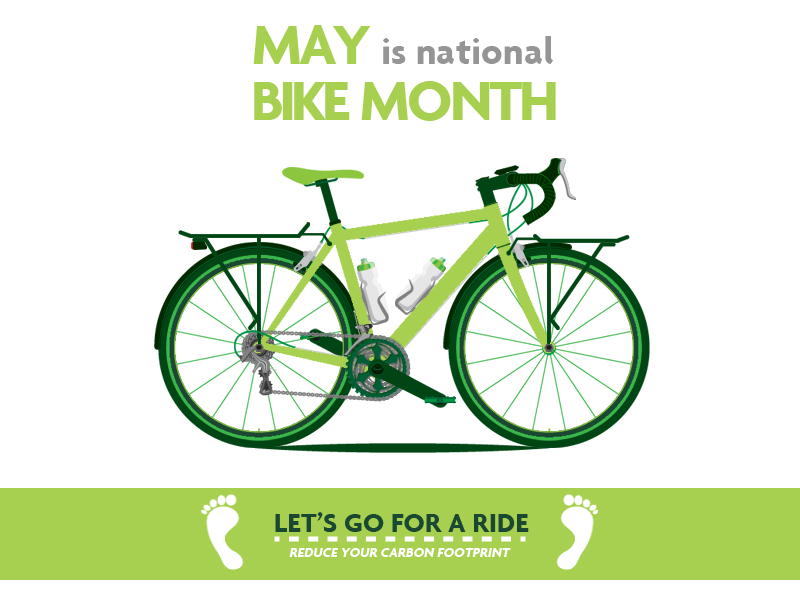 Did you know that May is National Bike Month? Riding your bike is a great way to exercise, and can be a practical way to commute and run errands. For the entire month of May we'll be encouraging you to ride your bike for alternative transportation, to improve your health and just to have fun!
Don't forget about us when you're riding your bike! You can ride our A-train Rail Trail in Denton and Lewisville. In addition, most of our buses are equipped with a bike rack on the front of the bus, and bikes are allowed on our A-train. Want to learn how to load and unload your bike on our vehicles? Check out our quick instructional video below!
Now that you know how to ride and load your bike on our vehicles, you have to check out these local Bike Month events hosted by the City of Denton:
City of Denton Bike Month Brown Bag Series (Every Wednesday During May) – Every Wednesday at noon during Bike Month, bring your lunch to the Denton Civic Center for presentations about bicycling topics from local bicyclists. Raffle prizes will be provided by Velo Republic.
Bike Repair Workshop (Saturday, May 7 from 3:00 to 5:00 p.m.) – Join Querencia Community Bike Shop at the Emily Fowler Library in Denton for a workshop that will cover bike types, basic maintenance, repairs, adjustments, and quick checks to get your bike ready for spring! Registration is required.
Cycle with the City of Denton (Monday, May 16 at 6:00 p.m.) – Led by City staff, this ride through Denton will showcase the City's efforts toward building infrastructure. Bring your bike and helmet to the northeast corner of Oak and Oakland! Pre-ride bike safety checks will be provided by Querencia Community Bike Shop.
City of Denton Bike to Work Day Event (Friday, May 20 at 7:15 a.m.) – On your bike to work, stop by one of these FREE breakfast stations: A-train Rail Trail at DCTA's MedPark Station, the corner of Congress and Bolivar Streets, and the "Little d" bike racks on the Square. This event is sponsored by Sprockets Bicycle Shop, Bullseye Bike Shop, and Denton Bicycle Center.
Want more information on bike news and events in DFW? Check out BikeDFW – a local nonprofit advocating for people who ride bikes in North Texas.  With so many events and ways to incorporate your bike into your daily and weekly commute, let us know how you plan to celebrate Bike Month in the comments below!
---
Sign up for Updates
"*" indicates required fields