Fun Things To Do
Celebrating All Things Jazz in April
April 4, 2019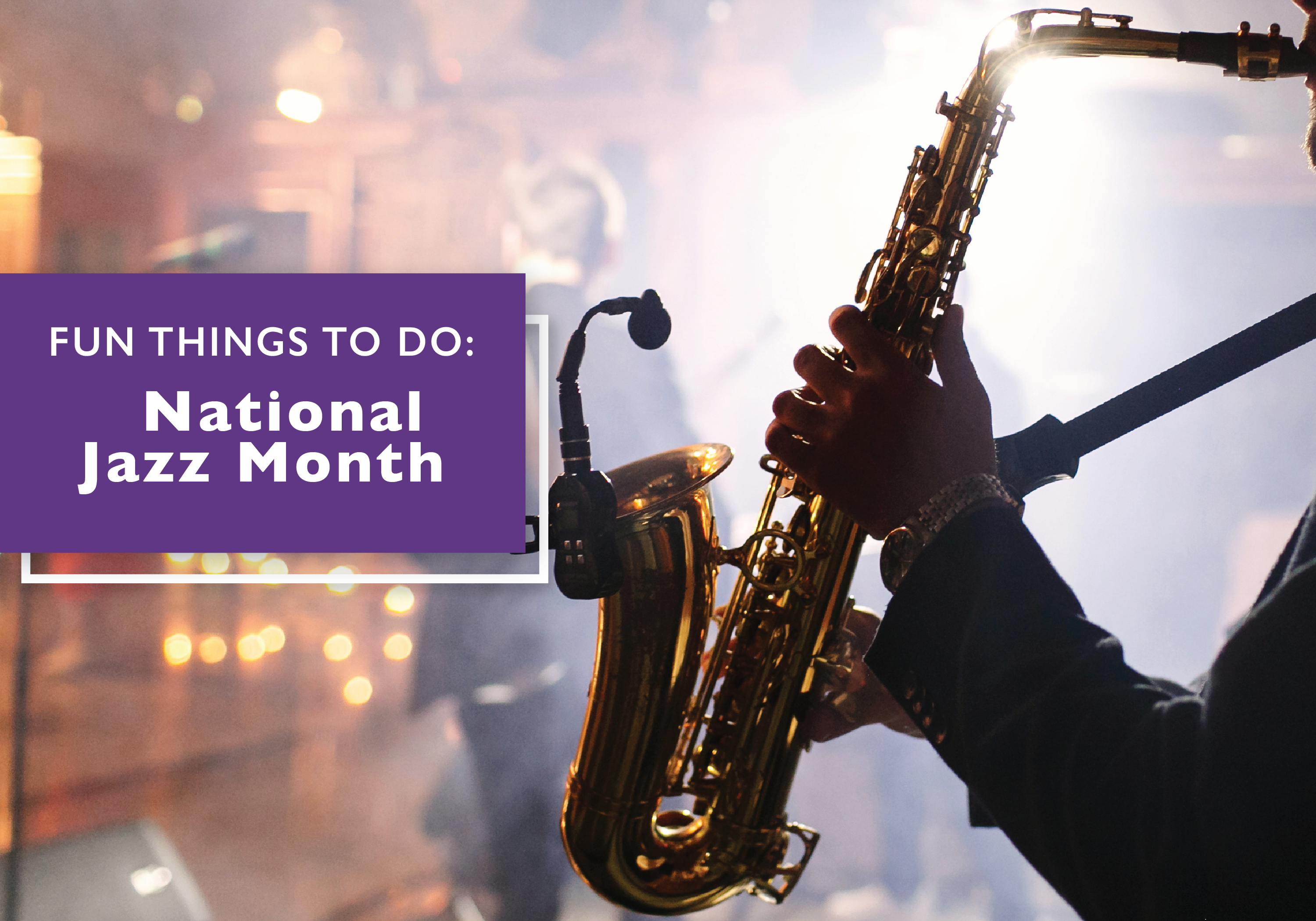 Did you know April is National Jazz Appreciation Month? This month, North Texas is celebrating the beauty of jazz as both a historical and current form of art through a variety of fun events! From concerts, to award shows and nights out on the town, you can join other North Texans and celebrate all that jazz has to offer while you #RideDCTA!
Live Jazz Monday's at Greenhouse Restaurant in Denton
Vibe to some jazz while enjoying drink specials and tasty appetizers in honor of National Jazz Appreciation Month! From 10 p.m. to midnight, Monday nights at the Greenhouse Restaurant in Denton are always filled with fantastic jazz performed by University of North Texas (UNT) and Texas Woman's University (TWU) musicians. Student talent has been filling the venue for years, making it a local tradition to showcase the artistic abilities of those who attend the nearby universities. For a night with some of the best local talent, ride our Denton Connect Route 7 and 8. For more information, visit Facebook.com
Jazz Singers: Jennifer Barnes, director with Guest Artist, Michelle Nicolle at UNT
From London to New Orleans, Seattle and now in Denton, Australian jazz singer, Michelle Nicole, will perform a night of charming jazz in sponsorship with UNT's College of Music. Michelle Nicole, an arranger, bandleader and award-winning jazz vocalist will perform at 8 p.m. on Saturday, April 6, at the Murchison Performing Arts Center on UNT's campus. Tickets range from no cost to $10. Ride our Mean Green Night Rider campus shuttle to get there and claim your seat! For more information, visit calendar.unt.edu/jazz-singers-jennifer-barnes-director-guest-artist-michelle-nicolle-0.
Jazz Heads at The Perc Coffeehouse in Lewisville
Enjoy a hot cup of joe while listening to some jazz! The Jazz Heads, a jazz group from Denton, will perform from 7 p.m. to 9 p.m. on Friday, April 19, and Friday, April 26, at the Perc Coffeehouse in Lewisville. To get there, take our Lewisville Connect Route 22. For more information, visit lewisvilletxlive.com/event/various-artists-at-the-perc-coffeehouse/.
Jazzercise Class in Highland Village
Want to celebrate National Jazz Appreciation Month in a more active way? Take a jazzercise class! It is a fun way to get your heart pumping to a funky, jazz playlist. Try your first class for FREE and with classes offered all day, maybe you'll find a new hobby you love! Ride the Highland Village Connect Shuttle to get to the Jazzercise Flower Mound Fitness Center. For more information, visit local.jazzercise.com/jazzercise-flower-mound-at-the-center/Highland-Village-TX/.
+_-
Mark Allen Duo at Witherspoon Distillery in Lewisville
Spend this month with others who have a special love for jazz! Mark Allen Duo, a seasoned jazz musician with more than 30 years of musical experience, will host a FREE live concert at the Witherspoon Distillery in Lewisville on Saturday, April 27. From 6p.m. to 9p.m., the well-versed musician will entertain the crowd with classic jazz as Witherspoon Distillery bartenders serve your favorite hand-crafted cocktails. To enjoy a night of smooth tunes, ride our Lewisville Connect Route 22 to get there. For more information, visit witherspoondistillery.com/events.
Denton Arts and Jazz Festival
Celebrate the beautiful sounds of jazz at one of the largest local attractions for the finest entertainment and art in North Texas! The Denton Arts and Jazz festival will run from Friday, April 26 (from 3 p.m. to 11 p.m.), Saturday, April 27 (from 10 a.m. to 11 p.m.) and Sunday, April 28 (from 11 a.m. to 9.m.) at Quakertown Park. There are activities for everyone – from a Children's Art Tent to six food courts with unique cuisines, art exhibits and of course, live jazz! Ride our FREE shuttle service each day of the festival from MedPark station and Texas Health Presbyterian Denton directly to the festival grounds. For more information,  dentonjazzfest.com/.
D'JAM 2019 Concert and Open House
Want to take a day trip? The city of Dallas is saluting the genre of jazz with a FREE concert and open house on Saturday, April 13. From 1 p.m. to 4 p.m., North Texans can celebrate the history and impact of jazz at this one of many D'JAM (Dallas Jazz Appreciation Month) events! There will be live music from local jazz groups, CD and poster giveaways, and a D'JAM Jazz Legends Award presentation. To enjoy the music, ride our A-train and connect with DART's Green Line at the Trinity Mills Station in Carrollton to get to Dallas. For more information, visit jazzdallas.com
Which events do you plan to attend this month by riding DCTA? Let us know in the comment section below!
---
Sign up for Updates
"*" indicates required fields