Fun Things To Do
Fun Things to Do: #RideDCTA to Spooktacular Destinations
October 25, 2019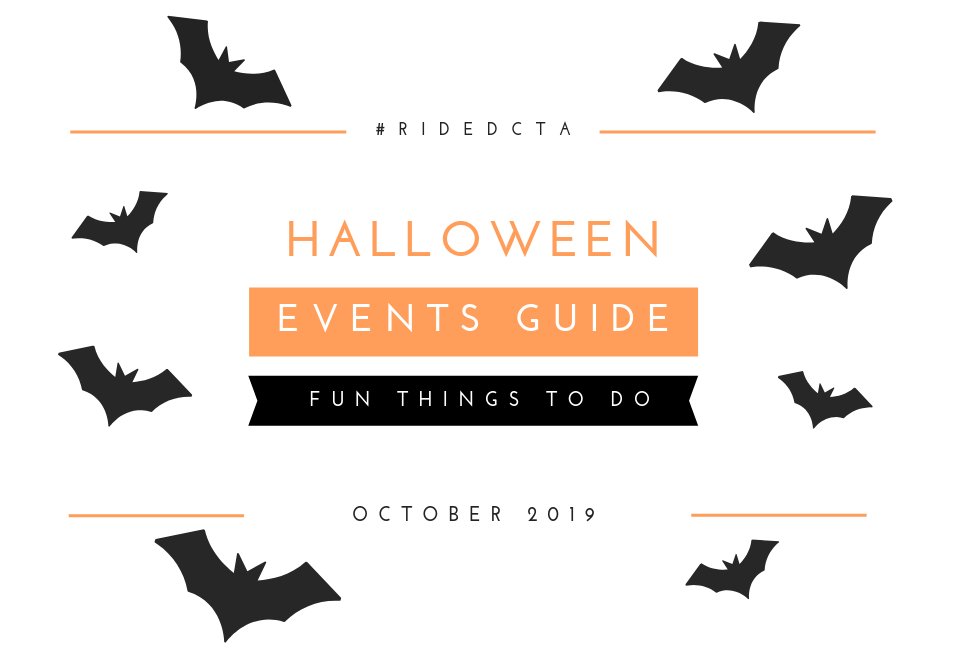 The nights are getting darker, and a terrifying chill is creeping into the air. Halloween season is upon us, and we're here to get you to Denton county's spookiest, most spine-chilling attractions. Our uncanny destinations are perfect for boys, girls, ghouls and ghosts of all ages, so put on your scaredy pants as we take you on a series of eerie excursions!
Honor the Spirits at the Denton Day of the Dead Festival (Denton Connect Route 7)
The spirits don't always have to inspire terror, and Denton's Day of the Dead Festival is an opportunity to show your respects and honor those who have passed. Primarily serving as a tribute to the traditional Dia de los Muertos celebrations of Mexico, the festival also incorporates elements based on classic hallmarks of the fall, including Halloween and the harvest season. Attractions at the festival include coffin races, a twilight lantern parade, Cirque du Horror and a Flight of Souls paying tribute to lost loved ones from the past year. The festival will be held throughout the day and evening on Saturday, Oct.26 in the area outside of East Hickory and Industrial Streets. Ride Denton Connect Route 7 to get to all the spooky fun!
Bring Your Furry, Ferocious, Four-Legged Friends to Lewisville Bull-o-ween (Lewisville Connect Route 22)
Your vicious pooches and ferocious hellhounds can join in the dark merriment this year at the 16th annual Bull-o-Ween celebration. Produced by the Lone Star Bulldog Club Rescue, this fundraising event welcomes well-behaved, leashed and vaccinated four-legged friends and family members. There will be a costume contest for the most cleverly costumed canine with prizes for the winner. The event will be held from 5 p.m. – 8 p.m. on Saturday, Oct. 19 at the Lewisville Premier Event Center, accessible off Lewisville Connect Route 22.
Marvel in Macabre Mania at the Denton Halloween Fest (Denton Connect Route 4)
Creepy and kooky; mysterious and spooky – the Denton Halloween Fest has ghoulish delights for all ages and inclinations. Featuring costume contests, games, dancing, live music, drag shows, sinfully delicious food and spooktacular raffle items, this event is a marvelous celebration of the macabre and the mundane. The festival, produced by the Denton Pride Foundation, will take place on Halloween Night from 6 p.m. until midnight at the North Texas Fairgrounds. Your wallet need not flee in terror, as admission is free and open to all ages. You can get to the festival grounds via Denton Connect Route 4.
Rock and Roll All Nite at the Rocktober Halloween Bash (A-train)
"Rock and Roll All Nite" at the city of Lewisville's free Rocktober Halloween Bash featuring Destroyer, a Kiss tribute band. Join the Starchild, Demon, Space Ace and Catman in a cacophonous celebration as they take you through a ride straight through Detroit Rock City into the Psycho Circus. The concert will take place at Wayne Ferguson Plaza in Old Town Lewisville on Tuesday, Oct. 29 and will feature trick-or-treating and other kids' activities from 5 p.m. –7 p.m. Beth's crew will take the stage at 7 p.m. You can reach the concert site by hopping off the DCTA A-train at Old Town Station or by riding Lewisville Connect Route 22.
There is an array of awful activities to act out at during this Halloween season. Local ghosts and ghouls will rise to greet you during your journey across the county. Comment below to let us know your favorite Halloween destinations!
---
Sign up for Updates
"*" indicates required fields