Rider Tips
Fun Ways to Celebrate 2018 National Bike Month
May 3, 2018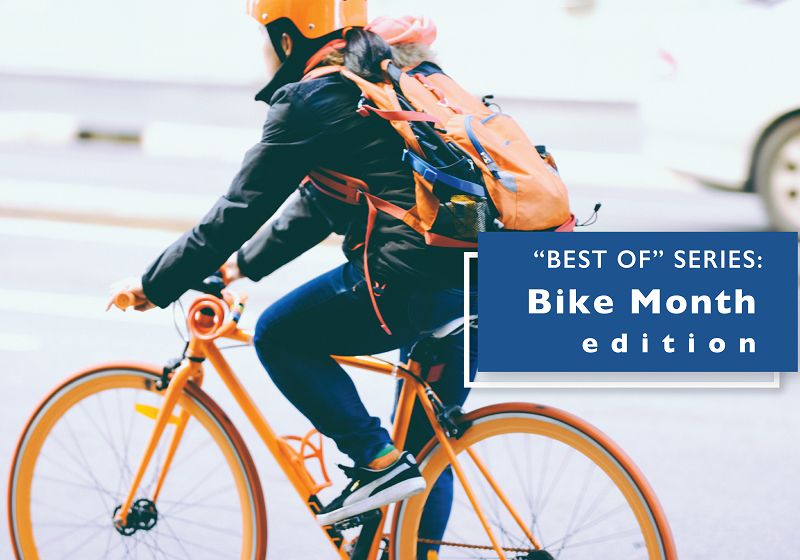 May is National Bike Month, sponsored by the League of American Bicyclists and celebrated all across the country! Now is a great time to put the pedal to the metal and enjoy the many benefits of bicycling such as saving money and time, improving your health, helping our environment or simply exploring your community.
We've gathered up the best ways you can celebrate National Bike Month with us, as well as throughout Denton County:
PARTICIPATE IN TRY PARKING IT'S BIKE EVERYWHERE CHALLENGE
The North Central Texas Council of Governments (NCTCOG) is hosting the 2018 Try Parking It Bike Everywhere Challenge to encourage people to ride their bike instead of driving their car during the month of May. This free challenge is open to all North Texas residents to enjoy the benefits of biking while also getting a chance to win cool prizes.
Registering to participate in the challenge is simple! Visit NCTCOG's Try Parking It website at tryparkingit.com and you have to do is register, ride and record.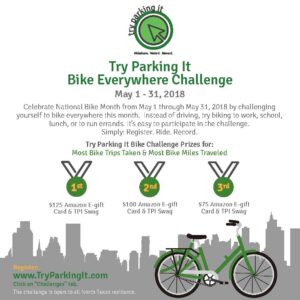 Winners will be chosen in the category of "Most Bike Trips Taken" and "Most Bike Miles Traveled." Listed below are specific winner prize packages:
1st Place– $125 Amazon E-gift card and TPI swag
2nd Place– $100 Amazon E-gift card and TPI swag
3rd Place–$75 Amazon E-gift card and TPI swag
The challenge ends on Wednesday, May 31. Visit tryparkingit.com to register today!
PARTICIPATE IN LOCAL BIKE EVENTS
There are great bike events happening throughout Denton County in celebration of National Bike Month – especially in the City of Denton! Check out their "Cycle with the City" event taking place on Tuesday, May 9: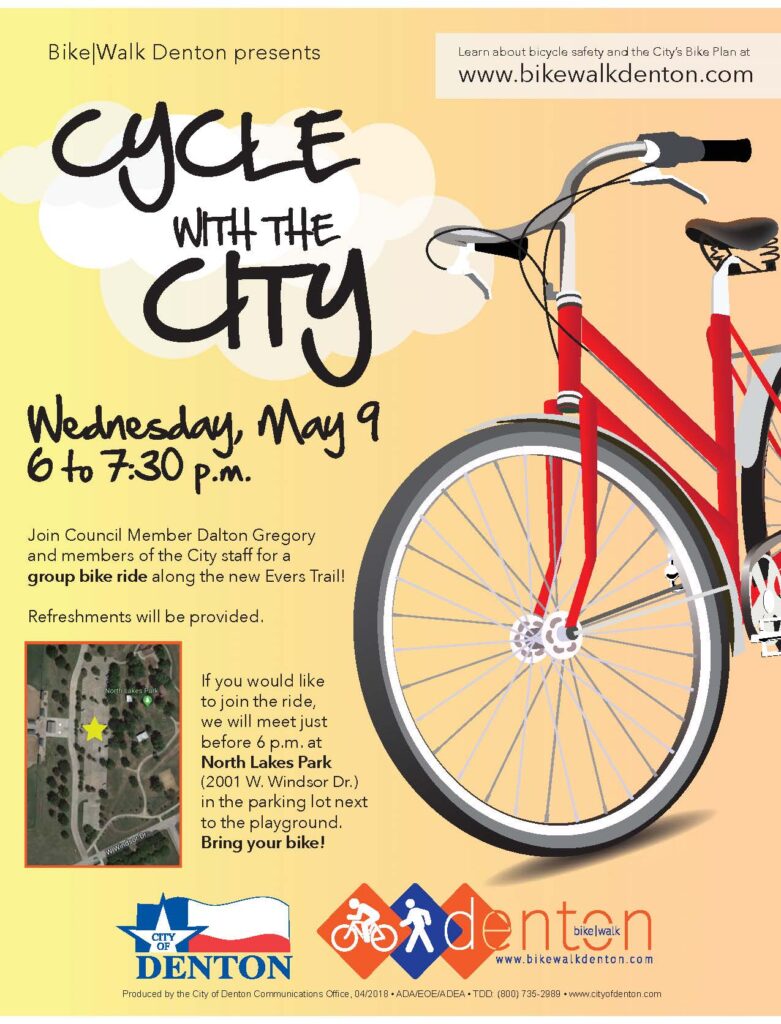 #RIDEDCTA FREE ON BIKE TO WORK DAY (MAY 18)
On Friday, May 18, DCTA is joining the League of American Bicyclists and many organizations across the country in celebrating Bike to Work Day by providing free rides all day to passengers who bring their bikes on board on Friday, May 18. Passengers with bikes can ride the following DCTA services for free:
A-train Commuter Rail
Connect Bus System (Denton and Lewisville)
University of North Texas (UNT) Campus Shuttles
Highland Village Connect Shuttle
Visit RideDCTA.net for more information about our free ride promotion for Bike to Work Day.
TAKE A RIDE ON OUR A-TRAIN RAIL TRAIL
Our 18.1-mile A-train Rail Trail is a great way to get out and get cruising on your bike! Check out the many different trail options you can bike this month
Denton Branch Rail Trail  – Ride and enjoy this eight-mile portion of the trail which is complete and runs from the Downtown Denton Transit Center (DDTC) to Swisher Road in Lake Dallas. Trail access points include the City of Denton, City Hall East at the north trail head on Hickory street. Other major points of access include the Golden Triangle Mall area at Loop 288 near Target, North Central Texas College (NCTC) at Corinth Street and 15 other public street crossings.
Lewisville Hike and Bike Trail – Cyclists can ride on the first portion of the trail (Hebron Station to Old Town Station) which was completed in early 2015. Next year, DCTA plans to finish construction from Old Town Station to the Highland Village/Lewisville Lake Station to finish the entire trail. In total, this portion of the A-train Rail Trail will be 6.6 miles.
Tell us how you plan to celebrate National Bike Month in the comment section below!
---
Sign up for Updates
"*" indicates required fields