Fun Things To Do
May You Have a Blast – Fun Things to Do in May!
May 1, 2018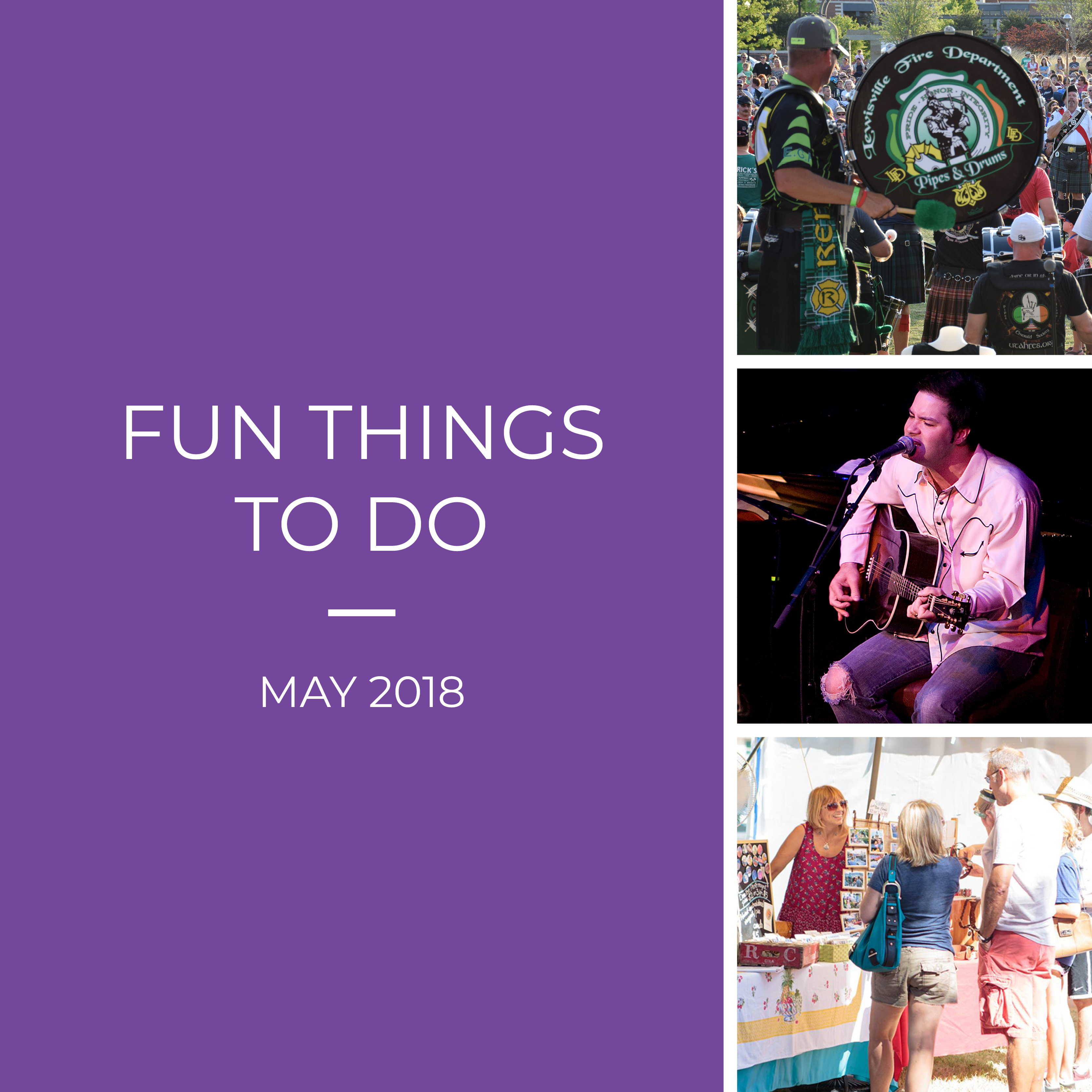 School is coming to a close and summer is right around the corner, which means a variety of new and annual events are happening around Denton County! Whether you want to make a new weekly tradition or try something totally different than your normal routine, events all throughout the month provide the perfect opportunity for you to #RideDCTA to where you need to go!
Denton Twilight Tunes
With the stresses of finals and the longing for summer vacations on the horizon, take your mind off work and school and make your way down to the downtown Denton Square on Thursday nights for Twilight Tunes! This FREE weekly concert series offers music for all tastes – whether you like rockabilly and country or rock and soul, there's something for everyone! Feel free to bring blankets, chairs and food so you can sit back, relax and enjoy great music and a beautiful Texas sunset from 6:30 to 8 p.m. Take Denton Connect Routes 7 and 8 to get a perfect spot on the courthouse lawn. To see the 2018 artist lineup, visit discoverdenton.com/original-event/twilight-tunes-concert-series/.
Denton Community Market
The Denton Community Market is back! From handmade art pieces to fresh produce, business owners throughout Denton and North Texas residents will once again be able to come together for FREE every Saturday from April to November from 9 a.m. to 1 p.m. to shop, sell and socialize. With different vendors every week and dozens of opportunities to shop small and buy local, the market always has something new. Take Denton Connect Routes 7 and 8 to get to all the fun shopping! For more information, visit dentoncommunitymarket.com/.
Mariposas Butterfly Festival in Lewisville
What screams summer besides sunny skies and festival season? Butterflies! Join the City of Lewisville at its all-new butterfly festival emphasizing the importance of conservation and education regarding monarch butterflies all while eating delicious treats, making butterfly kites and maybe even becoming a butterfly yourself! The FREE festival will take place from 10 a.m. to 2 p.m. on Saturday, May 5, at Wayne Ferguson Plaza. Take the A-train to Old Town Station to get see and learn all about butterflies! For more information, visit www.llela.org/activities-programs/mariposas-butterfly-event.
Denton's Cinco de Mayo Festival
Denton's annual Cinco de Mayo festival is back again and will feature everything from authentic foods and beautiful jewelry to exciting bands and fun crafts for the family. This annual FREE festival will have you immersed in Hispanic culture in so many ways! The festival will take place from 10 a.m. to 10 p.m. on Saturday, May 5, at Quakertown Park. Take Denton Connect Routes 5 and 6 to get to this awesome fiesta! For more information, visit https://www.dentoncinco.org/.
Keeping Traditions Alive in Lewisville
This annual, FREE event will showcase more than 300 bagpipers, drummers and honor guard members celebrating alongside firefighters from around the world. Don't miss the firefighters who will make their way to Lewisville to receive instruction on honor corps activities and then perform concerts. Food and drink vendors will also be onsite at the event which will be held from 7 to 10:30 p.m. on Friday, May 11, at Wayne Ferguson Plaza. Since the event runs late, make sure you take the A-train to Old Town Station. For more information, visit cityoflewisville.com/Home/Components/Calendar/Event/21172/21?curm=5&cury=2018.
Texas Tunes: John Christopher Davis and Deryl Dodd
There are only two shows left for Texas Tunes, but May brings double the entertainment! John Christopher Davis and Deryl Dodd will be performing their classic country tunes together this month. The performance takes place on Saturday, May 12, at 8 p.m. at the MCL Grand Theatre. Tier 1 seats are $30 and Tier 2 seats are $20 with a special day-of rate of $15 for Lewisville residents (based on availability). You can take the A-train to Old Town Station to get to the show. For more information, visit www.mclgrand.com/performances/mcl-grand-presents/texas-tunes.
Sip and Stroll at the Shops at Highland Village
Did someone say shopping and sipping on delicious drinks? The Shops at Highland Village are holding their biannual Sip and Stroll event in May where you can try some delicious wine and food pairings, take advantage of special shop deals and give to Denton County Friends of the Family! A $10 donation is required to participate in the event on Thursday, May 17, from 6:30 to 9 p.m. To make sure you get in line early, take the Highland Village Connect Shuttle to get to and from the event. For more information, visit www.facebook.com/events/2041314952565658/.
What are your plans for each of these events? Let us know in the comments below!
---
Sign up for Updates
"*" indicates required fields