News to Use
Happy Birthday to Us: Celebrating 15 Years of Service
November 3, 2017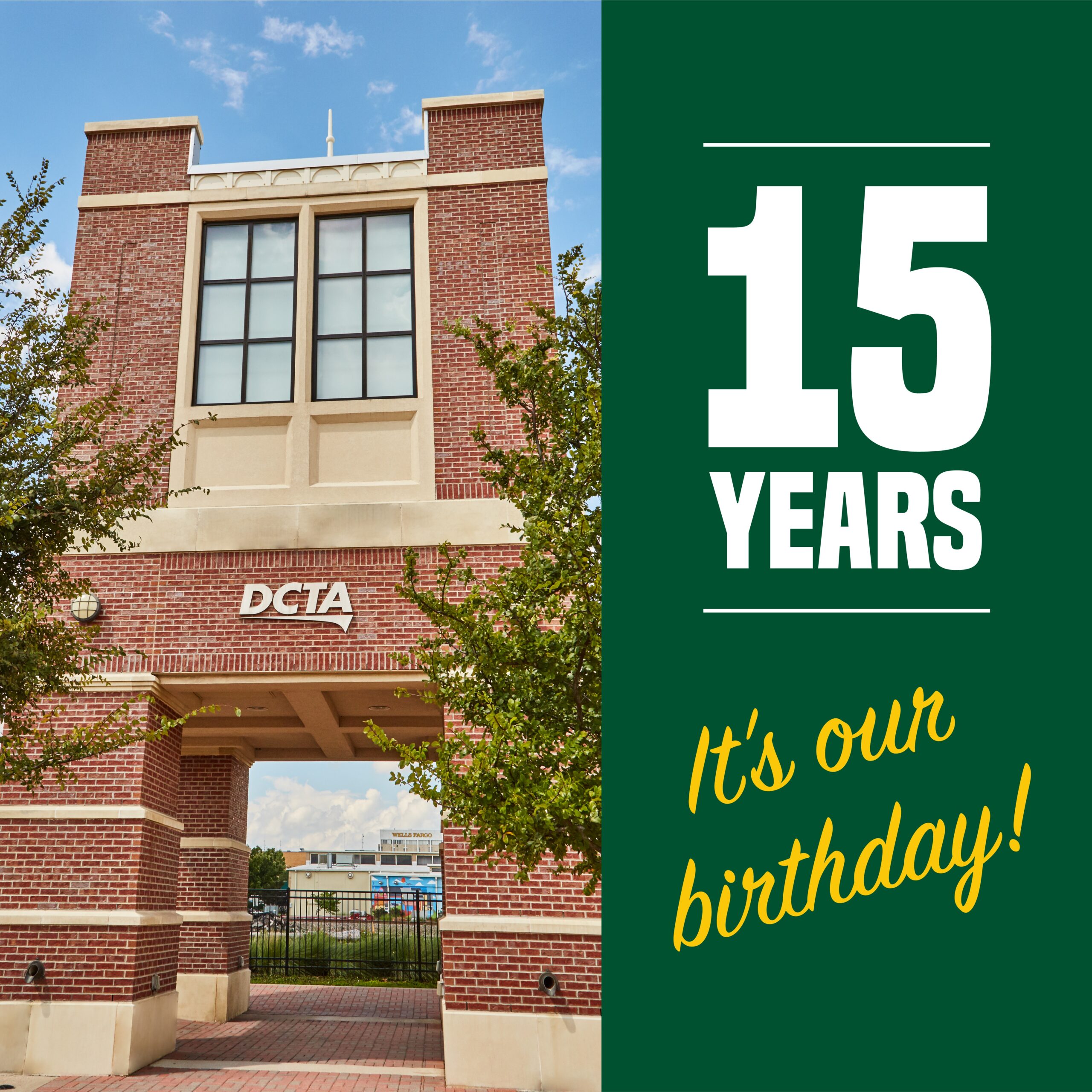 This Sunday, November 5, we will celebrate our 15th birthday! It's an exciting time for us as we reflect back on all of the wonderful projects and initiatives we have implemented that have positively impacted the many communities we serve. We've had many great achievements that support our mission of providing efficient, mobility transit solutions and wanted to highlight them for our special day:
Service Expansion in Collin County
Over the past year, we have continued our expansion efforts into Collin County with the launch of Collin County Transit – a partnership between us, the City of McKinney, the McKinney Urban Transit District (MUTD). This service consists of a subsidized taxi voucher program that provides efficient transit options for participating MUTD cities including McKinney, Lowry Crossing, Melissa, Princeton and Celina.
Collin County Transit – which launched this past June – operates Monday through Friday from 6 a.m. to 6 p.m. and Saturdays 8 a.m. to 6 p.m. Irving Holdings operates the taxi voucher program and manages the call center operations, scheduling, dispatching, driver operations and management, vehicle maintenance, safety and licensing requirements, fare and data collection, and reporting.
With the new service, residents can now enjoy the convenience of regular taxi service at a fraction of the cost to get to popular destinations such as grocery stores, senior centers, libraries, Baylor Medical Center, Medical Center of McKinney and more.
In addition to the launch of Collin County Transit service, we expanded our Frisco Demand-Response Service in March by piloting a taxi program service for trips originating within Frisco's incorporated limits to destinations located in Frisco, McKinney, and Allen. This expansion follows the success of the demand-response service.
New Regional Corridor Transit Service Success
We've had great success with our partnership with the Fort Worth Transportation Authority (FWTA) in launching the North Texas Xpress commuter bus service that operates along Interstate 35W and connects Denton and Fort Worth with stops in Alliance making round trips each weekday between approximately 5:15 a.m. and 9:30 p.m. From September 2016 to 2017, there have been nearly 13,000 boardings for the North Texas Xpress which indicates a great need for this regional service. We look forward to our continued partnership with FWTA to ensure that the North Texas Xpress service remains a viable transportation option for this fast-growing regional corridor.
Ridesharing Partnership Expansion
At DCTA, we're always looking to provide innovative transit solutions for our riders and surrounding communities and continued this vision with the expansion of our Uber discount program in Highland Village – which includes $2 discount for trips that begin and end within the newly defined Uber Discount Program Zone. This past May, we expanded our Uber partnership in Highland Village by providing discounted trips to new areas in North Lewisville. The expanded zone includes additional medical facilities and employment centers around Medical City Lewisville. It also includes areas east of Interstate 35E that contain additional office and industrial areas not currently served by DCTA's Lewisville Connect Bus routes.
We will continue to evolve our strategic partnerships with transportation network companies (TNC) to provide passengers with more transit solution options for first and last-mile connections.
Enhanced Real-Time Vehicle Tracking System
In September, we launched Transit Tracker – our new vehicle tracking system that provides passengers with access to real-time information for the DCTA A-train, fixed-route bus and shuttle services via phone, online, text and free mobile application.
The real-time information in DCTA's Transit Tracker system is powered by Swiftly – a company that  develops enterprise software to help transit agencies and cities improve urban mobility – who generates schedule data in General Transit Feed Specification R package (GTFSR) format and real-time Automatic Vehicle Location (AVL) data (GPS trackers installed on agency vehicles). The Transit Tracker mobile app, web portal and homepage widget are provided by Transit, a mobile application company whose goal is to simplify the commute in more than 125 cities worldwide.
This new system is an enhancement to our previous Where's My Ride tracking system and gives riders more options to track their ride.
Strong Financial Stability and Transparency
Financial stability is top priority for us here at DCTA, and we're proud to have been recognized for the following prestigious financial awards this past year:
Distinguished Budget Presentation Award – We received this award from the Government Finance Officers Association (GFOA) – a major professional association servicing the needs of 18,300 appointed and elected local, state and provincial – level government officials and other finance practitioners. GFOA's Distinguished Budget Presentation awards program is the highest form of recognition and only national awards program for governmental budgeting. We have won this award for the past 11 years.
Achievement of Excellence in Procurement (AEP) Award – Every year, the National Procurement Institute, Inc. recognizes public and non-profit organizations with this prestigious award that is given to those that obtain a high application score based on standardized criteria. This is the second year that DCTA has applied and received this prestigious award. In addition, we were one of only 50 agencies in Texas to receive the AEP Award.
All of these great accomplishments would not be possible without the hard work from our board of directors, staff and partners. As we celebrate another wonderful year of service, we look forward to another year of growth and opportunities to serve the community with new and improved transit options.
Join us in celebrating by sending us birthday wishes in the comments section below! Let us know how we have helped improve your community.
---
Sign up for Updates
"*" indicates required fields