News to Use
From DCTA: Thanks Veterans for Your Service!
November 10, 2017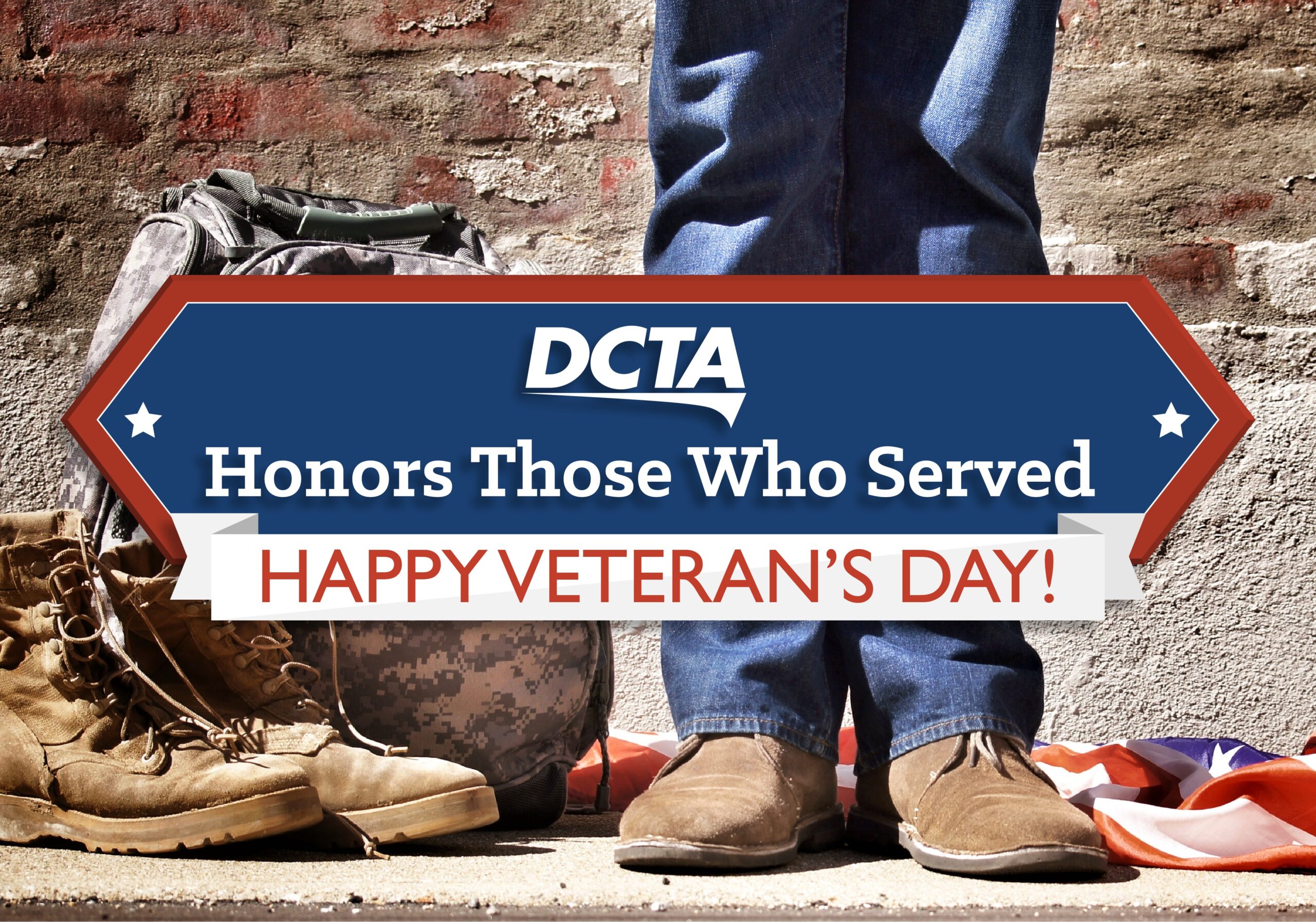 Here in Denton County, there are more than 46,000 veterans. We are grateful each day for their service, which allows our community to live in peace and prosperity. At DCTA, we recognize and honor those who have served in the United States military, especially the 29 veterans on our staff and board of directors. Please join us in saying thank you to the following people:
Nick Allen, DMU Conductor
Richard Balzen, DMU Engineer
Jerry Box, Bus Operator
Paul Alan Clark, Bus Operator
Jim Cline, DCTA President
Jamie Cooper, DMU Conductor
Cliff Cozzolino, Bus Operations Parts Clerk
Seth Eller, DMU Engineer
Charles Emory, Board of Directors Chairman
Ed Ewell, Bus Operations Director of Maintenance
Dan Green, Bus Operations Service Attendant
Robert Haney, Bus Operations Mechanic
Matthew Hernandez, Bus Operations Quality Control Specialist
Walter Herron, Bus Operator
Richard Huckabee, Board of Directors Secretary
David Johnson, Bus Operator
George Karas, Bus Operator
John Lawrence, Bus Operator
Tommy Lord, Bus Operations Service Attendant
Gloria Marlow, Bus Operator
Eldrew Geno Mitchell, Bus Operator
Eddie Moreno, Bus Operator
Jim Owen, Bus Operator
Billy Peebles, Bus Operator
Ron Steadman, Bus Operator
Tom Tulley, General Manager of Rail Operations
Steve Welch, Deputy General Manager of Rail Operations
Randy Wells, Bus Supervisor
Dave Wyatt, Rail Operations Supervisor
DCTA VETERAN'S DAY FREE RIDE PROMOTION
Are you a veteran or active military personnel? We'd like to show our appreciation by providing you with FREE RIDES today on our services. Just show your military ID or discharge papers on the A-train, Connect Bus, Connect Shuttle, or UNT Campus Shuttle. Thank you for serving our country, and happy Veteran's Day!
---
Sign up for Updates
"*" indicates required fields