News to Use
Happy Birthday to Us!
November 5, 2015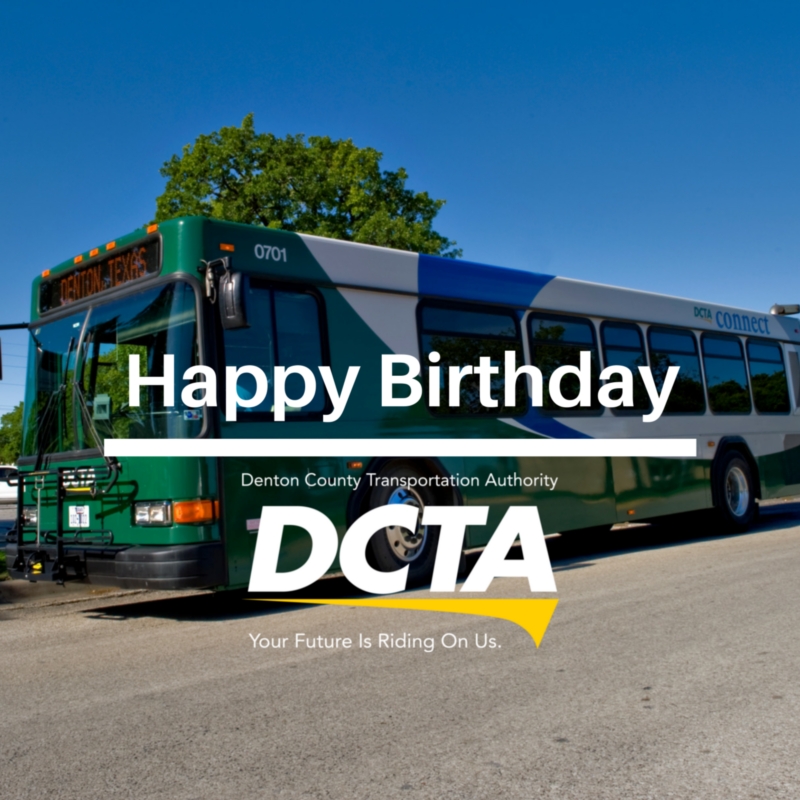 It's our birthday today! On November 5, 2002, Denton County voters approved the confirmation of DCTA by 73 percent. To celebrate, we're listing off cool DCTA facts and information for each year we've been in operation:
2002 – DCTA was born.
2003 – DCTA's Executive Committee becomes Board of Directors to serve as the governing body the agency and Denton, Highland Village and Lewisville voted to join DCTA and levy a half cent sales tax to finance the system.
2004 – DCTA's Board of Directors names John Hedrick as the agency's first president/executive director to lead DCTA and direct its implementation of transportation options for Denton County.
2005 – The University of North Texas and DCTA sign an agreement for the agency to operate the university's shuttle system.
2006 – DCTA absorbs LINK – the mass transit service operated by the City of Denton since 2002 – and launches its Commuter Express bus program into downtown Dallas and Connect bus service in Lewisville.
2007 – DCTA launches bus service in Highland Village.
2008 – DCTA receives funding to construct and complete the A-train 21-mile regional rail system and purchase rail vehicles.
2009 – DCTA begins construction of the A-train, names Jim Witt as interim president, and breaks ground on four A-train stations – Hebron, Old Town, Highland Village/Lewisville Lake and MedPark.
2010 – DCTA appoints new agency president Jim Cline and breaks ground on the Euline Brock Downtown Denton Transit Center and final A-train station.
2011 – DCTA launches its A-train commuter rail line to the general public.
2012 – DCTA's A-train gets a new look as the agency debuts its new Stadler DMU rail cars.
2013 – The A-train surpasses one million passengers.
2014 – DCTA celebrates the opening of its new Bus Operations & Maintenance facility.
2015 – DCTA launches its new Where's My Ride vehicle tracking tool and Comprehensive Operational Analysis to improve existing bus service in Denton, Highland Village and Lewisville.
Have any special birthday wishes you want to send our way? Tell us below in the comments section. We appreciate the support from our community and look forward to providing enhanced mobility solutions for Denton County!
---
Sign up for Updates
"*" indicates required fields