Fun Things To Do
Happy New Year: Fun Things to Do in January
January 2, 2018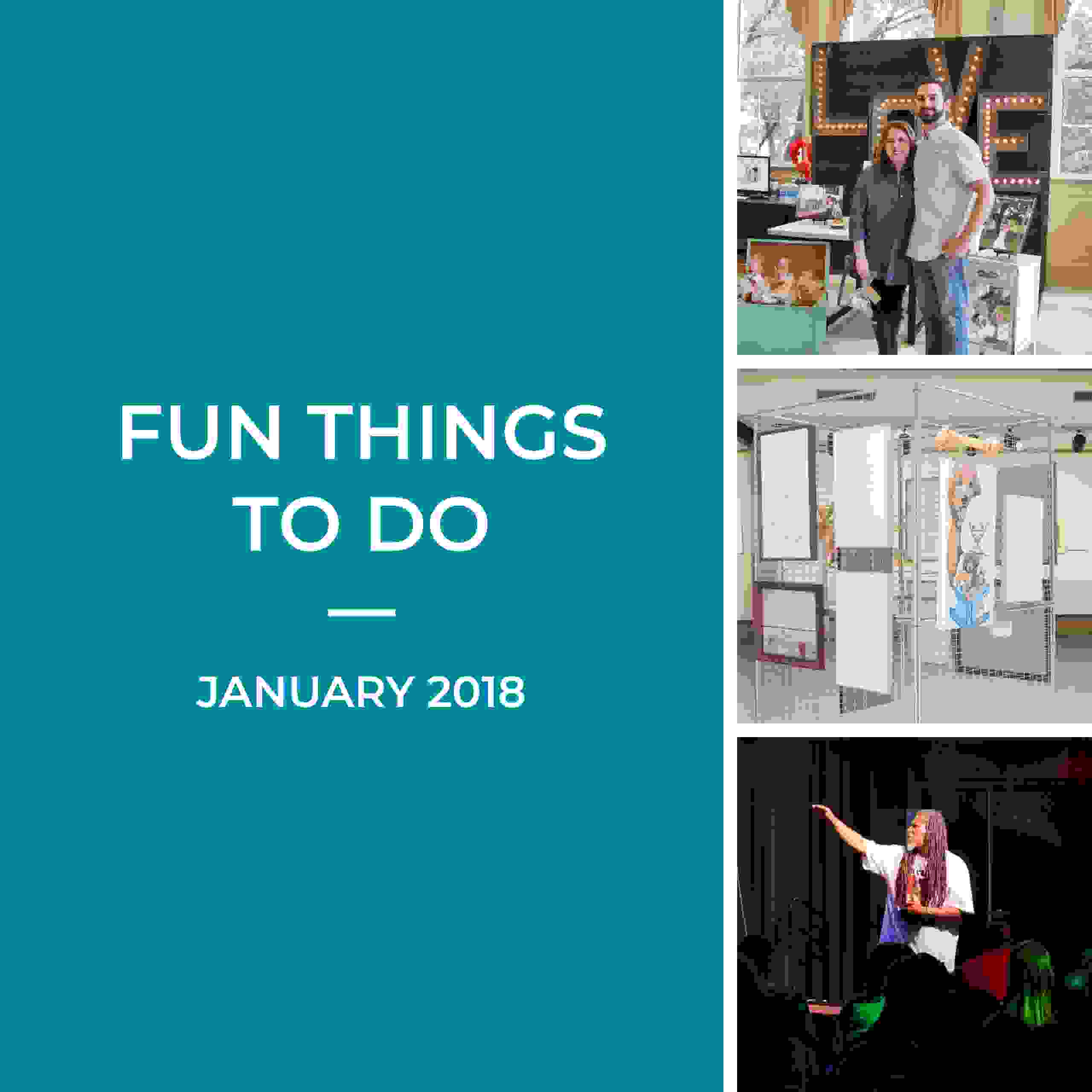 Last year brought hundreds of fun and exciting events, craft nights, festivals and markets throughout Denton, Lewisville and Highland Village. Even though the year is changing, one thing isn't – we can still get you to many of these events all across North Texas!
Since you may be working on your 2018 New Year's resolutions, make sure to keep "riding DCTA more" on your list! Take a look at some events taking place in January that we can get you to and leave your car at home.
VAST 2018 Calendar Exhibition
The Visual Arts Society of Texas (VAST) 2018 Calendar Exhibition is closing this month after opening in November, so make sure to go check it out before it is gone! Every year, the VAST creates a calendar features work by its members and curates an exhibition in order to benefit the featured artists. The free exhibition is open from 9 a.m. to 1 p.m. from January 1 through 12 at 318 E. Hickory Street in Denton. Take Denton Connect Routes 7 and 8 to see the variety of work. For more information, visit vastarts.org/exhibitions/calendar-exhibition.
Color Me Mine Texas Mosaic Workshop
After a successful and sold out Mosaic Workshop event in November, Color Me Mine is hosting another craft night on Friday, January 5, from 6 p.m. to 9 p.m. at Color Me Mine located at 2570 Justin Road #150 in Highland Village. The BYOB event is $45 and includes materials to create a beautiful tumbled sea glass mosaic of the state of Texas. Take the Highland Village Connect Shuttle to get to Color Me Mine (and if you don't want to create the mosaic, the store is still open for those who might just want to paint). For more information, visit facebook.com/events/129591134394061.
First Friday Denton
Don't worry – First Friday Denton will still celebrate art, music and more in 2018! This monthly event has everything from beer samples at the Discover Denton Welcome Center to mini concerts at A Creative Art Studio, all while providing opportunities for people of all ages. The event is from 6 p.m. to 10 p.m. on Friday, January 5, on the Denton Square. Take Denton Connect Routes 7 and 8 to get there. For more information, visit http://firstfridaydenton.com.
2018 Denton Bridal Show
Wedding bells are ringing in Denton! If you still need to finalize wedding plans, don't miss the 2018 Denton Bridal Show for all bride-to-be's, mother in laws, bridesmaids – and even grooms – to come discover a variety of vendor options for the "big day." The bridal show will take place at Texas Women's University on Saturday, January 13, from 10 a.m. to 3 p.m. Tickets are $10 each (which includes a free swag bag for the bride-to-be and a raffle ticket). Whether you're looking for a delicious cake and the perfect floral arrangement or the fanciest venue and loudest DJ, ride Denton Connect Routes 5 and 6 to get to all the options at the bridal show! For more information, visit dentonbridalshow.com.
MLK Jr. Day Denton Celebration
Dr. Martin Luther King Jr. Day is a time to remember a great man in American history, and the Denton Community will be coming together to celebrate his life, accomplishments and impact! On Monday, January 15, there will be multiple events to celebrate the theme of "freedom comes from strength within us." A flag football game at the Martin Luther King Jr. Recreation Center will take place at 11 a.m., and you can take Denton Connect Route 2 to get there. There will also be a rally and march beginning at the University of North Texas (UNT) Union at 3 p.m., and you can take Denton Connect Routes 7 or 8 to get there. For more information, visit cityofdenton.com/residents/parks-recreation/mlk-jr-day.
Denton Black Film Festival
Lights, camera, action! The 4th annual Denton Black Film Festival will showcase movies and music over traditions, ideas and experiences passed down through generations. The festival focuses as "a platform for stories about black lives, black culture and black experiences to be shared, told and lived." The event will take place throughout the day from Thursday, January 25, to Sunday, January 28 in downtown Denton. Festival prices range from individual film prices of $8 to VIP all-access passes of $199 with a variety of options in between. Take Denton Connect Routes 7 and 8 to get to the various shows throughout the festival (PLEASE NOTE: WE DO NOT RUN SERVICES ON SUNDAY). For more information, visit dentonbff.com.
Let us know in the comment section below which events you plan to attend!
---
Sign up for Updates
"*" indicates required fields