Fun Things To Do
Marching into Spring: Fun Things to Do in March
March 1, 2019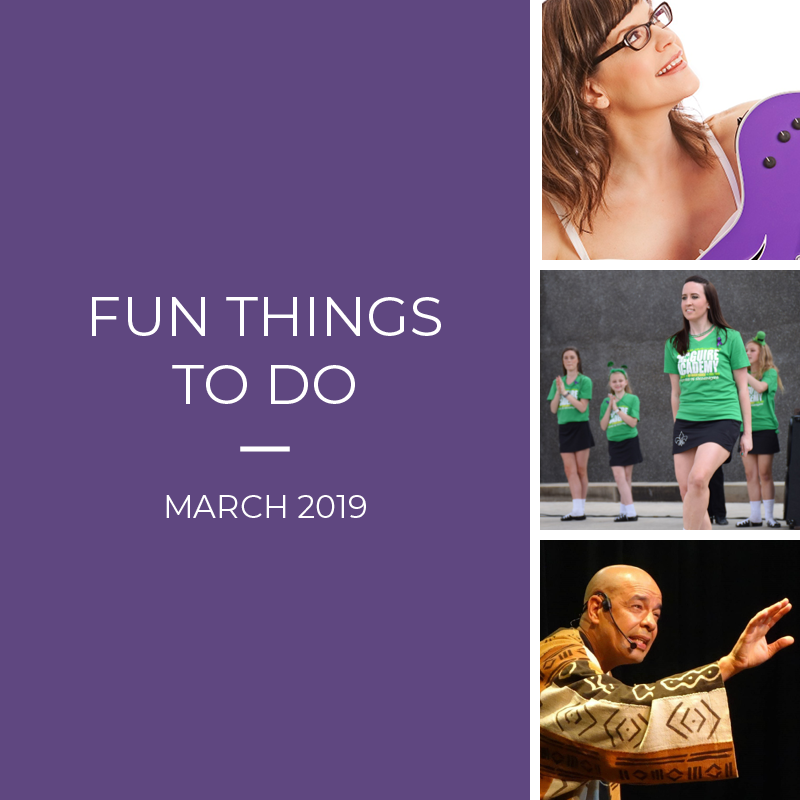 The seasons are changing, and that brings exciting events in Denton, Highland Village and Lewisville! Whether you want to join a Texas-style celebration of St. Patrick's Day, enjoy the musical and story-telling creativity of North Texas or spend the day walking around the Denton Square, DCTA can help you get to some of the best events the area has to offer!
St. Paddy's Texas Style in Lewisville
You're in luck! The city of Lewisville's St. Patrick's Day celebration is back for its third year! Bring your kids and enjoy a day of FREE activities including life-sized games and even a zip line. The celebration in Wayne Ferguson Plaza kicks off at 1 p.m. on Saturday, March 16 with Irish and Texas music. The day ends with a showing of the movie "Brave" at 7:45 p.m. You can ride our A-train to the Old Town Station to get to Wayne Ferguson Plaza or Lewisville residents can take Route 22 to get there. For more information, visit https://www.cityoflewisville.com/Home/Components/Calendar/Event/30300/485.
Please note: If you are taking Lewisville Connect Route 22, the last bus out of Old Town Station departs at 6:44 p.m.
Denton Courthouse-on-the-Square Museum's 40th Anniversary Celebration
Denton County's Courthouse-on-the-Square Museum is celebrating its 40th anniversary from 11 a.m. to 3 p.m. on Saturday, March 30 with a free day at the courthouse! The festivities include clocktower tours, kids crafts and live music. Hop on our Denton Connect Route 7 to join the museum in honoring this milestone by unveiling its new exhibit, "40 for 40: Forty Artifacts for Forty Years," which features 40 items from the Courthouse on the Square Museum's collection. For more information, visit https://www.facebook.com/events/374246366457287/.
Texas Tunes: Lisa Loeb in Lewisville
A new month means a new Texas Tunes concert in Lewisville! Platinum-selling and Grammy-nominated musician Lisa Loeb joins the Texas Tunes series Saturday, March 23 with two concerts – a children's concert at 3 p.m. and an evening concert at 8 p.m. Loeb is known for her song "Stay (I Missed You)" from the movie "Reality Bites." Take the A-train to the MCL Grand Theater, relax and enjoy the show! Tickets to Loeb's children's matinee are $15 for adults and $10 for children 12 and under. Lewisville residents can purchase tickets for the evening concert for $15, and everyone can purchase Tier 2 seats for $20 and Tier 1 seats for $30. For more information or to buy tickets, visit mclgrand.com/performances/mcl-grand-presents/texas-tunes.
Highland Village Date Night at Double Tree Game Night
What's better than some friendly competition among you and your loved one or other couples? Make this month's date night a game night! Take advantage of DCTA's Highland Village Lyft program and head over to Doubletree Ranch Park from 7 p.m. to 9 p.m. March 15 to spend the night out with other couples! This event is 21 years and older, and registration deadline is one week before the event. Tickets are $35 per couple. For more information, visit highlandvillage.org/988/Date-Night-at-Doubletree.
Denton Texas Storytelling Festival
Celebrate diversity at the 34th annual Texas Storytelling Festival! This year, the festival is centered around the theme "One World: Many Voices, Many Tales." The festival takes place March 7-10 at the Woman's Club Building, the Denton Senior Center and Emily Fowler Library. Hop on our Denton Connect Route 6 if you're in town or ride our A-train if you need to get to Denton to experience the many festival attractions! The festival will feature FREE activities including a ghost stories concert, a flute circle, kids activities and more. Tickets for workshops, concerts and the Talespinner Party are available online. For more information, visit tejasstorytelling.com/festival/.
Please note: DCTA does not operate services on Sundays.
Denton Spring Open House
Hello, spring! Bring in the new season at the Downtown Denton Spring Open House! There will be special shopping, dining and entertainment that you won't want to miss, so take the A-train to the Square on March 23 and spend the day enjoying the nice weather and all the shops and restaurants have to offer with your friends and family! To learn more about the event, visit dentonmainstreet.org/spring-open-house.
Leave a comment below with where you plan to #RideDCTA this month!
---
Sign up for Updates
"*" indicates required fields