News to Use
Meet Ed Ewell: DCTA Maintenance Guru
July 20, 2016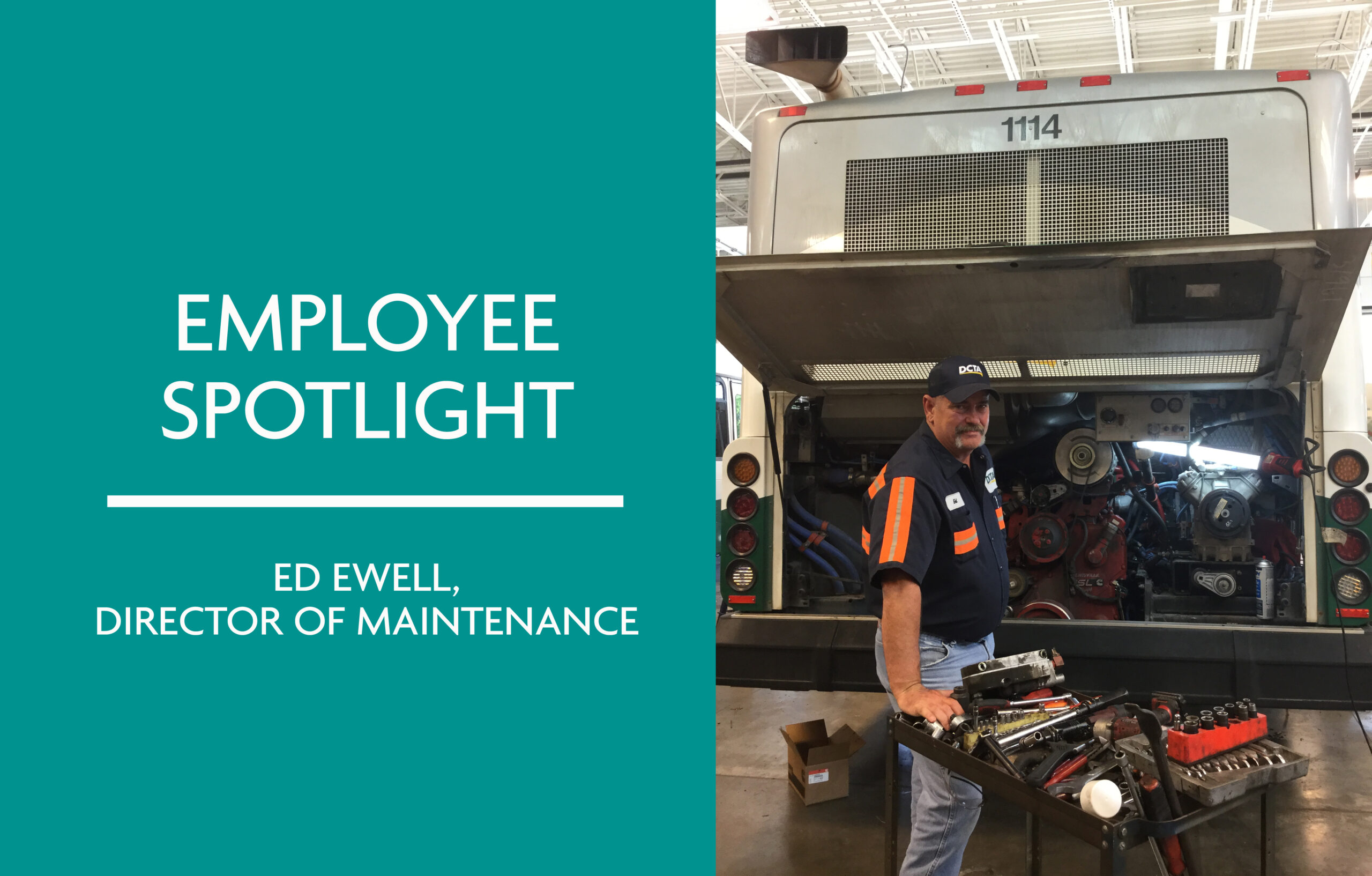 Riding DCTA buses seems like a normal routine. You arrive at your stop, get on the bus, enjoy the ride and get off at your desired location. But have you ever thought about the process it takes for us to get our buses on the road every day so that our passengers such as yourself can get to and from their desired destination?
Let us introduce you to the man behind-the-scenes who makes this happen smoothly – Ed Ewell, Director of Maintenance. He has worked for DCTA for nearly 12 years. Ed started out working for LINK, the mass transit service operated by the City of Denton since 2002, before it was absorbed by DCTA. He worked his way up from a bus operator to a bus supervisor for DCTA's Commuter Express Bus service all the way to his current position today.
Wondering what Ed's day-to day consists of? Look no further – we've got you covered. For Ed, his work days consist of the following:
Checking to make sure DCTA has enough buses for operation for the day
Ensuring that all DCTA buses are working properly and are clean
Most importantly making sure DCTA buses are getting passengers where they need to go
The most important aspects of the job according to Ed is making sure DCTA has enough buses for operation and ensuring that all DCTA buses are working properly and are clean for bus operators to drive. In addition, Ed works hard to stay on top of the latest bus technology trends so that DCTA can provide the best service to our passengers.
Ed was born in Ft. Bragg, North Carolina and grew up as an army brat. He started school in Paris, France and graduated high school in Germany – talk about worldwide living! Ed also served in the army for three years.
In his spare time, you can find Ed taking beautiful photos for his photography business and raising desert sheep. Yes – you read that right. There is such a thing as desert sheep. You can check out some of Ed's photography work here: https://www.facebook.com/Ewell-Photography-151104628640/.
Ed loves what he does and takes pride in his work. In his own words – "My main goal is to make sure our buses are in tip-top shape, clean, working properly and get our passengers there they need to go."
FUN FACTS ABOUT ED
Who is your favorite sports team? Oklahoma University football team
What hobbies do you do in your spare time? Raising desert sheep and his photography business
Where is the best place that you've lived? New England
Who is your favorite music artist? Kevin Fowler and Jason Bolen
If you could have one superpower, what would it be? To fly
What is your favorite food? Seafood
What is your favorite color? Blue
What was your first job? Mowing lawns
Where is your dream vacation? South Padre
---
Sign up for Updates
"*" indicates required fields