Rider Tips
Stay Cool this Summer Riding Transit
July 12, 2016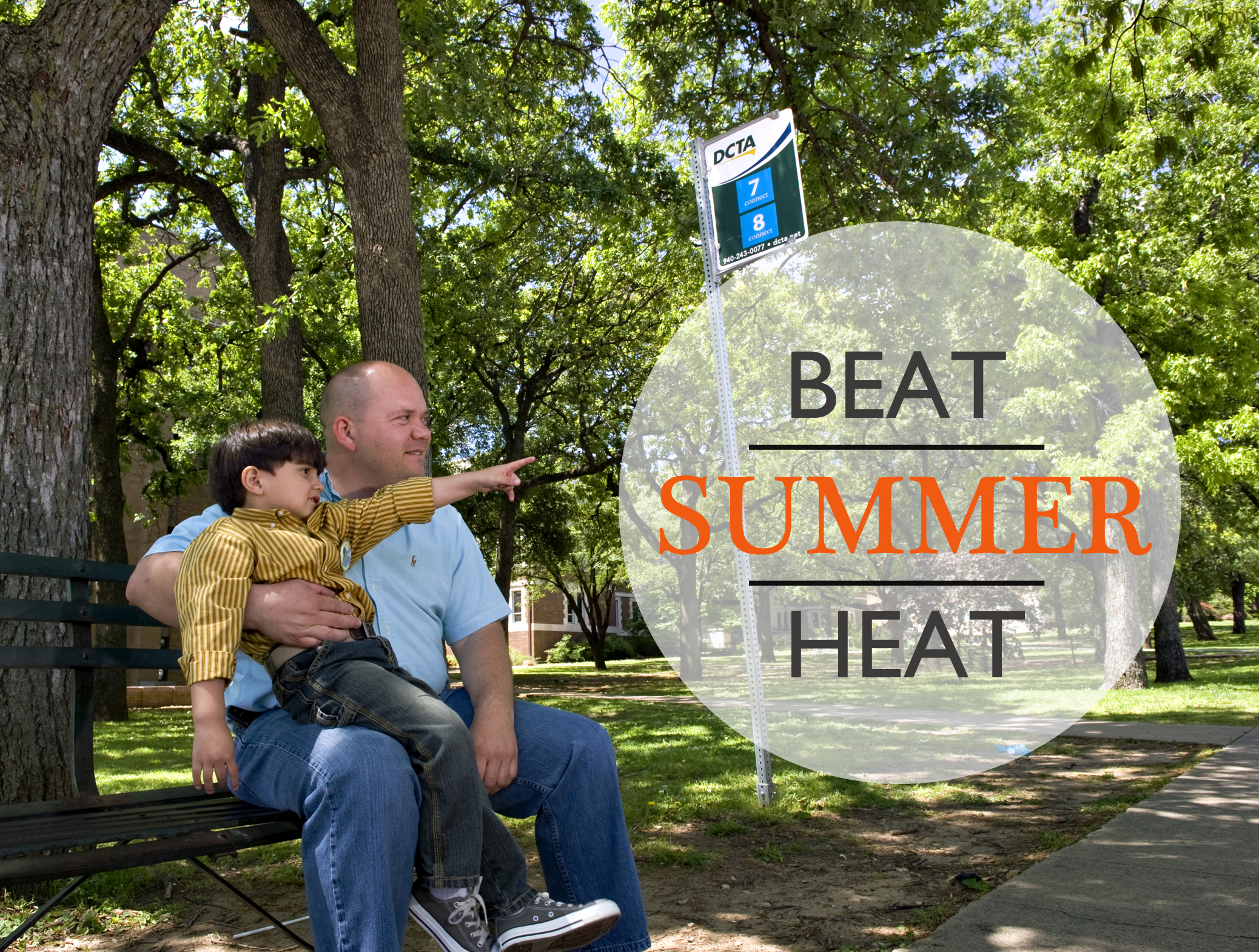 Anyone who's lived through a Texas summer knows how hard it is to stay cool during the hottest months of the year. The weather climbs into the triple digits, which can make waiting at a bus stop or train station miserable. We want to make sure you stay cool and healthy this summer, so here are some tips to beat the summer heat while riding transit:
Stay in the Shade: Take a note from our favorite Transylvanian vampire and avoid direct sunlight. Find a large tree or the shadow of a nearby building for shade. Or BYOS: bring your own shade! Carry an umbrella or make a statement with a stylish parasol. You can also wear sunhats, fedoras, baseball caps or visors to keep the sun's rays off of your face. Either way, staying out of direct sunlight is a guaranteed way to protect yourself from the heat.
Keep Hydrated: Standing outside for long periods of time can lead to dehydration. Always carry a water bottle with you for instant and immediate hydration. Don't wait until you're thirsty to drink water – that's your body saying you're already dehydrated. Avoid caffeine and other dehydrating substances. You can still have your morning coffee, but make sure to drink plenty of water to offset the dehydrating effects of the caffeine.
Wear Light Clothing: We all want to be stylish and trendy, but dripping with sweat isn't a good look on anyone. When picking out your outfit for the day,choose materials that are lightweight and breathable (i.e. cotton, chambray, rayon, linen, etc.) and lean toward light or neutral colors. Being fashionable is hot! But keeping cool is always in style.
Plan to Fan: If there is no trace of wind outside, you may need to create your own cooling breeze with a handheld fan! There's a variety of ways to do this: you can go old school with a bamboo folding fan; try something high-tech like a battery-operated personal fan; or you can get creative and improvise with whatever's around… like your handy DCTA Go Guide!
In Texas, high temperatures are inevitable. But that doesn't mean you can't stay cool! How do you plan to beat the heat this summer?
---
Sign up for Updates
"*" indicates required fields