News to Use
On Thick Ice
February 13, 2023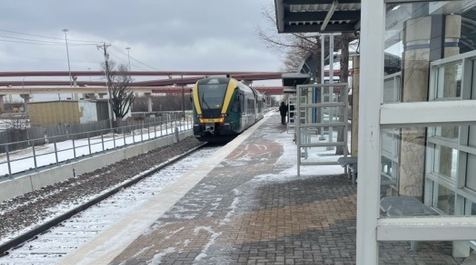 Behind the scenes as DCTA maneuvers through the 2023 North Texas ice storm
As January gave way to February, a major winter storm blanketed North Texas with a sheet of ice and presented slippery challenges for anyone trying to get around town. For Denton County Transportation Authority (DCTA), the challenge consisted of managing and moving multiple fleets of vehicles, and moving people safely, or not at all.
During the four-day ice storm, DCTA managed to keep the A-train commuter rail line running, and mostly on time at that, thanks to crew members who not only cleared train station platforms and tracks, but also lit up railroad track switch heaters (see photo) to ensure those switches would remain operational and that the trains could continue to pass safely. The A-train managed to move over one hundred commuters a day during the week despite the adverse conditions.
Understandably, DCTA efforts to keep fleets moving proved more difficult when it came to vehicles with rubber tires.
The GoZone rideshare service successfully ran on all but one day of the winter storm, including the completion of over 700 trips on the first full day of the sleet sheet.
"Those 700 rides represent 700 people who needed to get somewhere," said DCTA CEO Paul Cristina the next morning. "There were people that didn't have food in their houses, and they needed to go to the grocery store, so it's good work that we're doing."
In another big win for DCTA, the Access Paratransit service stayed in operation every day throughout the storm, delivering an average of 50 patients daily to-and-from their medically necessary appointments without incident, although there were predictable delays.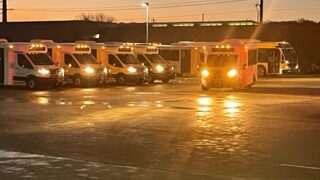 But treacherous roads forced cancellation of Connect Bus and North Texas Xpress regional bus service on Tuesday, Wednesday and Thursday. There was simply too much ice on city streets to operate large buses until a significant melt occurred on Thursday and Friday. With the University of North Texas cancelling all classes on Tuesday through Friday of the storm week, UNT Campus Shuttle bus service was also cancelled for most of the week, but did run regular service on Friday after a delayed 10:00 AM start.
Behind the scenes, the DCTA leadership team had begun preparing for the storm the week prior, as the forecast for freezing precipitation became clear. DCTA leaders assembled an emergency response group which held situational update calls every 6-12 hours. Those calls gave DCTA the ability to assess the changing situations, formulate plans, react to new updates and give operators time to adapt to agency plans for dealing with the conditions in real time, as well as plan for the next 24 hours of operations. The cadence also allowed DCTA to inform the public of ongoing and changing plans for those riders who needed to get around.
Additionally, agency representatives participated in situational update calls with Denton County Emergency Management, and shared DCTA plans with partners in the county.
Complicating matters, DCTA had to manage other situations, such as ensuring vehicle operators got their federally-mandated rest periods between assignments, getting hotel rooms for personnel to stay close to their assigned positions instead of traveling long distances to their homes, and making sure people on the team got fed, given the lower availability of food during the ice storm.
There were additional considerations affecting service decisions. The A-train service doesn't just involve DCTA's ability to operate, it also depends on having DART Green Line light rail service running on time to efficiently connect travelers. So when DART announced it had significant light rail delays, there was some consideration given to slowing the frequency of A-train schedules, so as not to leave passengers outdoors for extended periods at the Trinity Mills station waiting for tardy train connections. "We don't want customers waiting out in the cold on icy train platforms for any longer than necessary," said Alex McGlinchey, senior manager of rail operations for DCTA.
Ultimately the decision was made to continue the full schedule of A-train service, and to allow passengers to wait inside warm train cars as long as they could. On Tuesday, the A-train ultimately transported 137 passengers to their destinations, well below normal daily levels, but no doubt many of those people are considered essential personnel to their employers or they would not have been traversing the North Texas tundra.
Safety was the overriding factor influencing DCTA decision-making. For example, Via, GoZone's operating company, advised its drivers to report road conditions whenever they went out, and not to feel compelled to work if they saw that driving conditions were too risky.
Safety considerations also drove decisions on bus operations, as supervisors who drove on bus route paths in Denton observed that they remained too treacherous for buses to maneuver. On several occasions, plans for delayed starts of bus operations had to be altered due to the reality that icy road conditions had not improved as predicted and hoped. And while no agency wants to publicize and then not follow through on plans, safety always took priority.
In the end, DCTA continued operating two modes of transit, A-train and Access, on full schedules during every day of the winter storm. A third mode, GoZone, only missed one day of operation, allowing DCTA to move people despite maneuvering over a massive ice rink. The only consolation to the missing bus services was that by far, the majority of county residents heeded public warnings to simply stay home, leaving little to no demand for buses.
Throughout the winter event, the DCTA team remained vigilant to conditions and to safety.
"All of this happens because of the dedication of our people to our mission of driving Denton County to a better future, and we can't be more proud of the way our people responded to this challenge," said Cristina.
---
Sign up for Updates
"*" indicates required fields