News to Use
Riding the Wave of Digital Engagement with DCTA
September 14, 2020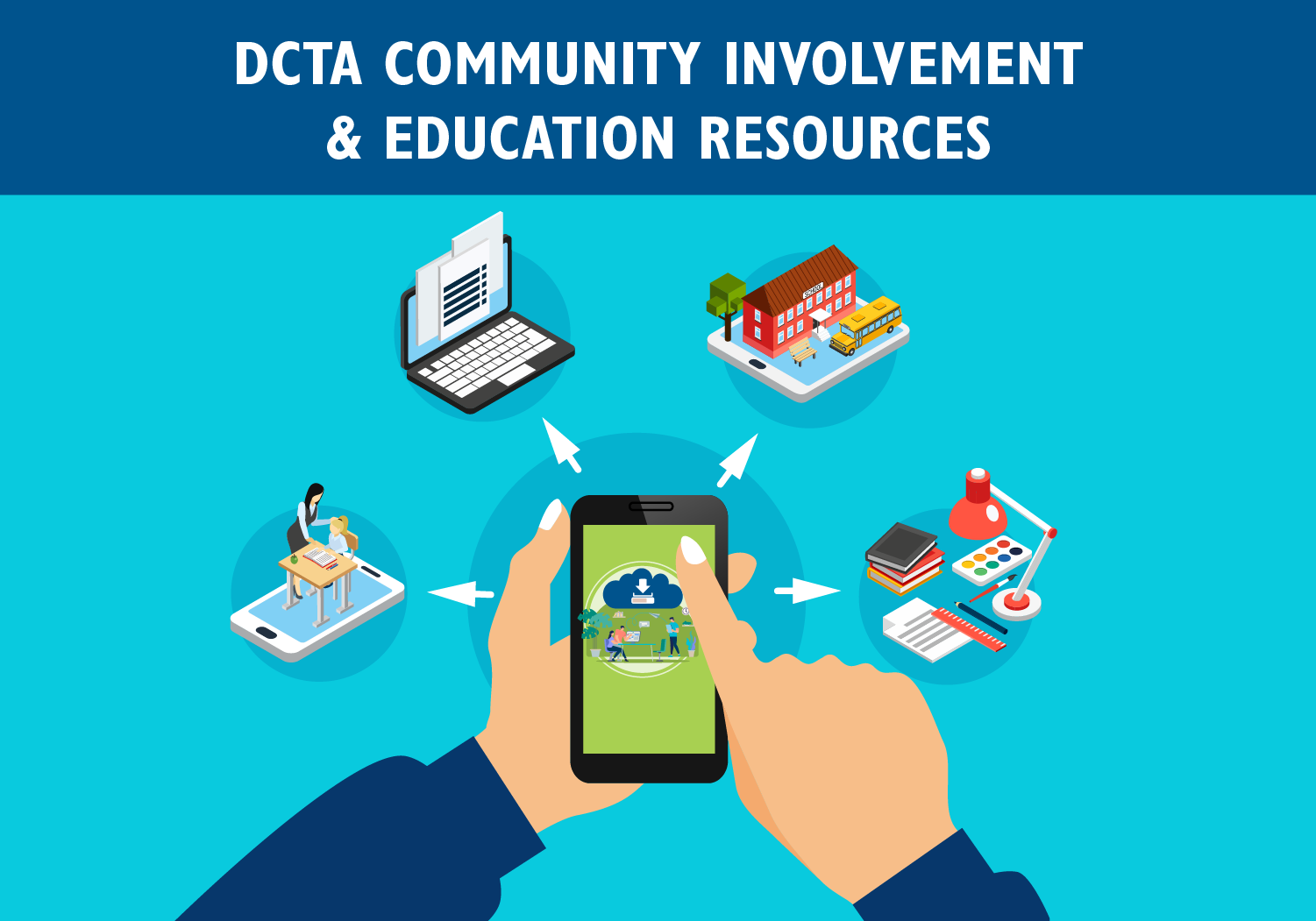 During this Global Pandemic, it's more important now than ever to stay connected to what matters. At DCTA, our stakeholders, passengers and communities matter! That's why we like to keep you informed about our services and what's happening. We're using the best technology to do this. I'd like to share some of the digital opportunities DCTA is using to keep the community engaged and keep our transit ambassadors informed during the increase of digital communication during COVID-19.
Community Education Webpage
Thank you to the millions of kids who are staying home and staying safe even though it can be hard at times. And thank you to moms, dads, grandparents, caregivers and others who are helping kids stay engaged and learn from home. You're superheroes! DCTA wanted to lend a hand too, so we created a Community Education Webpage with downloadable activities that feature transit-related storytime videos, coloring pages, word searches crossword puzzles and more! Check out the blog below from our archive for other resources to utilize.
Community Advisory Committee Transitions to Virtual Meetings
Our DCTA Community Advisory Committee members (CAC) have continued their support of DCTA through the digital meeting space. If you don't know about CAC, let me give you the scoop!
DCTA's Community Advisory Committee provides a forum to exchange information between agency staff, passengers and the community on transit-related issues. Public participation and input are critical as we continue to expand the public transportation opportunities available in the region. CAC members are great transit ambassadors and community volunteers. We are always looking for more community volunteers to give us feedback and share with the community what DCTA is doing.
A longtime CAC member, Paul McManus, shares his tips below on how you can become a transit ambassador:
"Become familiar with DCTA's transit services. By having a basic understanding of routes and schedules for the A-train and buses, advocates can better identify where there appears to be adequate service and where there may be opportunities to suggest potential changes or improvements."
 "Use DCTA's transit services whenever possible. By riding the A-train and buses, advocates can not only experience first-hand what DCTA has to offer but riding also supports DCTA and helps advocates identify what's working well, as well as opportunities for changes and/or improvements."
 "Stay updated on what's happening with DCTA by checking DCTA's website, as well as following DCTA's Facebook page."
"Join DCTA's Community Advisory Committee (CAC). Being a CAC member provides advocates a great way to not only meet others who are interested in transit and become more involved with DCTA, but it also is a great way to learn more about everything DCTA is doing, ask questions and provide feedback."
"If you see important DCTA updates or know of special events that can be accessed by DCTA's A-train or bus routes, share that information on your Facebook page or Facebook groups."
CAC meetings are held quarterly, and we anticipate virtual meetings will continue to be the way we engage in the future for CAC. Virtual meetings allow more volunteers to participate in the comfort of their homes. If you would like to learn more and attend the next CAC meeting, please email me for more information.
Some of the most used words of the past six months include "unprecedented," "unchartered waters" and "the new normal." The "new normal" is the one we need to focus on to keep things going. DCTA will continue to focus on our commitment to the many communities we serve in this new normal. After all, our community is what motivates us to provide the services we provide. As part of our dedication to our community, we want to make sure you stay informed and engaged. In the new normal, I invite you to stay on top of important and relevant DCTA news by signing up for the bimonthly DCTA Community Outreach News digital newsletter here.
Signing up is a great start to becoming a DCTA Ambassador and riding the digital wave! Is there something else you'd like to see? Let us know in the comments below.
---
Sign up for Updates
"*" indicates required fields