News to Use
Sneak Peek: EnRoute News Coming Soon!
April 10, 2014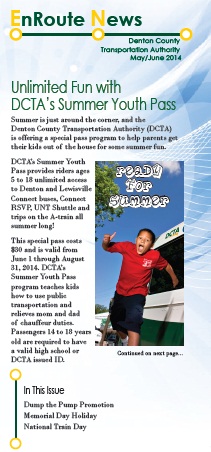 We have been working hard for the past few months developing our new passenger newsletter that will feature current DCTA news, local events and public transit happenings. EnRoute News – a bi-monthly publication- will be available in the Euline Brock Downtown Denton Transit Center (DDTC), A-train and Connect buses. Passengers will also be able to download the newsletter online at RideDCTA.net.
The first inaugural issue will launch early May 2014, however, we had to share a sneak peek so passengers can see what's in store! What do you think about EnRoute News so far?
---
Sign up for Updates
"*" indicates required fields