News to Use
Spot the Difference: Commuter vs. Light Rail
August 28, 2019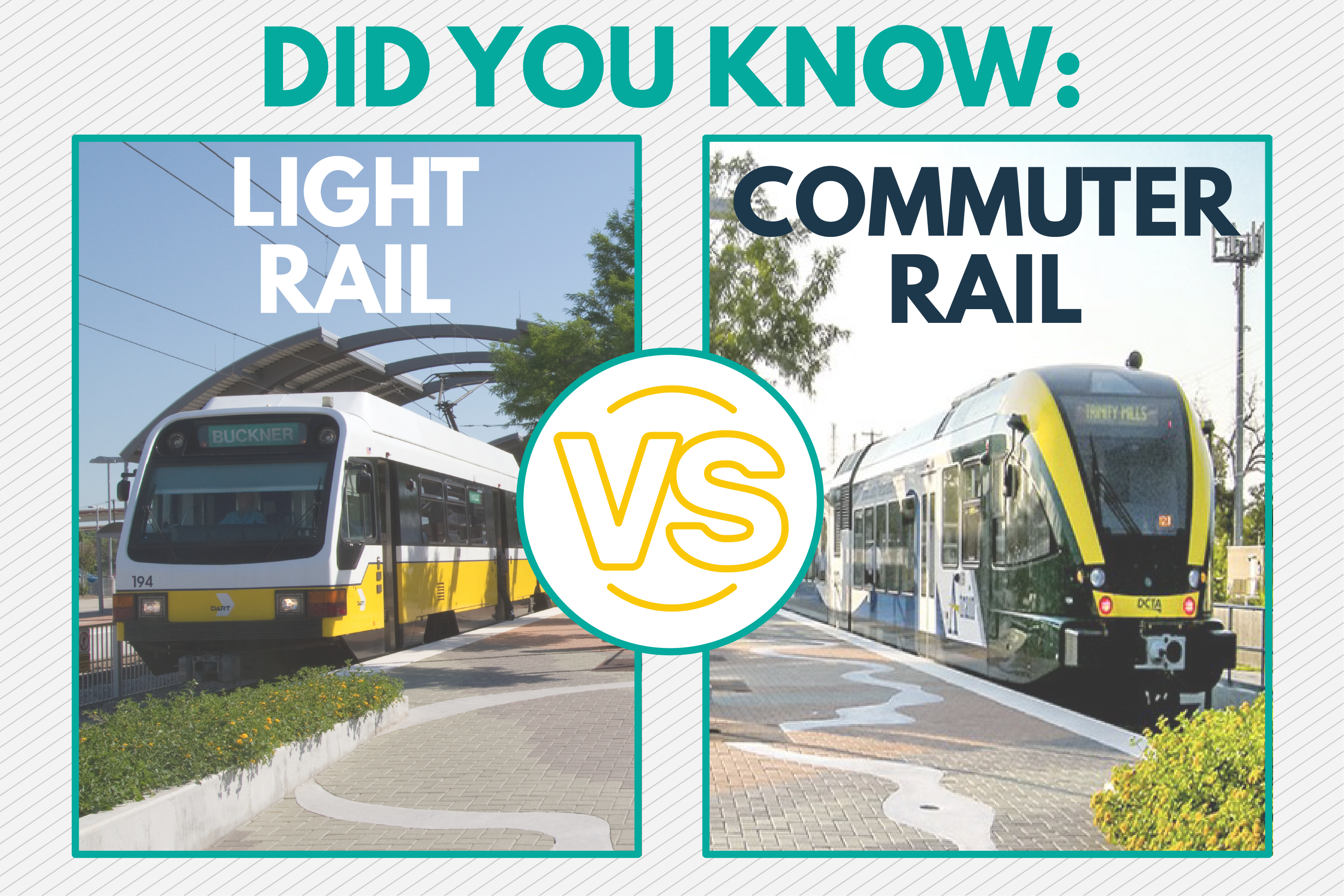 Have you ever wondered the difference between our train and our neighbors over at Dallas Area Rapid Transit (DART)? Along with the differences in types of service provided and the area served, there is also a difference in the type of trains we operate. We talked with our rail experts here at DCTA and scoured Google to get the scoop about the difference between commuter and light rail trains. Read on to learn about what we uncovered!
Learn the Basics
At DCTA, we operate the A-train, a 21-mile commuter rail system that travels from downtown Denton to Carrollton. DART and Trinity Metro jointly operate the Trinity Railway Express (TRE) commuter rail line which travels from downtown Fort Worth to downtown Dallas, and Trinity Metro operates its TexRail commuter rail which travels from downtown Fort Worth to the DFW airport. In comparison, DART solely operates its Light rail system which consists of four lines — Red Line, Blue Line, Green Line and Orange Line. Light rail systems and commuter rail systems operate differently, have different requirements and use different systems to run!
Commuter Rail Systems
Commuter rail systems are passenger trains that run on diesel-electric or electrically-propelled engines. They operate over existing railway tracks on the same rights-of-way used by intercity railway freight trains. They are regulated by the Federal Railroad Administration (FRA) and can be operated by government agencies (that's us!) or private business on either their own tracks or tracks owned by others. They typically have speeds of 50 to 80 mph and shorter routes and in the U.S., they are usually found only in the largest metropolitan areas.
Commuter rail systems make fewer stops than light rail systems and usually run through suburban areas and central cities. Because commuter rails systems are designed for commuters, the schedule frequency may be different than a light rail and operate less frequently throughout the day. Commuter rail systems often run most frequently during the standard commuting times for the average workday.
Light Rail Systems
Light rail systems are passenger trains powered by overhead electrical wires. Next time you're riding DART, look up and check them out! They have been around in North America since the late 1970s and have lighter frames and smaller bodies than other trains due to the required turning radius.
Because light rail systems operate in city streets and urban corridors with frequent stops, they have a higher turning radius to weave in and out of crowded areas and can accelerate and decelerate quicker than commuter rail systems. While commuter rail systems can operate over existing freight train tracks, light rail systems typically require its own set of tracks. Light rails are regulated by the Federal Transit Administration (FTA).
Comparison Chart
Positive Train Control (PTC) Testing and Implementation
You've heard us talk about our PTC implementation, the progress and why we're required to have this safety technology onboard our trains. Many of our passengers transfer from our A-train to DART's Green Line at Trinity Mills station. So why isn't DART's light rail system undergoing PTC implementation too? Well, that's because DART's light rail system runs on its own track and does not fall under the PTC requirements. But their shared line with the TRE does!
Want to learn more about the A-train? Check out our recent A-trainbirthday blog celebrating eight years of A-train service! The blog highlights accomplishments and the A-train's impact on the community.
We hope this blog helped explain the difference between commuter and light rail systems. Let us know your favorite fact and if there's anything else you'd like us to address on this subject in the comment section below!
---
Sign up for Updates
"*" indicates required fields