News to Use
Walk, Bike or Run with DCTA to Celebrate National Trails Day
May 29, 2019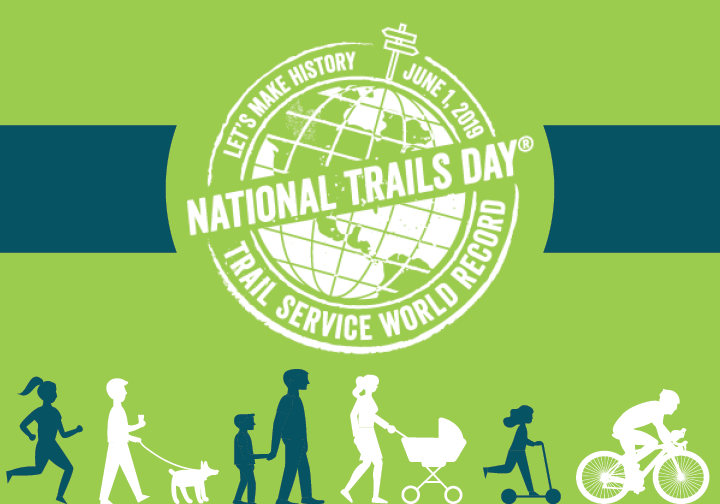 National Trails Day is THIS Saturday and we're so excited to partner with the cities of Denton, Lake Dallas, Corinth, Highland Village and Lewisville to host a National Trails Day event. Join us from 9:00 a.m. to noon on Saturday, June 1 and stop by one of the participating city booths!
What is National Trails Day?
Every year, people across the U.S. join together in visiting their favorite trail for a walk, run or bike ride in observance of "National Trails Day."
Our event hopes to get residents out and moving on our A-train Rail Trail to enjoy the incredible benefits it provides for recreation, exposure to nature and access to our five A-train stations.
DCTA National Trails Day Event Details to Know
"National Trails Day" event is a great opportunity for Denton County residents to celebrate DCTA's A-train Rail Trail by connecting them to others in the community and encouraging them to walk, bike, run or just spend time enjoying the beautiful scenery the trail has to offer. Our A-train Rail Trail also provides safe access to DCTA's five A-train rail stations for easy access to the A-train.
The event will feature:
City-hosted fun stations and table tops at the following locations:
Promotional swag items that participating cities and DCTA will hand out to event attendees along with reflectors, coloring books, stickers and DCTA collateral.
View the map of the trail below to plan your trip!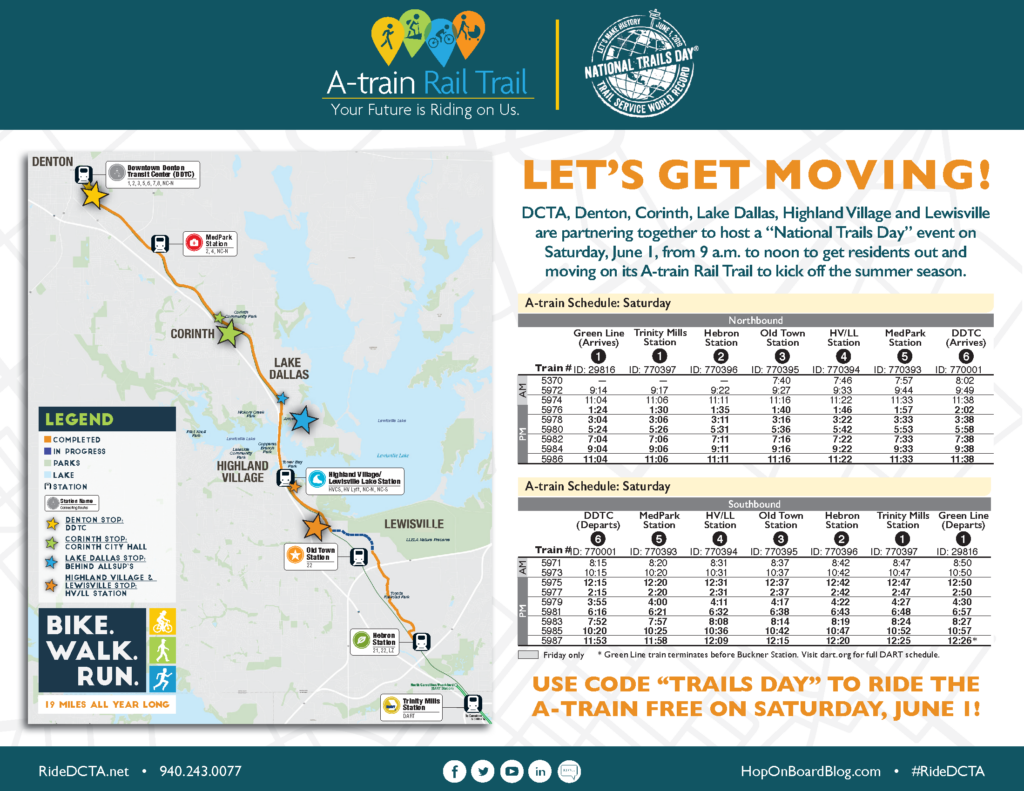 Get a Free DCTA A-train Ride
We will also provide free A-train rides to all "National Trails Day" event attendees on Saturday, June 1! Getting a free train ride is simple — just say the event code word "Trails Day" to a DCTA rail operator to ride the A-train free all day. We will operate regular A-train service during the event and the free ride promotion is not valid on other DCTA services. Riders who want to transfer to the Dallas Area Rapid Transit (DART) will need valid fare for that portion of that trip.
Do you plan on joining us for National Trails Day? Comment below and tell us which booth you plan on visiting and make sure to tag #RideDCTA when posting photos from the event!
---
Sign up for Updates
"*" indicates required fields