News to Use
We Are Thankful!
November 23, 2015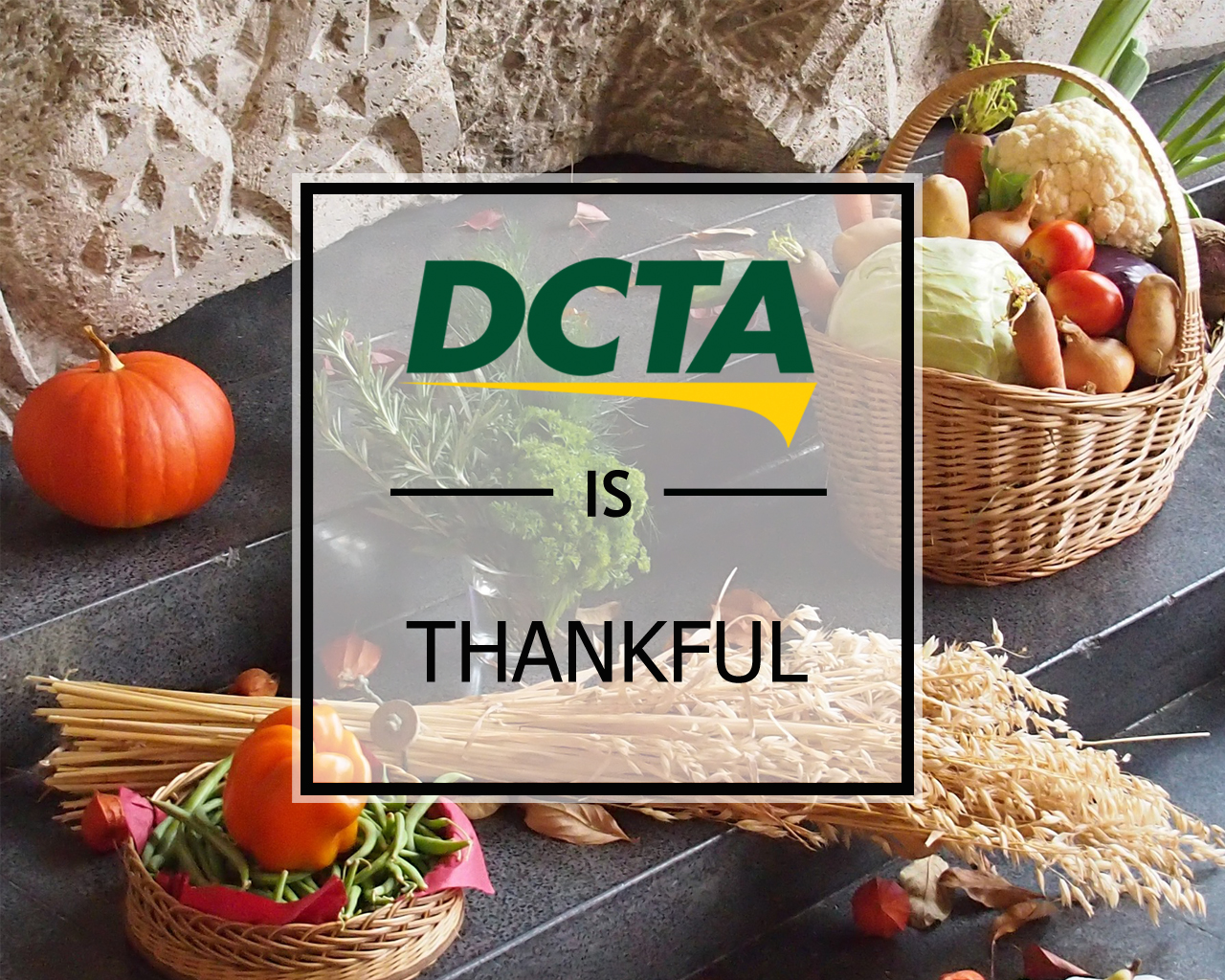 As Thanksgiving approaches, DCTA is mindful of all of the things we are grateful for as an agency. This year has been filled with exciting opportunities and interesting challenges that have allowed DCTA to grow and provide the best service each and every day. Here are a just a few things that DCTA is thankful for:
1. Financial Stability
At the end of September, we completed our 2015 fiscal year on a very good footing, due to solid financial management, savings on fuel and sales tax revenue. Our financial stability has created a positive forecast for 2016, with strong reserve funds and positive net cash.
2. A-train Rail Trail Development

We have wrapped up construction on the first part of Phase Two (from Hebron Station to Old Town) on our A-train Rail Trail and were recently awarded funding from the Texas Transportation Commission to complete the second half that will continue the trail all the way to the Highland Village/Lewisville Lake Station. Soon, residents will be able to hike, bike, and stroll the length of our A-trail rail corridor.
 3. Where's My Ride
After the launch of Where's My Ride in January, the vehicle-tracking tool has been well-received and heavily utilized by our riders.  We are grateful to have found a system that allows our passengers to have real-time information and to use our services in a way that works for them.
4. We Survived the Record-Setting Flood!

This spring's heavy rains caused delays to our A-train service, but our staff and community rose to the challenge! We are grateful for our passengers' patience and flexibility during the unexpected interruptions.
5. Our Staff of Gold
Our staff has been exceptional this year. Whether making decisions that positively impact our operation or garnering awards of recognition, the DCTA staff are the people who make our services possible. We are absolutely grateful for the collaborative spirit and friendly atmosphere that make DCTA a wonderful place to work. We are so proud of the dedication and excellence that our employees exhibit each and every day.
We could go on and on, because it's been an outstanding year. But none of our success would be possible or relevant without our passengers! We appreciate the people that support us, both individual riders and community partners. At DCTA, we want to say thank you for a wonderful year and wish you a delightful holiday!
---
Sign up for Updates
"*" indicates required fields