Features and Profiles
Why I Ride DCTA – Shaun Treat
November 11, 2015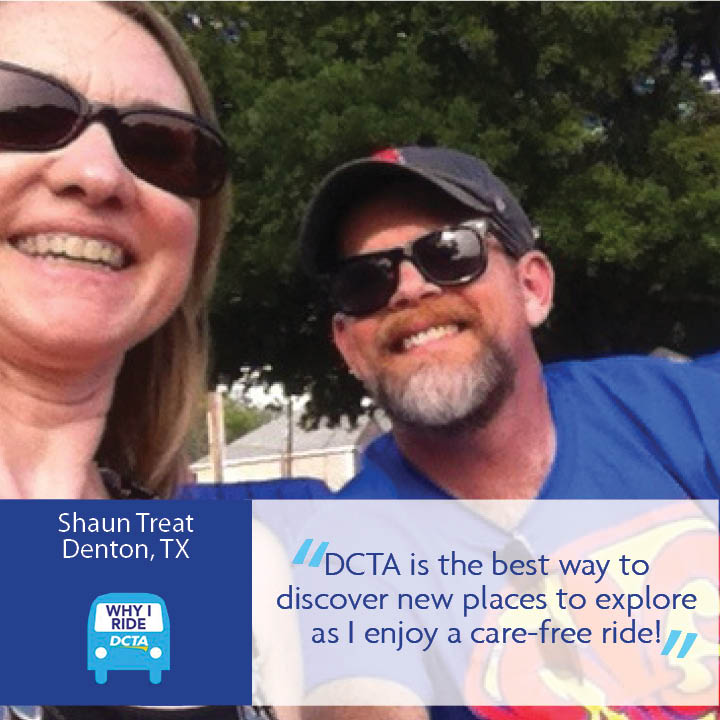 Shaun of Denton likes to discover new places while riding our A-train. See what else he had to say about us:
Q: What do you enjoy the most about riding DCTA?

A: Riding DCTA and the A-train allows me to avoid traffic aggravations and I-35 delays! So much more relaxing for traveling to DFW adventures!

Q: What are some of your favorite things to do while riding DCTA?

A: I can check email and social media instead of fighting road rage in traffic! That's totally worth the little extra time it takes to get there.

Q: Do you have any advice to offer about riding DCTA to passengers and non-passengers?

A: The DCTA "GoPass" app is amazing! Buying my ticket on the train, or for my kids on the fly, has been a lifesaver! 

Q: Is there anything you'd like to share about yourself?

A: DCTA is the best way to discover new places to explore as I enjoy a care-free ride!
Thanks for sharing with us! Why do you ride DCTA? Tell us here for a chance to win a 10-pack of regional day passes!
---
Sign up for Updates
"*" indicates required fields