News to Use
Your DCTA #NationalSafetyMonth Guide and Resources
June 1, 2020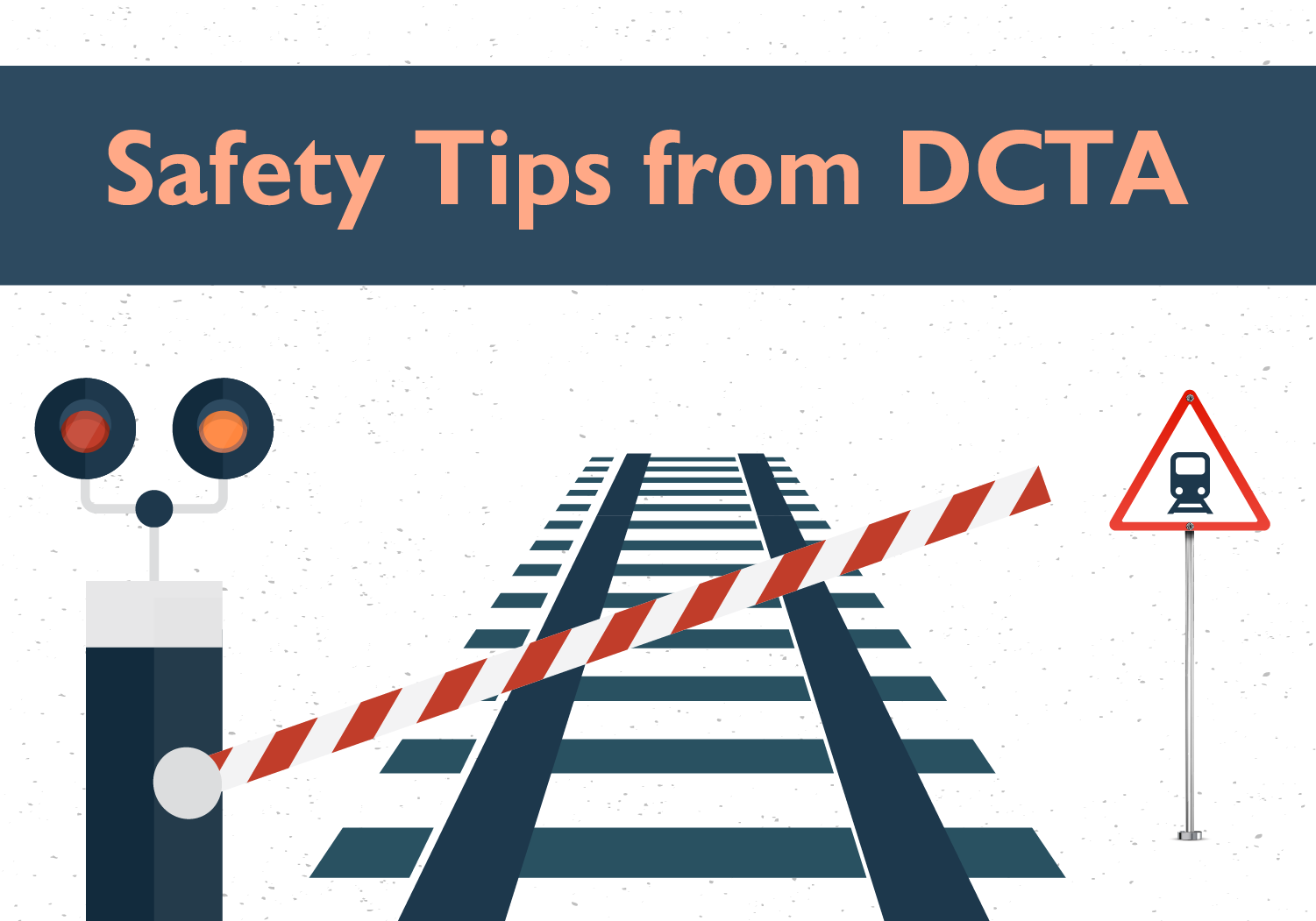 Did you know June is #NationalSafetyMonth? Observed annually by National Safety Council, #NationalSafetyMonth focuses on saving lives and preventing injuries, from the workplace to anyplace. The safety of our passengers and employees is our number one priority. Celebrate with us by practicing proper safety techniques when you #RideDCTA and read our blog below to learn more.
Read Up on Rail Safety
Read up on rail safety with our partner, Operation Lifesaver. They work to end collisions, deaths and injuries at highway-rail grade crossings and on railroad property through a nationwide network of volunteers who work to educate people about rail safety. They have great resources such as track safety basics, driving and walking near tracks safety tips and passenger rail safety tips.
Want more personal training for your office, school or community? We offer a free Rail Ready program to educate community members and help keep you safe around the A-train and tracks.
Sing-Along with These Safety Tips
Need a fun way to remember important DCTA safety tips? Our safety page on our website has fun songs to help you stay safe while using our system. From Sam Smith to The Beatles — check out some fun tunes and tips to put into practice every time you ride DCTA. Your safety is music to our ears!
Ride Safely on our A-train Rail Trail
Our recently completed A-train Rail Trail is a great way to get some sun and exercise, but make sure you keep safety top of mind! Trail safety should be a vital part of your routine when using our rail trail as it is a shared space for all community members to enjoy.
Now that you can walk, bike or run from downtown Denton to Lewisville and connect to many scenic views, fun destinations and more through the 19-mile trail, be sure to keep important rail trail safety tips top of mind! Read a blog from our archive to learn more about staying safe on our rail trail.
#BikeDCTA the Safe Way
Bringing your bike when you #RideDCTA is simple and fun! Biking allows you to connect to more places within your community and is a proactive way to reduce emissions and fit in time for exercise.
Our new bike resources webpage has many resources available for those who want to learn more about biking safely around Denton County. You can also check out local clubs and organizations to add more fun to your bike adventure. Check out the video below to see how easy it is to #BikeDCTA, and make sure to check out our bike webpage for more info.
Stop the Spread of Illness When You #RideDCTA
With the coronavirus (COVID-19) health emergency changing the way we operate and function, safety is on the top our minds to protect our passengers and employees. We have worked diligently to maintain a safe and clean environment by enhancing our regular cleanings and encouraging passengers to social distance and wear face masks when they #RideDCTA.
Want to learn more about what DCTA is doing to protect passengers? Take a look at our COVID-19 page.
We hope you found these tips helpful and that you stay safe this #NationalSafetyMonth and every month. Did we miss any safety tips you think should be included? Let us know in the comment section below! Stay safe out there.
---
Sign up for Updates
"*" indicates required fields