News to Use
Your Freedom Awaits with DCTA's Travel Training Program
November 16, 2020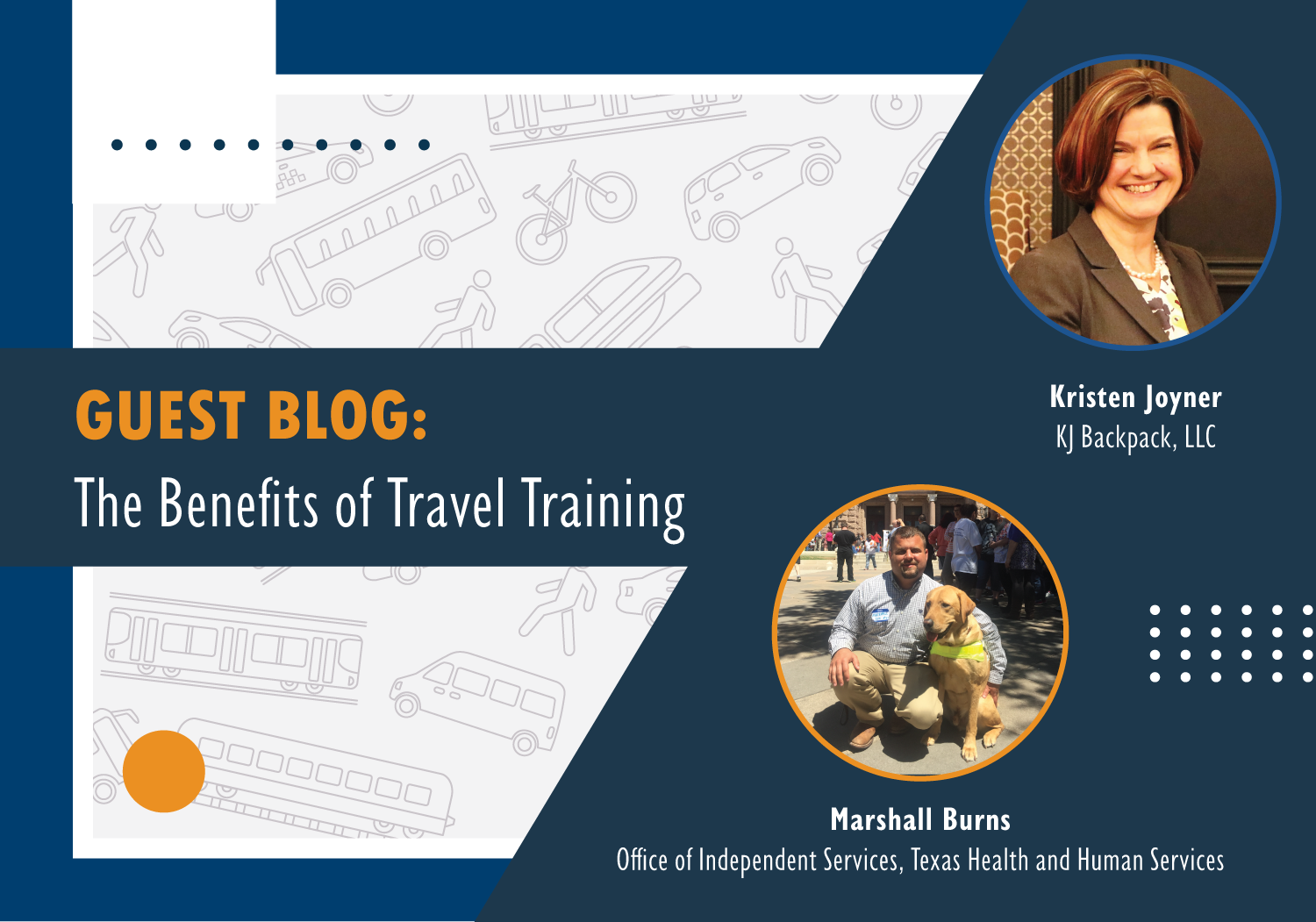 Guest blog by Marshall Burns, Office of Independent Services, Texas Health and Human Services and Kristen Joyner, KJ Backpack, LLC
Imagine if every day you woke up and desired to go to a meaningful job, see friends, pick out your own fruit at the farmers market or expand your opportunities through education, but you were locked into someone else's schedule, homebound because you don't drive, fearful because of language barriers and no options to experience life to its fullest.
Now imagine a world where people with disabilities are fully employed and going to jobs where their abilities match their job interests. Envision those who once were afraid to go shopping, meet with friends or see a grandchild's first accomplishments, now able to live life spontaneously and make these simple trips a normal, daily occurrence.
That is freedom!
Transportation is one of the most important components of independence for an individual. Although independence can have a variety of meanings for people with different needs, one common denominator for independence is transportation.
How do we access this level of freedom?
With the right instruction, practice and support, a person with a disability, an older person who no longer drives or a person who lacks knowledge of their community, can experience personal freedom by learning to confidently navigate the public transit system.
That kind of instruction is called Travel Training.
"Travel Training is a way to build confidence and independence, increase socialization, improve access to the community, increase access to health and wellness opportunities, and encourage the use of fixed-route transit over paratransit services when possible." Rachel Bereyle, 10 Steps for Transit Agencies Starting Travel Training Programs.
Travel Training in Action
Marshall Burns is a dedicated travel instructor who helps those with disabilities navigate the city's public transportation system and he also happens to be blind.
"I think it is very important for people to learn how to use the transit system and experience other things that will increase their independence," Burns said.
Check out the video below from Chicken Soup for the Soul's Hidden Heroes television series featuring Burns, a Travel Trainer in action.
Who benefits from Travel Training?
Everyone benefits! The person receiving the training gains independence, improved mental and physical health and increased buying-power; caregivers find respite; the community enjoys more productive citizens with greater physical, emotional and economic health.
Travel Training will provide the rider with the knowledge they need to take trips safely and independently.
How it works:
1. A person desiring to increase their travel options contacts their local transit agency or their case manager to request Travel Training.
2. The passenger and Travel Training instructor meet, ride transit together and discuss goals. This can be done individually or in a group setting.
3. Once goals are established, the Travel Training instructor will evaluate the paths of travel from home to the destination and ensure there are no insurmountable physical or emotional barriers.
4. The Travel Training instructor will create an individualized travel plan that aims to meet the passenger's transit goals.
5. The trainer will demonstrate to the passenger how to use the bus and/or train routes as well as new and emerging forms of mobility services, in order to increase transit options. This can be a one-time event or multiple occurrences over a year.
6. The travel trainer will work with passengers on social interactions, planning and taking trips, self-advocacy, money management, street crossings and more, based on the needs of the trainee.
7. Once proficiency is met and the passenger feels safe, secure and confident in their abilities to navigate the transit system independently, Travel Training ends and the passenger begins to live life more spontaneously.
8. The travel trainer will schedule periodic touchpoints with the passenger to ensure there are no additional questions or needs.
DCTA was awarded a grant from the North Central Texas Council of Governments (NCTCOG) in conjunction with the Federal Transit Administration to implement a Train the Trainer Travel Training Program, where DCTA staff train professionals, who can then train their own clients. This makes Travel Training so much more accessible to those who need it.
Read the blog to learn more about the future of Travel Training at DCTA!
We believe, public transportation is for all people therefore all people should be able to use it.
Can you imagine a world where the possibility of going anywhere you want is not just a dream but a steppingstone to a bright future? Stop imagining – Travel Training provides Freedom Through Transit! Do you know anyone who could benefit from Travel Training? Let us know in the comment section below!
---
Sign up for Updates
"*" indicates required fields