News to Use
DCTA and APTA's COVID-19 Safety Partnership
November 12, 2020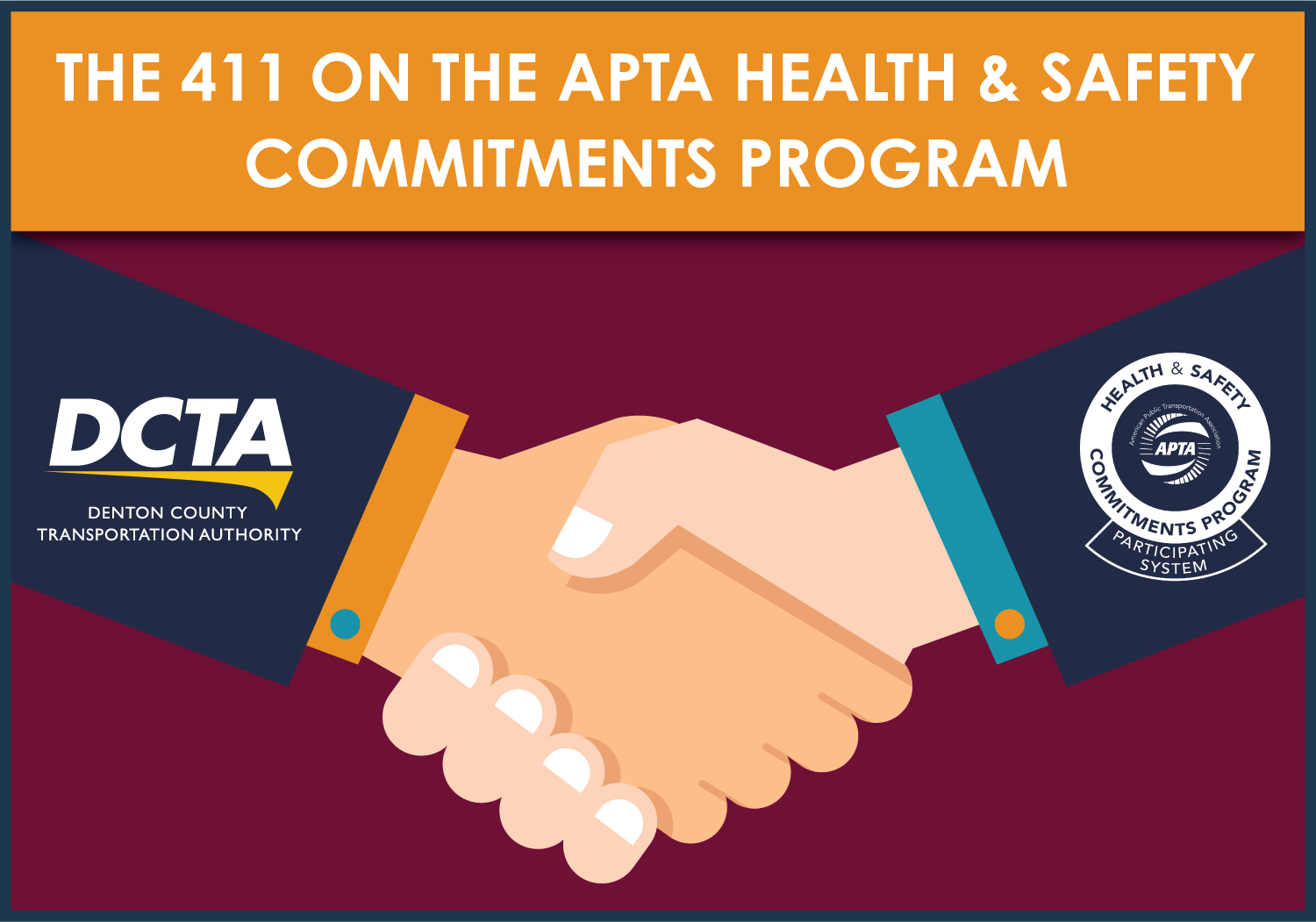 All anyone ever talks about right now is safety, which is understandable given the current COVID-19 crisis. You may wonder how can you stay safe during COVID-19? How can you protect yourself and others while going about your life? How can you ride public transit the safe way? Well, our friends at the American Public Transportation Association (APTA) are answering those questions.
The association surveyed transit users and asked what they're looking for from their local transit agencies. With that data, APTA put together the Health and Safety Commitments Program and asked transit agencies and users to support a set of four commitments each.
What is APTA?
APTA is the voice of public transportation in North America. It is the only association in its region that represents all modes of public transportation, including bus, paratransit, light rail, commuter rail, subways, waterborne services, and intercity and high-speed passenger rail. The organization supports the needs of public transportation agencies acting in the public good and promotes the interests of the public transportation industry.
What is the Health and Safety Commitments Program?
APTA's Health and Safety Commitments Program is the public transportation industry's overarching pledge to passengers that our systems are operating safely as North America recovers from COVID-19. DCTA is a proud participant in this program!
By signing on to the APTA Health and Safety Commitments Program with more than 100 public transit systems, DCTA and the rest of the public transit industry are actively working to instill confidence in riders that we're committed to protecting their health and safety.
The program is designed to help public transit agencies put in place their own, individualized policies and practices that transit users have told us they want and expect. The program defines four core categories of responsibilities – for every transit agency and for their passengers – making this a true partnership for health and safety.
What are the Four Commitments?
APTA's program was developed after asking transit users from across the country what measures would make them feel more confident riding public transportation amid concerns about COVID-19. From this research, the industry identified four key areas that transit systems need to address to earn riders' confidence:
Following public health guidelines from official sources
Cleaning and disinfecting transit vehicles frequently and requiring face coverings and other protections
Keeping passengers informed and empowered to choose the safest times and routes to ride
Putting health first by requiring riders and employees to avoid public transit if they have been exposed to COVID-19 or feel ill
We hosted our own COVID-19 rider survey last month to find out what we could do better and what would make our riders feel safer. We can't share the results just yet as we're still reviewing them on our end, but we're excited to share them with you after the New Year!
We put together an 11-step plan to showcase how we're safely welcoming back riders to public transit. Read the plan below!
[YUMPU epaper_id=64541972 width="512″ height="384″]
How can I get Involved?
Just as riders rely on us, we rely on our passengers to protect themselves and one another by respecting these four commitments. We can't do it without you! Below are a few things you can do to support us in this effort.
We're following official public health guidelines; we ask riders to follow them, too.
We're protecting each other by cleaning and disinfecting vehicles and facilities; we ask riders to clean their hands and wear a face covering.
We're giving riders the information they need about crowded vehicles and routes; we ask riders to give each other safe space and use transit at less busy times.
We require our employees to stay home if they're sick or have been exposed to COVID-19; we ask riders to do the same.
Learn about other ways you can stay safe when you ride DCTA and do your part by reading our blog below!
Our top priorities are keeping our passengers and employees healthy and ensure a safe commute for our riders. We're thankful to have strong industry leader like APTA who are helping lead the charge towards recovery. Do you think we could be doing anything better? Let us know in the comment section below!
---
Sign up for Updates
"*" indicates required fields