Rider Tips
5 Reasons to Dump the Pump and Ride Public Transit
June 21, 2018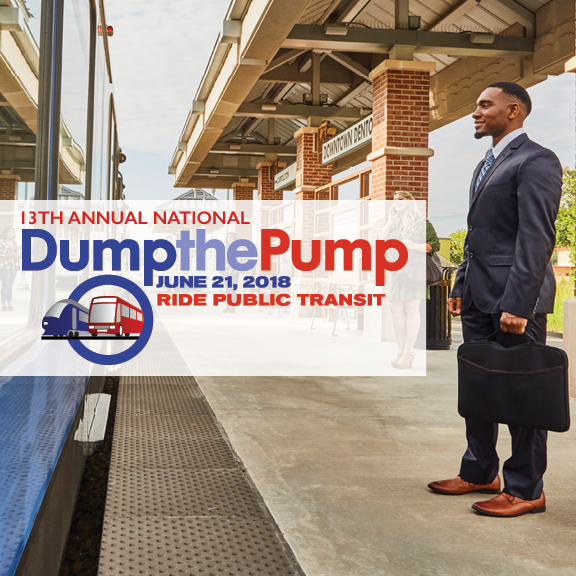 June 21 is the date you've been waiting for as the 13th annual National Dump the Pump Day has finally arrived! You're probably wondering how this day could be important to you. Well, you have a chance to get involved in a nation-wide event that can simultaneously benefit you and your community, economy, and even environment.
Check out our top five reasons below of why you should dump the pump:
Keep your gas money in your piggy bank: It's no secret that gas prices continue to rise – yes, even in Texas. Sometimes it seems like you just got a full tank of gas, but your tank is on empty again. However, there is no way to avoid paying those gas prices, right? Wrong! Riding public transit only a few times a week will allow you to lessen the number of times you fill your gas tank, allowing you to save that money for a special treat for yourself. Don't believe us? Ride our bus or A-train on National Dump the Pump day and you'll realize how freeing it is to ditch the gas station!
Connect with your community: Take a second to think about how often you are genuinely able to take time out of your busy week to connect with your community. If your answer was not very often, this nationally-celebrated day will give you the chance to do just that. Riding our bus or train gives you the unique opportunity to speak with someone you may have never met before, travel with friends, experience new traditions or cultures and immerse yourself in the community that you live in. Make a list of must-see places you can get to via public transit such as a beautiful building, a cute park, a trendy store you want to check out and more! Public transit can connect you to just about anywhere you want to go; shopping, entertainment and many other exciting places.
Protect the environment: We're all bombarded with countless articles about how riding public transit can help clean the air, but it's important to bring it up again because riding transit can help reduce carbon emissions by 37 million metric tons a year according to the American Public Transportation Association (APTA)! Think about how awesome it would be to tell your friends and family that you have helped contribute to reducing those emissions this year. Let's see how many more metric tons we can save from entering the environment! When your community is cleaner, you are healthier. The bottom line is that reducing these emissions will save you from breathing in toxins. In fact, our A-train helps households at Hebron 121 Station in Lewisville to save 1.66 fewer tons of NOx and 0.32 tons of VOC every year (DCTA). Why not help yourself and others at the same time?
Help boost the economy: Did you know that by riding public transportation you can positively impact the economy? Who knew that a small action could have such a big impact. APTA reports, "Every $1 invested in public transportation generates $4 in economic return Every $1 billion invested in public transportation support and creates more than 50,000 jobs. Even living next to some form of public transportation can make the value of your house increase. Dumping the pump and riding public transit is a great way to help contribute to creating jobs, raising value, and many other large scale economic benefits. Not sure if it helps your direct community? According to our recent study, our A-train has attracted new residents, added more retail, an created $11.8M in new property and sales tax revenue for our member cities (Denton, Highland Village and Lewisville).
Prevent wear and tear on your car: Let's face the ugly truth, every day that your car is on the road is another day of wear and tear. Have you ever taken the time to really think about how many hours, minutes, seconds you spend on the road? If so, have you thought about how much damage it does to your car? We know that the faster your car ages, the quicker you're going to have to buy a new car. We can't slow our own aging down, but we can protect our prize possessions from unnecessary wear. Give your car a longer life by dumping that pump and hopping on DCTA!
Do you already ride DCTA? If not, what are the ways you plan to dump the pump? How can we help make it easier? We would love to hear about them in the comments section below!
---
Sign up for Updates
"*" indicates required fields