News to Use
Back to School at UNT Means Busy Transit
August 18, 2023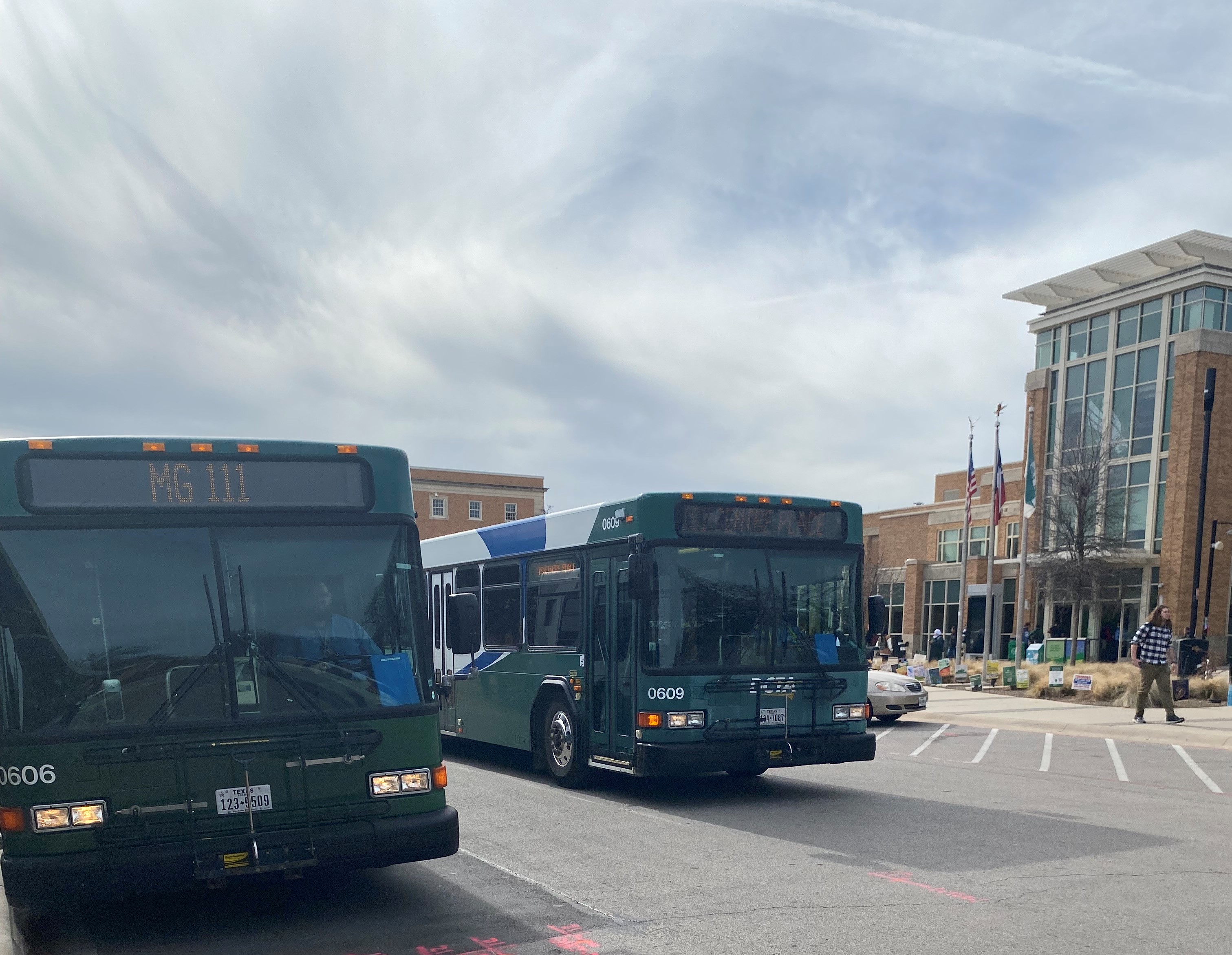 School year starts with busier bus schedule and changes at Union Transfer station
Denton County Transportation Authority (DCTA) has been preparing for the start of the fall semester and the return of college students to campuses in Denton County, notably the University of North Texas (UNT), the state's fifth-largest university by student population.
(Trivia break: Guess the five largest public universities in Texas and we will name them at the end of this column.)
DCTA and UNT this year are again partnering to provide student transportation services, giving UNT's 42,000 students efficient and robust transit options across the campus and across the city of Denton. Students, faculty and staff can ride the UNT Campus Shuttle and DCTA Connect buses for free with a valid UNT ID, and those services cover the entire campus and many off-campus areas where students live, shop, dine and enjoy Denton's arts and entertainment offerings.
The UNT Campus Shuttle route system includes 16 bus routes, and collectively serves the university community from early morning to late night hours.
UNT students can also ride DCTA's Connect Route 7, which runs through campus and connects riders between Rayzor Ranch and the Downtown Denton Transit Center (DDTC). Connect Route 6 bus runs between the DDTC and Discovery Park, but does so via Texas Woman's University, giving that campus transit options as well.
This year at UNT, returning students will notice a difference in service. Many riders will see a dramatic increase in bus service on the Discovery Park/DP-141 route, the busiest route in the UNT Campus Shuttle system. For the 2023-24 school year, DCTA has added over 30% more bus frequencies to the route, meaning riders will have more than 80 bus frequencies on weekdays and a bus available about every 10 minutes on the route.
Another big change will result from a construction project happening across from the University Union, meaning the location of most bus stops at the Union transfer location will move to different spots around Union Circle. Students are advised to double check their bus routes and look for new signage in Union Circle, because familiar bus stop locations at the Union will most likely be different this year.
For commuting students, Park & Ride is another convenient option from DCTA. Students can park for free at the MedPark A-train station (3220 MedPark Drive, Denton, Texas 76208) and hop on the Colorado Express/CE-171 bus straight to campus (also free with a UNT ID), avoiding the need for finding a parking spot on campus. DCTA also offers a University Pass program, which features annual and semester-long passes at reduced rates for UNT students, faculty and staff who commute to campus.
In addition to the robust bus options, DCTA will soon start its third year of GoZone service, providing on-demand rideshare to zones in Denton and in Lewisville/Highland Village. UNT students have adopted GoZone service in a big way, and this year the app will be able to tell them if a bus represents a better option than their requested GoZone ride.
For night owls, DCTA continues to partner with Lyft to offer safe, reliable and free after-hours transportation service from 2AM to 7AM for UNT students, faculty and staff. Students will need a UNT-issued promo code entered into their Lyft app (one per semester) to take advantage of the free service in the Lyft UNT service area.
DCTA is proud to provide vital transportation services to the University of North Texas, and keep the university community on the move in an efficient and effective way.
For details about DCTA's UNT Campus Shuttle service and transportation options, visit the DCTA University Routes page or the UNT Campus Transit page.
Now for that trivia answer you've been waiting for… The five largest universities in Texas by student population are:
Texas A&M University – College Station (72k)
University of Texas at Austin (51k)
University of Houston (47k)
University of Texas at Arlington (45k)
University of North Texas – Denton (42k)
Source: Univstats.com, academic school year 2021-22
---
Sign up for Updates
"*" indicates required fields