Fun Things To Do
A Sensational Summer Sendoff: Fun Things to Do in August
August 1, 2018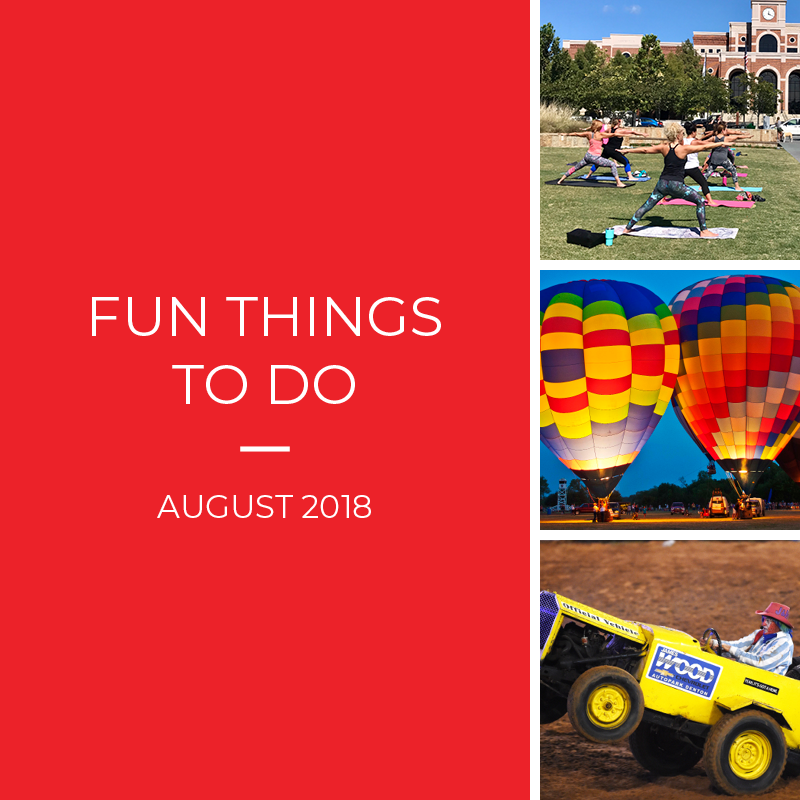 School may be back in session this month, but that doesn't mean the fun times have to stop! Denton, Lewisville and Highland Village offer plenty of weekly activities and annual festivals during August, and DCTA can get you to all of them! Celebrate the end of summer by making some amazing memories!
Yoga on the Plaza in Old Town Lewisville
Professional and newbie yogis join together every week to unwind and relax with FREE yoga at Wayne Ferguson Plaza. From 6 to 7 p.m. every Wednesday in August, bring your mat and take part in Blue Anjou Studio's weekly teacher-led yoga class for the community. You don't need to be an expert to participate — just ride Lewisville Connect Route 22 to get in on the fun! For more information, visit blueanjou.com.
Denton Community Market
The vendors may change every week, but the fun times never stop at the Denton Community Market! Whether you are looking for handmade bath bombs, creative cookies or unique food vendors, North Texas residents can come together for FREE every Saturday in August from 9 a.m. to 1 p.m. to shop, sell and socialize. With dozens of opportunities to shop small and buy local, the market always has something new. Ride Denton Connect Routes 7 and 8 to get to all the goodies! For more information, visit dentoncommunitymarket.com/.
Nature Walk with LLELA
Put on your hiking boots and get out your binoculars — the Lake Lewisville Environmental Learning Area (LLELA) monthly Nature Walk continues on through the summer! Join LLELA for a fun and educational adventure throughout their trails – from animal tracks to beautiful flowers, you never know what you'll come across! Stroll along our A-train Rail Trail (and skip the $5 per vehicle fee) to get to 201 E. Jones Street on Saturday, August 4, to adventure through the trails from 10 a.m. to noon. For more information, visit llela.org/Home/Components/Calendar/Event/24185/1500?curm=7&cury=2018.
Highland Village Lions Club Balloon Festival
It's a bird…it's a plane…it's a hot air balloon! From a plethora of colorful hot air balloons and exciting kid zones to delicious food and fun activities, the 31sh Highland Village Balloon Festival is here for the whole family to enjoy. Join thousands of other Denton County residents from Friday, August 17, to Sunday, August 19, at Unity Park in Highland Village and take part in the fun! Hop on the FREE DCTA shuttle by parking at either the Highland Village/Lewisville Lake A-train Station or at the Marcus High School Sports Facility (2800 Dixon Road) to get to Briarhill Middle School and skip the $5 festival parking fee. For a full schedule and list of events, visit lionsballoonfest.com. (NOTE: DCTA does not operate service on Sundays and the agency's free shuttle service will only operate on Friday and Saturday).
North Texas Fair and Rodeo
Get ready to get your fair and rodeo fire fueled with the North Texas Fair and Rodeo! This annual rodeo brings together the best of livestock, fair rides, competitions, memorable concerts and more; and it is the perfect way to celebrate the end of summer. From Friday, August 17, to Saturday, August 25, stop by to take in the history and experience the fun that is a true Texas fair and rodeo. With tickets ranging from free (for children six years old and under) to $100 (for a fair season pass), there are so many options and days to celebrate! Ride our A-train to the Downtown Denton Transit Center (DDTC) and transfer to Denton Connect Route 4 to get to the fairgrounds. For a full schedule of events, time information and more, visit ntfair.com! (NOTE: DCTA does not operate service on Sundays).
What event will you ride DCTA to get to? Let us know in the comment section below!
---
Sign up for Updates
"*" indicates required fields