Rider Tips
#AskDCTA: How Accessible are DCTA Vehicles and Facilities?
March 21, 2017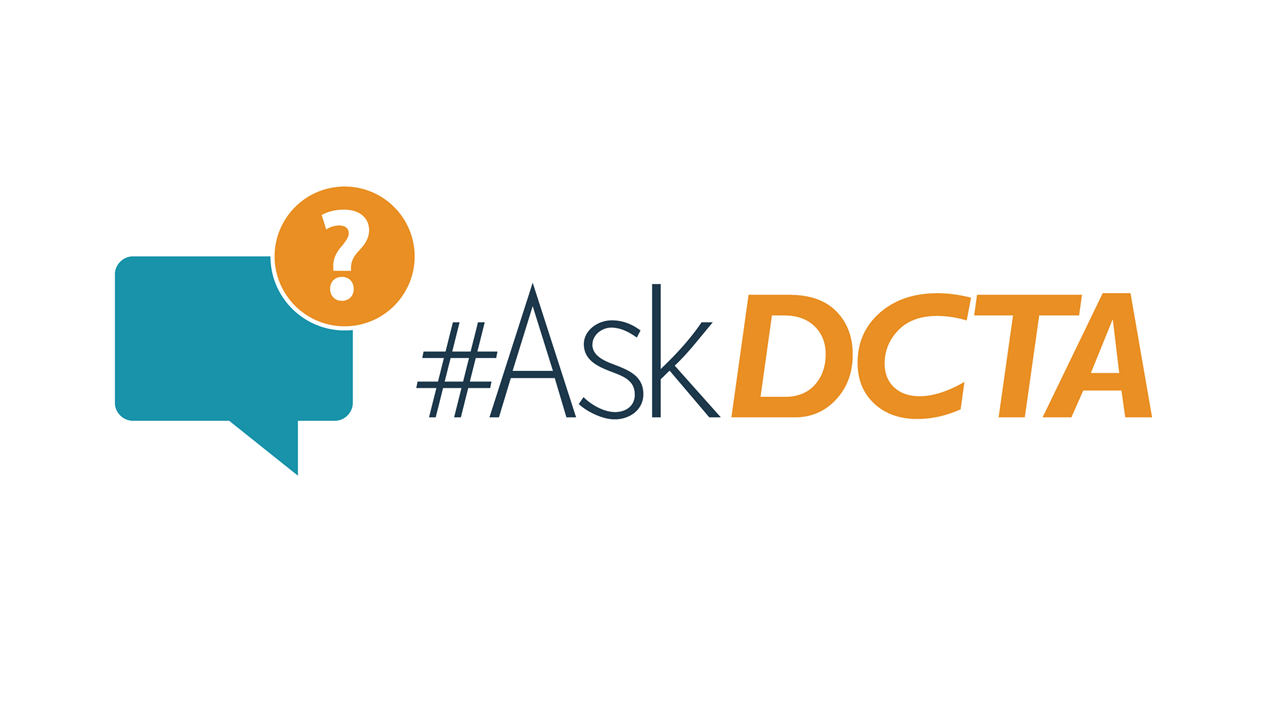 Have you ever wondered about whether you can bring your pet on the A-train? Have you ever needed to know about long-term parking options at the DDTC? Now you can #AskDCTA! In our new monthly blog series, our customer service team will be answering frequently-asked rider questions to better engage with our riders and improve their experience when riding DCTA.
For the month of March, Crystal Pustejovsky gave us some great insight on accessibility at DCTA. Check out her helpful tidbits below!
1. Are DCTA's vehicles compliant with Americans with Disabilities Act (ADA) requirements?
All DCTA buses and the A-train meet ADA requirements, offering wheelchair lifts and other features to accommodate riders with disabilities.
2. I have a disability/know someone with a disability. How would I/or that person be able to ride DCTA?
DCTA offers accessible features on all our buses and trains along our fixed route. Some bus stops along our fixed routes are accessible. Make sure to contact DCTA's customer service team to assist you before you take your trip. You can also apply for our Access or paratransit service in Denton and Lewisville. In addition, DCTA offers demand-response service in Denton, Lewisville and Highland Village for persons with disabilities and seniors.
3. Is your downtown Denton transit center wheelchair accessible?
Yes – there is a wheelchair ramp located right in front of the DDTC.
4. Are there reduced fare options for seniors and persons with disabilities?
Yes, seniors (65+), persons with disabilities and Medicare cardholders all qualify for reduced Local and Regional Fare. Check out our fare page for more info!
5. Does DCTA offer large print passenger info?
Yes, large print passenger info is available at the DDTC.
6. What kinds of wheelchairs are DCTA able to accommodate?
DCTA is able to accommodate a mobility aid belonging to any class of three or more wheeled devices that is usable indoors, and designed and modified for and used by individuals with mobility impairments whether operated manually or powered.
7. Are all DCTA buses equipped with ramps?
All DCTA buses are equipped with ramps and/or lifts to accommodate all passengers.
8. If I am in a wheelchair, where should I go on the A-train?
On the DCTA A-train, all doors are level boarding for wheelchairs and other mobility equipment.
9. Are there wheelchair tie downs on the train?
There are no wheelchair tie downs on the A-train, but we do have designated seating areas for the safety of our riders in wheelchairs.
10. Are there wheelchair tie downs on the buses?
Yes, there are wheelchair tie downs on our buses. Our Connect Bus drivers are happy to assist you in getting strapped in!
11. Does my personal care attendant ride for free?
DCTA allows personal care attendants to ride free with an individual who has undergone the ADA eligibility process and has documented the need for a personal care attendant. (See Certification for Access)
12. Are all DCTA bus stops accessible?
Unfortunately no, DCTA and the cities of Denton and Lewisville would like to see all bus stops be accessible, but at this time some stops are accessible and some are not. Please contact DCTA's customer service team to assist you before you take your trip.
13. What are the yellow strips on the A-train platform used for??
The yellow strips at the edge of the platform are called rumble strips and they are used for detectable warnings on train platform for individuals with disabilities. There are rumble strips on both sides of the platform that assist with safety and close proximity to edge of platform.
Hope Crystal helped answer all of your questions about DCTA accessibility! You can also check out our fare information page on our website here for more: www.RideDCTA.net
Have another question you want our customer service team to answer? Here's how you can submit them:
Send your feedback via our GORequest online customer service tool and choose the menu option "#AskDCTA Series"
Drop a note in the comments section on our Hop on Board blog.
While we can't guarantee that every question submitted will be answered, we will consider all inquiries and will feature questions that will greatly benefit the majority of our riders.
---
Sign up for Updates
"*" indicates required fields