Rider Tips
#AskDCTA: What Can I Bring and Not Bring on DCTA Vehicles?
February 26, 2018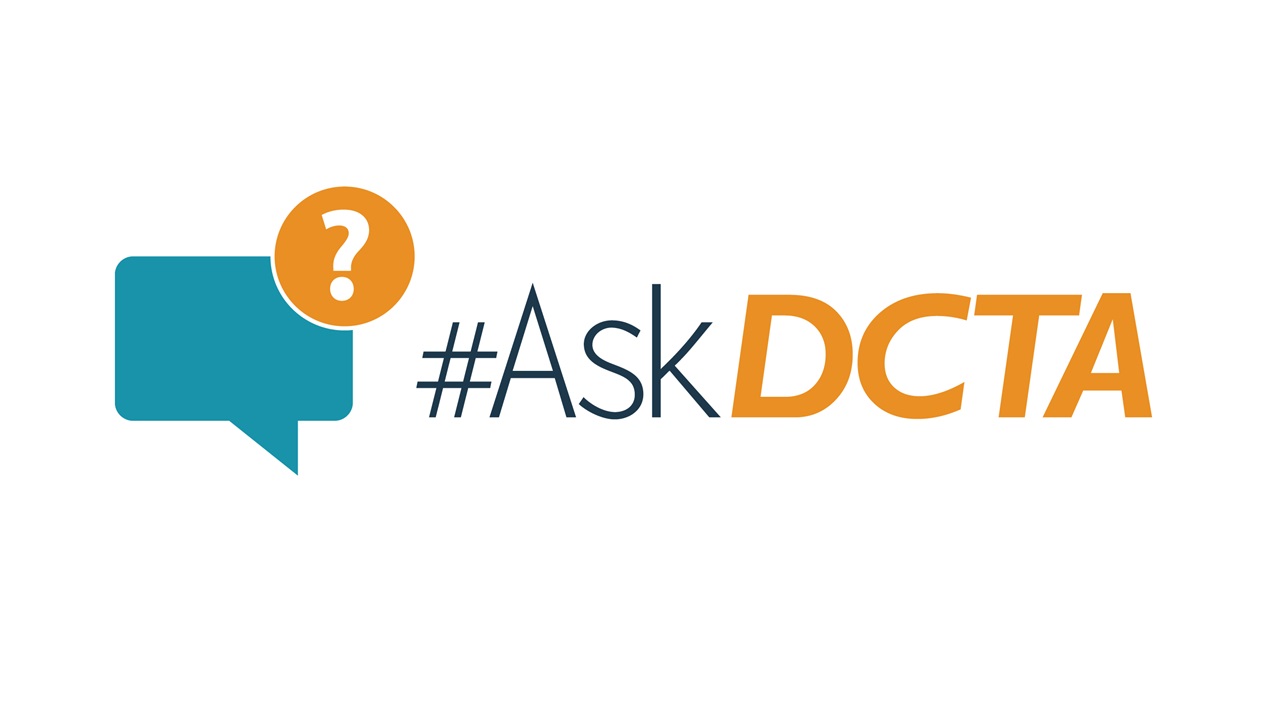 Have you ever wondered what happens when you lose an item on the bus or A-train? Not sure what customer service tools DCTA offers? Now you can #AskDCTA! In our monthly blog content series, our customer service team answers frequently-asked rider questions to better engage with our riders and improve their experience when riding DCTA.
For the month of February, Samantha Balderas – Customer Communications Specialist—gave us some insight on what to bring and not to bring on DCTA vehicles.
Can I bring my bike or scooter on the bus or A-train?
Yes! Passengers may travel with a bicycle or a battery-powered scooter. Below are some of our safety guidelines for bicycles on DCTA vehicles:
DCTA only transports single-seat, two-wheeled, and non-fueled bicycles. Fuel-powered scooters are not permitted on DCTA vehicles.
Oversized, tandem (two seated bicycle) or fueled bicycles (including motorbikes and mopeds) and trailers are not permitted on any vehicle, and bicycles with solid wheels are not allowed in bike racks on DCTA buses.
Bicycle storage is available on DCTA vehicles, but bicycle racks can only hold two bikes at a time and are available on a first-come, first-serve basis.
Storing bicycles in the priority seating areas for elderly and disabled riders on any vehicle is prohibited.
Not sure how to load or unload your bicycle on DCTA vehicles? Ask an operator for assistance or check out our easy step-by-step video on our YouTube channel!
Can I bring a stroller or grocery cart on the bus or A-train?
Passengers may board the vehicle with strollers or foldable carts. It is the passenger's responsibility to ensure that the stroller or foldable cart does not interfere with the safety or comfort of other passengers. Oversized strollers – such as jogging strollers – are not allowed on our buses. If the stroller is too large to fit safely out of the aisle or if there are too many items hanging from the stroller, the passenger(s) may not be allowed to board the bus or A-train.
Passengers may utilize the space designated for wheelchairs or scooters which is located in the middle section of the vehicle. Should a passenger with a disability board the bus, they will be given priority for this space. If the passenger has not yet boarded the bus, and the accessible seating is occupied, the passenger traveling with a stroller or cart may be asked to wait for the next available bus or A-train.
Can I bring food and a drink on DCTA vehicles?
No food or drinks are allowed on DCTA vehicles unless in a closed, spill-proof container. Non-alcoholic drinks must be sealed and should not be open during the ride. Alcoholic drinks are not allowed on DCTA vehicles unless they are closed and in the original packaging. Open containers must be discarded outside the vehicle before boarding. Eating on DCTA vehicles is not permitted unless medically necessary.
What shouldn't I bring on the bus or A-train?
The following items may not be brought on board at any time:
Pets (only service animals are allowed onboard)
Glass and sharp objects not properly sheathed
Alcoholic drinks (not in original packaging and unsealed)
Cigarettes, smoking vapor or chewing tobacco
Oversize bundles and packages
Fishing poles
Explosives
Corrosives (car batteries)
Inflammables
Unlawfully carried firearms, weapons, or any other items intended for use as a weapon
What are some must-have items for my commute?
The best part about riding DCTA is using the commute time to unwind and enjoy the ride! Check out this list of items you can bring to help you pass the time on your commute!
Books and Magazines – Bring reading materials such as a novel, magazine, or puzzle book to help decompress after a long work day.
Music – Begin and end your commute with your favorite music playlist, but don't forget to wear headphones!
Handheld Games – What better way to pass the time than with a fun handheld video game?
Tablet – Watch your favorite TV show on the go! Check to see if your streaming subscription service has a download option so you can watch without WiFi.
Ready to make your commute more enjoyable? Check out these must-have gadgets for commuters!
We hope Samantha helped answer all of your questions about what to bring and what not to bring on DCTA vehicles!
Have another question you want our customer service team to answer? Here's how you can submit them:
Send your feedback via our GORequest online customer service tool and choose the menu option "#AskDCTA Series"
Drop a note in the comments section on our Hop on Board blog.
While we can't guarantee that every question submitted will be answered, we will consider all inquiries and will feature questions that will greatly benefit the majority of our riders!
---
Sign up for Updates
"*" indicates required fields