News to Use
#AskDCTA: What is DCTA's GoZone and how can I provide feedback on this proposed on-demand rideshare service?
April 19, 2021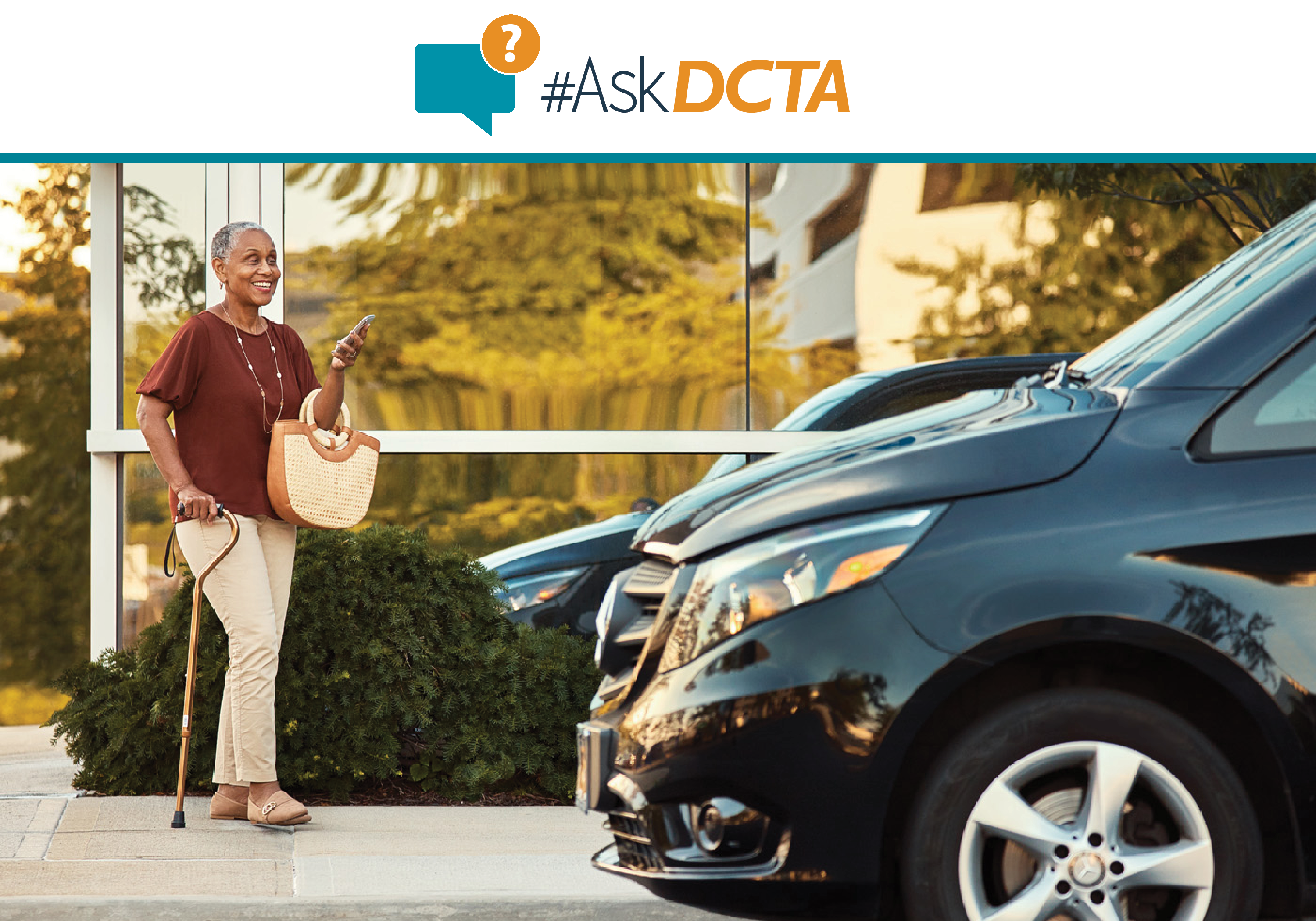 We're requesting public input for our proposed GoZone on-demand rideshare service that will replace most of our existing fixed route Connect Bus service and on-demand zones. Earlier this month, our board of directors approved the proposed service plan from River North Via, an on-demand service provider, and we now need your feedback!
Learn more about the proposed GoZone on-demand rideshare service, why our board is considering this transition, how to provide feedback and more below!
Why is DCTA Restructuring its Transit System?
After extensive research on options for enhanced service delivery, the agency and our board concluded that an on-demand service model would be the most advantageous service for both our passengers and agency overall.
In January 2021, our board of directors awarded an on-demand service delivery contract to Via which allowed us to work with Via to develop a proposed service plan to take to the public for review and input. On April 7, our board of directors approved the GoZone on-demand rideshare service plan that we are sharing now.
What is GoZone?
GoZone is an on-demand rideshare service powered by Via that riders will be able to utilize for trips within, and sometimes between, designated zones in Denton County. This proposed on-demand service will utilize a mobile app where passengers can book their trips in real-time. A fleet of dedicated vans will be used to pick up and drop off riders at virtual stops within the zones. GoZone will provide safe, convenient, accessible, and affordable rides with a limited wait time.
With the proposed GoZone service, pick-up and drop-off points will multiply compared to the existing fixed-route service. So not only do the proposed GoZones cover more territory, but they also provide more virtual stops which is a major convenience factor for users. Check out the "How it Works" link at DCTAfeedback.net to see each of the proposed zones in detail.
How will GoZone Work?
GoZone will operate similarly to our current on-demand zones. Passengers will be asked to create an account on a new app where you'll be able to purchase tickets for all DCTA's services, including GoZone. If you don't have access to a smartphone, don't worry. Our customer service team can assist you by booking trips in person or even over the phone. Passengers can then track their driver from pick-up all the way through their final destination.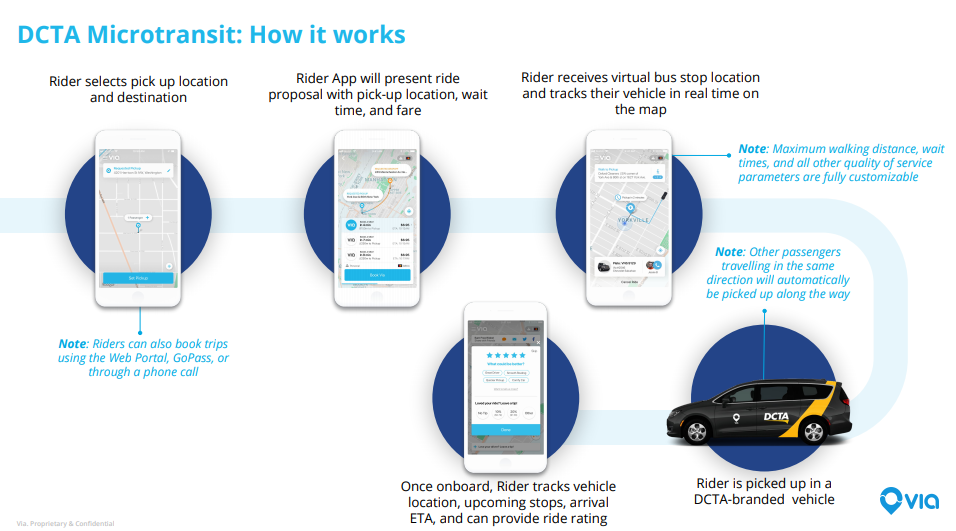 How will GoZone Impact Current DCTA Services?
GoZone will replace all fixed bus routes in Denton and Lewisville except for Denton Connect Routes 3 and 7. The DDTC Evening On-Demand Zone, Lewisville Lakeway Zone and the Highland Village Lyft Zone will also be replaced by GoZone.
Once the service is live, we plan to conduct a six-month analysis by operating Routes 3 and 7 in parallel with our GoZone service to best determine which service meets the needs of our community. In addition, we plan to operate all fixed-route and zone services together for the first two weeks after the launch to aid in the overall transition.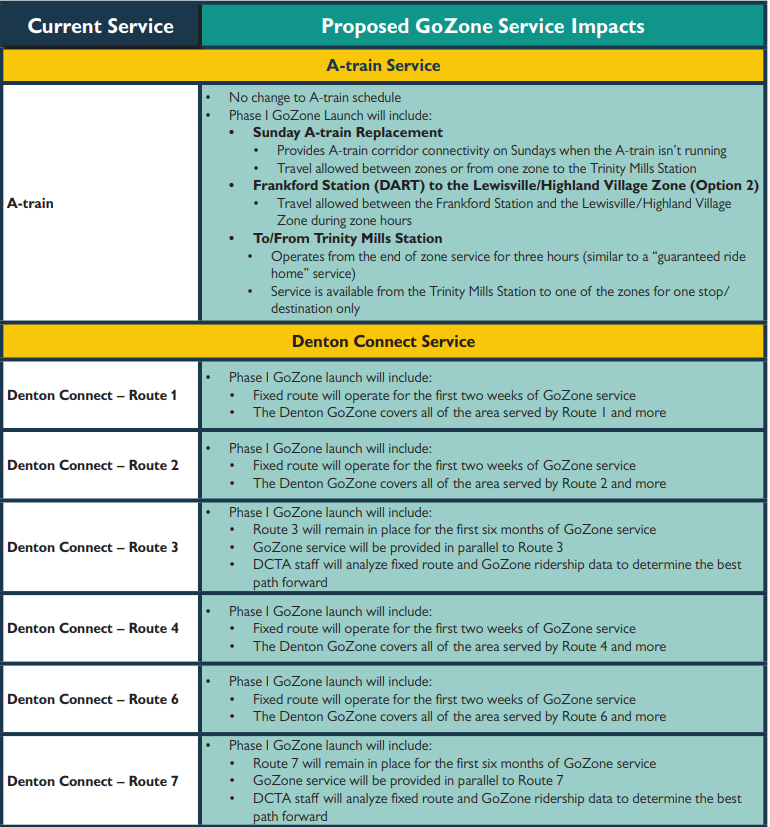 View and download the comprehensive GoZone impacts to the current service PDF at DCTAfeedback.net.
Where and How Can I Provide Feedback about DCTA's Proposed GoZone Service?
From April 19 through June 25, you can provide feedback on our proposed GoZone on-demand rideshare service plan at DCTAfeedback.net and at in-person events. At DCTAfeedback.net, you can view the full proposed GoZone service plan, learn how the service works, participate in online forums, provide open-ended feedback, receive responses from DCTA staff, and more. Our goal with this site was to create a one-stop-shop for all information regarding the proposed GoZone service.
Interactive Service Map
The service map on DCTAfeedback.net shows the borders of each zone and allows you to zoom in on specific areas within the map and leave targeted comments. You can leave a marker on the map explaining something you like, something you don't like, an idea or a suggestion, or leave a general question.
Promotional Fare Forum
Our fare structure will be slightly modified to accommodate the removal of Connect fixed route service and existing on-demand zones and the addition of GoZone one-ride credits (based on the purchased ticket type) for the first six months after launching the on-demand rideshare service.
For example:
A Day Pass will still cost $3. The Day Pass will now provide all-day access to the A-train, Connect Routes 3 and 7, the UNT Campus Shuttle, and will include four one-way GoZone trips.
A Local AM/PM pass will still cost $1.50. The Local AM/PM pass will now provide all-day access to the A-train, Connect Routes 3 and 7, the UNT Campus Shuttle, and will include two one-way GoZone trips.
For those interested in only riding GoZone, one-way GoZone trips will be available for purchase for just $0.75.
During the six-month fare promotion, our staff and board of directors will reevaluate the fare system and make changes if needed.
View the fare chart below for more information and go to DCTAfeedback.net to give your input on the proposed GoZone promotional fare structure.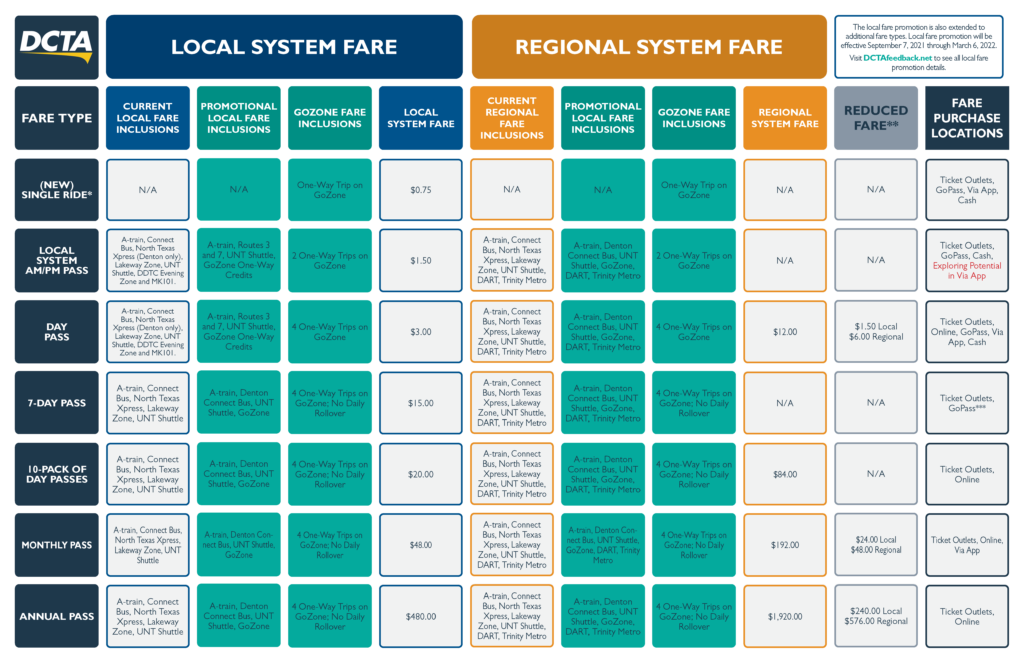 Ideas Wall Engagement Tool
The Ideas Wall on DCTAfeedback.net allows you to create a comment card to leave your feedback for the various topics featured. You can also join the conversation and respond to other user's comments.
The main service topics in which we need input include: Accessibility, Service Functionality, Phase One Service Plan, and Phase Two Service Plan. If you have comments to share on any other area, there is a service topic called "Other" where you can leave your thoughts.
We're looking forward to seeing all your comments and replying! In addition, our step-by-step instructional will show you exactly how to navigate the page and leave your comments and ideas.
All comments are subject to moderation and must follow Social Pinpoint's rules. The rules and consequences for breaking the rules can be found here.
Survey
Another way you can provide feedback is by taking our survey, which will be available on both the Ideas Wall and the Interactive Map pages. The survey will ask set questions as just another way for us to gather your feedback.
What are Other Features of DCTAfeedback.net?
Public Events Calendar
If you want to provide feedback in person, the public events page is where to go. You can see all upcoming in-person feedback opportunities, where to go and when! If you are interested in scheduling a presentation for your organization, that contact information will be available, too.
Our goal is to give passengers the opportunity to provide feedback in whatever forum works best for you.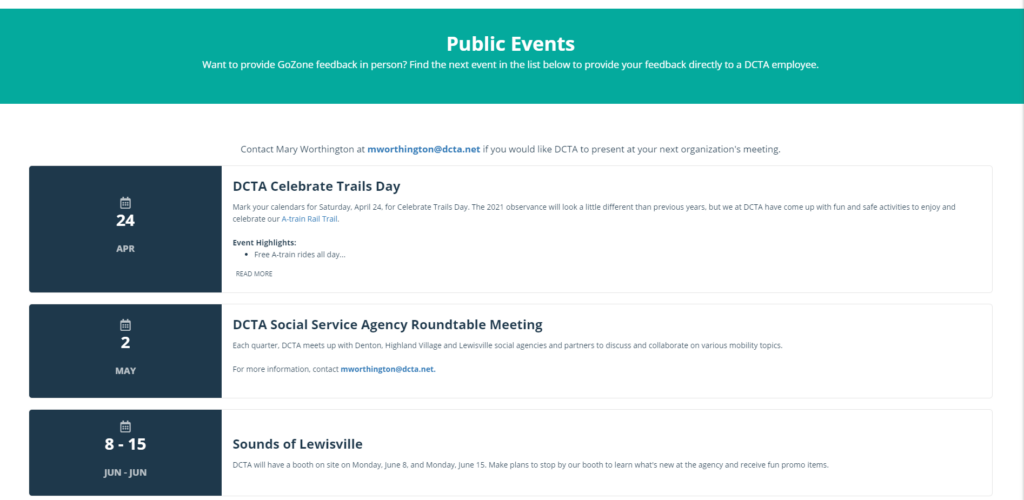 Media Center
Our media center is where all news releases and blogs related to GoZone will be held. There's no need to conduct a wide search to find recent information about the proposed on-demand service – you can find it all in the media center!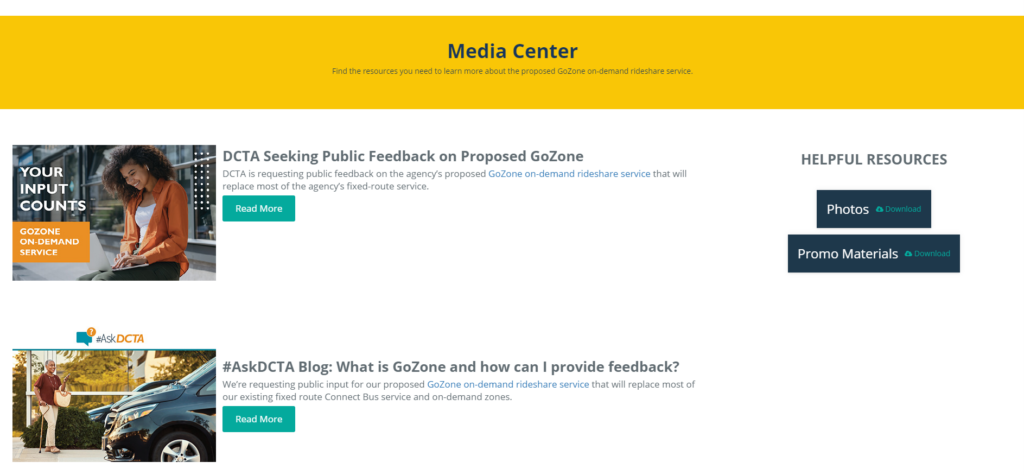 Contact Directory
If you want to provide feedback directly to a DCTA employee, schedule a presentation for your organization or just have a question, you can find those DCTA contacts on our contact directory.
Google Translate
Another great feature of DCTAfeedback.net is the ability to translate the page into another language. Look for the Google Translate icon at the top of the DCTAfeedback.net homepage to choose your preferred language.

What Happens After All GoZone Public Feedback is Collected?
We will carefully review all public feedback after the public engagement process ends on June 25 and work through considerations and implications to ensure all information is presented to our board of directors in July 2021.
Our board will review all public feedback and the Title VI analysis in conjunction with the final service plan to make their final decision. Once our board formally adopts the proposed GoZone on-demand rideshare service plan, we will launch GoZone in a phased approach as outlined below:
Phase I (Launching September 7, 2021)
This phase includes the bulk of the transition to a majority on-demand system, Sunday and holiday on-demand service, a Sunday A-train replacement service, a late-night "guaranteed ride home" service, and a Saturday service hours extension.
Phase IIA (Launching Early 2022)
This phase includes a Castle Hills zone expansion and Access services.
Phase IIB (Launching Summer 2022)
This phase includes the addition of weekday late-night hours.
At DCTA, we're committed to improving mobility and livability in the communities we serve, and the proposed GoZone on-demand rideshare service is an innovative approach that will provide various benefits to our riders, make our agency more efficient and expand service coverage for Denton County.
We're looking forward to receiving your input and comments on our GoZone microsite!
---
Sign up for Updates
"*" indicates required fields