Fun Things To Do
Celebrate Trails Day on DCTA's A-train Rail Trail
April 20, 2021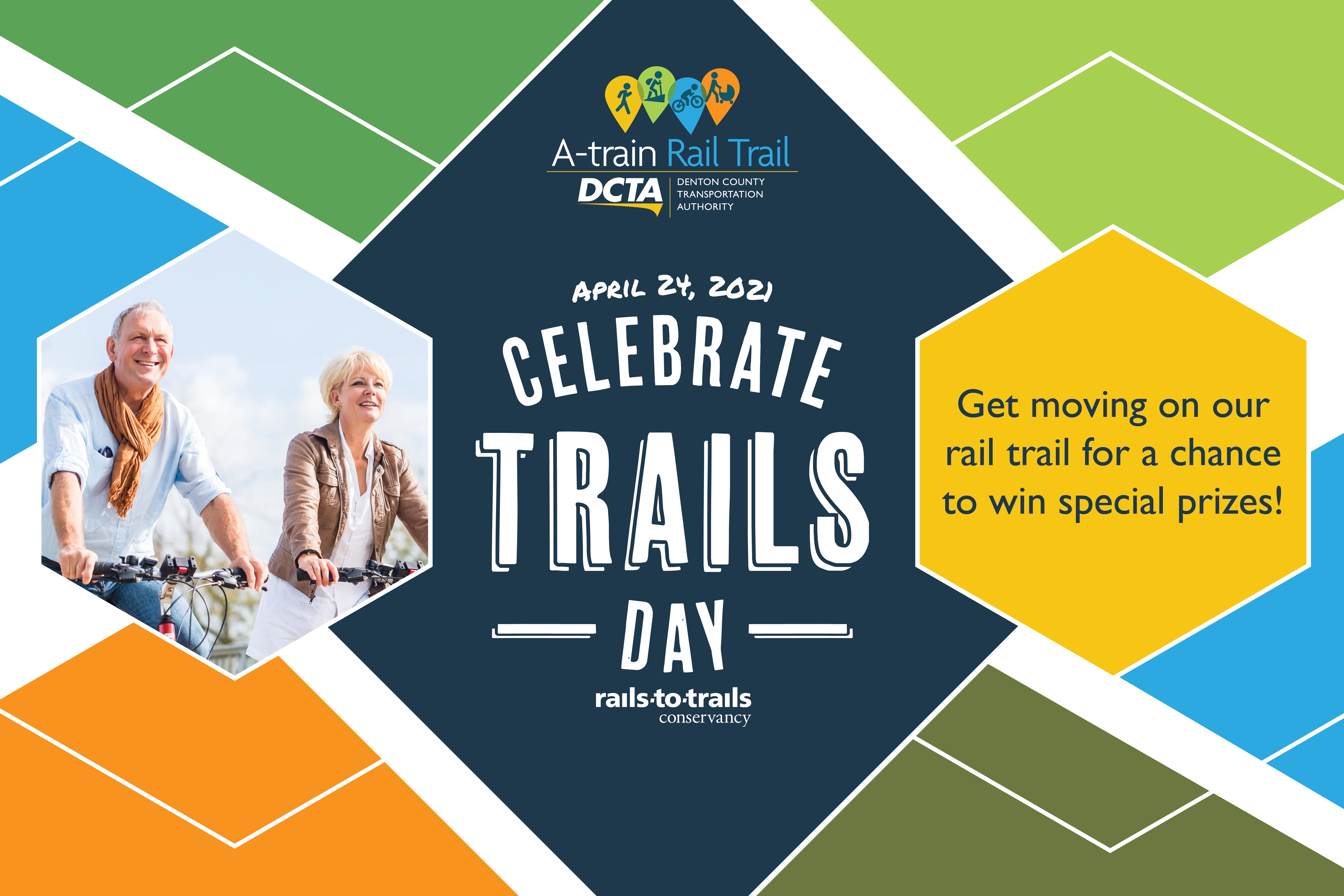 Let's get outside and hit the trail this spring. After the crazy winter weather, we are so thankful for this consistent Spring weather. Need an excuse to head out to our A-train Rail Trail? Mark your calendars for Celebrate Trails Day, Saturday, April 24! Our rail trail is the best place for you to participate in the Rails to Trails Conservancy's annual spring trail celebration. This is a party on the trail self-paced style!
What is DCTA doing for Celebrate Trails Day?
By now, we are all used to things looking a little different due to COVID-19. At DCTA, we created an opportunity for you to get out on our A-train Rail Trail for a self-paced, self-guided adventure. We want to continue to be mindful of social distancing measures during this time, but also encourage everyone to get outside and have some fun!
With that in mind, DCTA has some fun activities for you to participate in on Celebrate Trails Day. Have you ever participated in a scavenger hunt? Well here is your opportunity! We organized a selfie scavenger hunt. You can participate in our scavenger hunt by following the photo guidelines, taking selfies with the provided prompts and uploading them to the provided QR code. We even have prizes for the top three winners!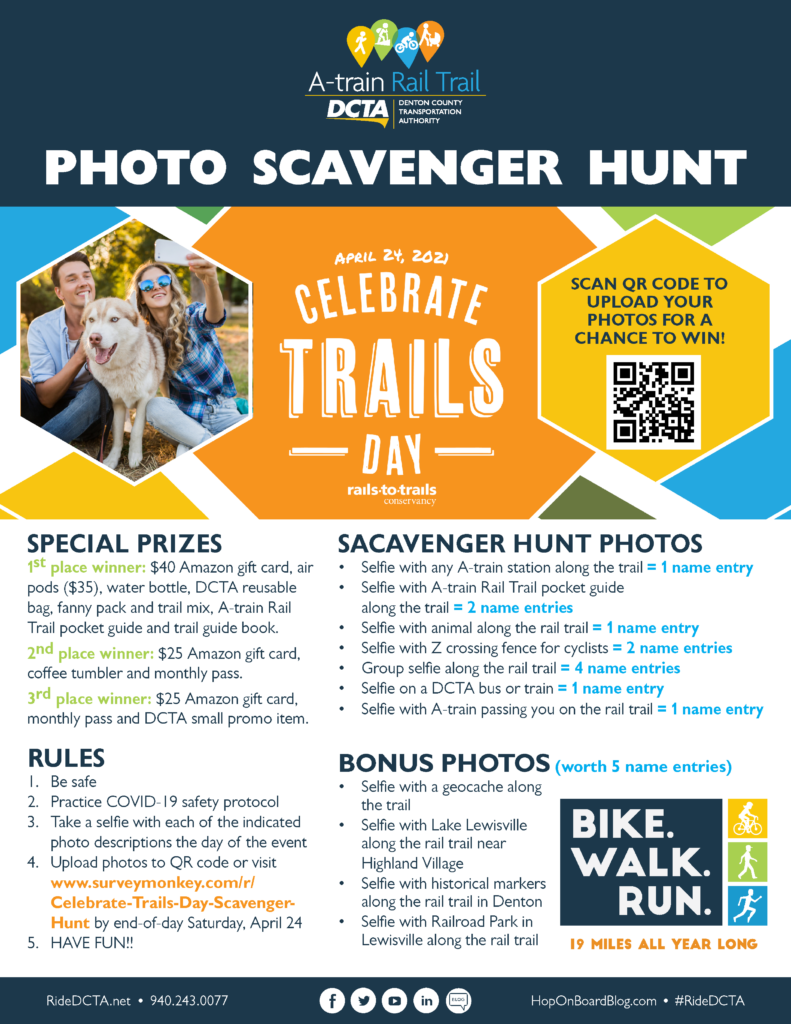 Walk, Run, Bike, (or Stroller) on the Trail
All are welcome on our A-train Rail Trail. Bring your cycling organization, running club, walking group, etc out for the Celebrate Trails day festivities. If you are in a strolling walking group, we hope you will join in on the fun as well!
We'll be distributing our new A-train Rail Trail pocket guide at our Celebrate Trails Day booth along with some other DCTA swag, snacks and water!  Look for your friendly DCTA staff at the trailhead near our Downtown Denton Transit Center from 9 a.m. – 12 p.m.
Free A-train Rides on Celebrate Trails Day
Along with the other fun activities we have planned for the day, all passengers can ride our A-train free all day on Saturday, April 24 with code word "Celebrate Trails Day", making it even easier to participate in Celebrate Trails Day! Passengers can make their way down the trail, navigate to one of DCTA's five train stations and hop on board to ride back to their starting point. This promotion is only valid on the A-train.
Share the Trail
Remember to practice good rail trail etiquette and keep safety top of mind when you're on our rail trail to ensure everyone has a great time. Below are some general safety tips to remember while on our rail trail:
Look before you cross the tracks
Be aware of your surroundings
Stop for flashing red lights
Wheels yield to heels
Maintain social distancing with other groups on the trail
Download our rail trail pocket guide before your trip and check out our safety blog below to learn more tips.
We can't wait to see your selfies on Celebrate Trails Day and hope you'll join us on the trail! Comment below to tell us how you plan to use our rail trail this Saturday, April 24.
---
Sign up for Updates
"*" indicates required fields