Fun Things To Do
Fun Things to Do in April: Small Business Edition
April 5, 2021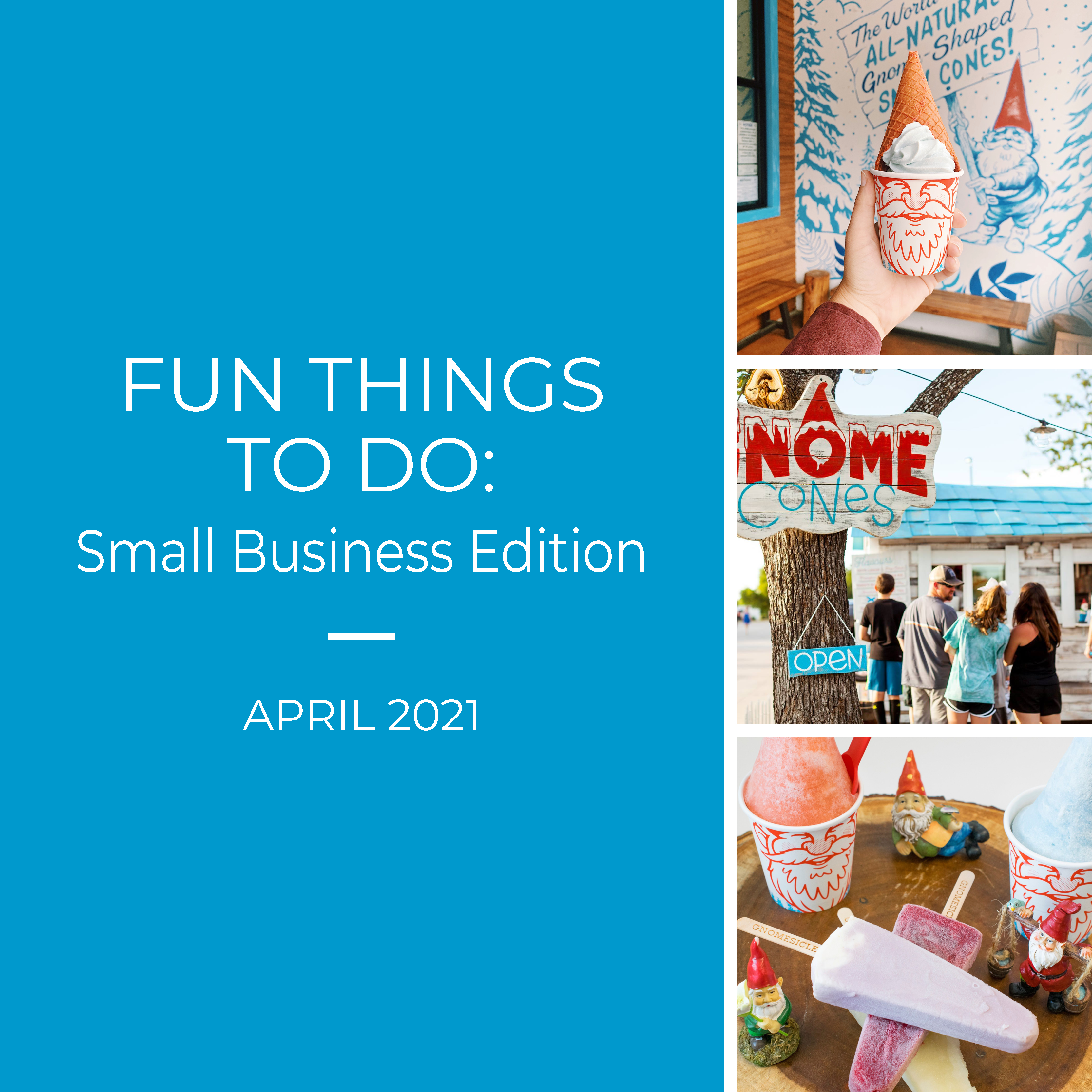 Our Fun Things to Do blog series is back for 2021! This year, we're focusing on small businesses throughout Denton County and how you can #RideDCTA to #SupportLocal. This month we talked with Bret Hawkins, one of the Head Gnomes of Denton's Gnome Cones. Keep reading to learn where the idea of a gnome-themed business came from, how they make their delicious treats and more! Photos courtesy of Gnome Cones.
What is Gnome Cones?
Gnome Cones serves up snow cones, popsicles, hot drinks in the winter, soft serve and more! Their treats are made with soft, shaved ice and all-natural flavors. That's right, they never use artificial flavors, sweeteners, dyes or preservatives and you can taste the difference.
But that's not the only great thing about Gnome Cones. Once you walk into their Denton location, you're transported to a different world. With a giant gnome welcoming you inside, gnomes in every nook and cranny and a cute high-pitched gnome voice calling out orders ready for pick up over the speaker, they hit home on the gnome theme.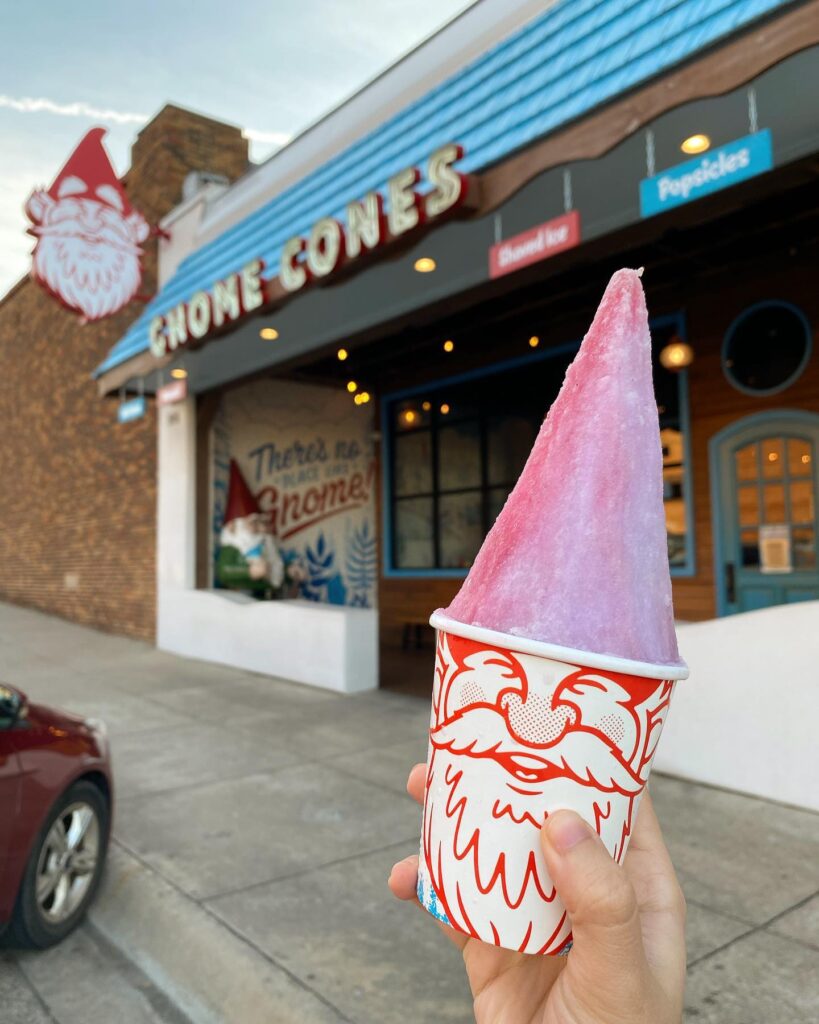 "The big picture goal of Gnome Cones is to be the most peculiar snow cone and dessert shop in the world," Bret said. "Our hope is that the combination of our all-natural product, ever-growing gnome collection, and friendly gnome staff create a one-of-a-kind experience that makes Denton proud!"
Gnome Cones' History
Bret and the other Head Gnome, Alex Sparks, were working on creative projects together when Bret was brought in on an inside joke between Alex and his college roommates. What started out as a joke soon became a full-fledged business!
"We kept refining the idea as we joked – What if our cup had a gnome's face on it and we shaped the ice to look like a hat," Brett said. "What if our snow cones were all-natural, to match a gnome's propensity for gardening? – and I ended up doing a branding case study for the concept as my senior project in the Communication Design program at UNT in 2016. Once we saw the brand visualized on paper, we began getting more serious about making the business a reality."
They met with an investor and the first Gnome Cones location opened – a stand in Argyle, Texas.
"The first year was a whirlwind, but we hit the ground running and have since opened a brick-and-mortar location in Denton and a mobile popsicle truck that we call the Gnomemobile!"
Home-Grown Community
If you were to imagine a quintessential "Denton-style" business, Gnome Cones would be a top contender. And there's a reasoning for that – Bret grew up in Denton County, so this community is part of his roots.
"It's so cool to come up with a wild idea, and then see it come to life in the place you were raised," Bret said. "I'm grateful for the overwhelming support we've received from Argyle and Denton folks over the last four years, who have helped sustain this dream of Gnome Cones! Especially over the last 12 months of the pandemic – we wouldn't be here without those of you who ordered our popsicle and snowball packs last year!"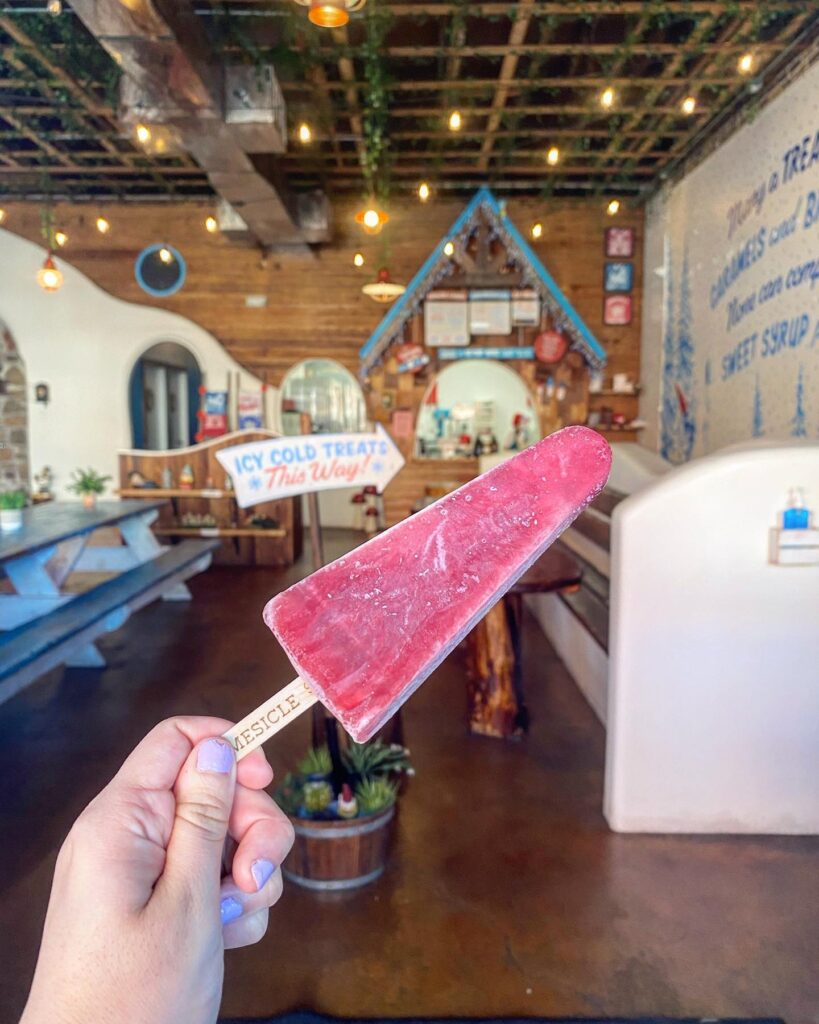 How to #RideDCTA to the Denton Gnome Cones Location
There are a few ways to get to Gnome Cones in Denton. If you're riding the A-train, the Denton Square is just a short walk from the Downtown Denton Transit Center (DDTC). Along the way, you can check out the other local businesses and marvel at the courthouse and lights.
If you're coming from elsewhere in Denton, Denton Connect Route 7 will drop you off right next to the store!
We hope you liked our Fun Things to Do Small Business Feature. We plan to showcase more businesses throughout the year. What small businesses would you like us to future next? Let us know in the comment section below!
---
Sign up for Updates
"*" indicates required fields