Rider Tips
#AskDCTA: What is GORequest and how can I use it?
August 31, 2017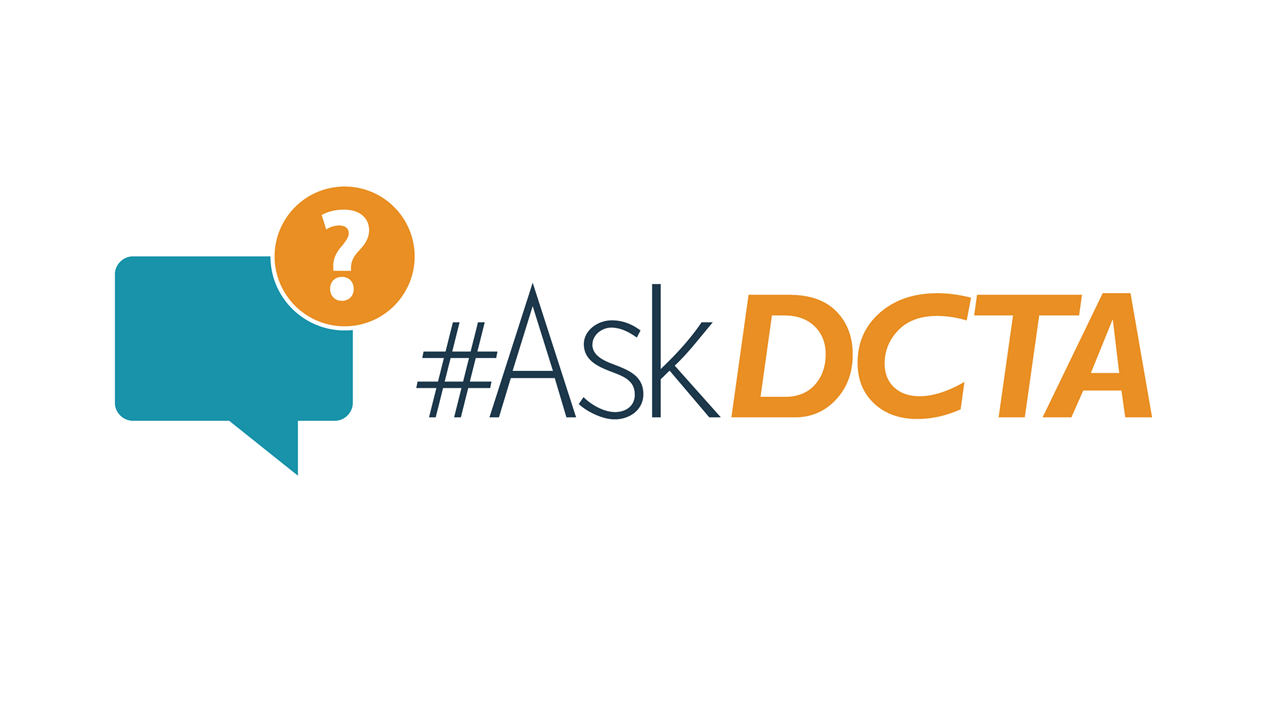 Have you ever wondered about whether you can bring your pet on the A-train? Have you ever needed to know about long-term parking options at the DDTC? Now you can #AskDCTA! In our new monthly blog series, our customer service team will be answering frequently-asked rider questions to better engage with our riders and improve their experience when riding DCTA.
For the month of August, Rusty Comer – Senior Public Information Specialist – gave us some great insight on how to use our GORequest system to get your questions, comments and feedback answered addressed by DCTA staff all with the use of your mobile phone or online!
What is DCTA's GORequest system?
GORequest is a customer relationship management (CRM) tool that allows DCTA to be as responsive to customers as possible. It is the best way to report a concern, pay a compliment, make a suggestion, or just ask a question. GORequest allows you to contact us 24 hours-a-day, seven days-a-week in whichever way is most convenient – online or by the GORequest mobile app.
If you prefer to call, walk-in, fax, or mail your request during normal business our staff will enter it right into the GORequest system. The system ensures that an appropriate DCTA staff member is assigned to a customer's request which allows us to efficiently and effectively address the inquiry in a timely manner.
To access GORequest, visit our website's homepage and click on GORequest in the footer under the "Customer Service" section. We also have a free mobile app for Android and iPhone users. Just search "GORequest" in the Apple App store or Google Play store to download the app!
How do I submit a request in GORequest?
It's simple! Follow this three-step process to submit a request:
Select the Correct Topic: It's important that you select the topic that best fits your inquiry. There are a wide range of topics you can choose from in the dropdown menu list such as route information, driver conduct, lost and found, and more. It's important to choose the topic that best fits your inquiry so the appropriate DCTA staff member is assigned to your request.
Give Specific Feedback: Once your topic has been selected, you will be presented with a series of questions, an open comment field and a place to attach images or files to your request. You should fill out as many of these fields as possible in order to assist in the timely resolution of your request. Remember – the more details you include with your request, the easier it is for a DCTA staff member to research and address your concern.
Provide Your Contact Information: After the request detail has been entered, you will be presented with a contact information form. Make sure to enter your email address if you would like to be contacted about your request, track your request or follow up on a request. When you input your email address, the GORequest system will automatically create an account for you. Your account login information will be included in the initial email from the system. If you would rather enter in the request without any contact information, you can do that as well.
After you have submitted all of your information into GORequest, you will be assigned a unique tracking number to easily track the status of your request at any time.
How soon will I get a response when I submit a request?
Some requests may take a bit longer to respond to depending on the level of research required to address the issue. Other requests may get a response in as little as three business days. You can use the login information provided in the initial system email to track the status of your request at any time. You will be notified by email when your request has been resolved.
What is the email I will be receiving communications from?
The email will come from Denton County Transportation Authority and the email address will be DCTA@user.govoutreach.com.
What do I do if I think of something later that I want to add to my request?
You can add additional information to your request in one of two ways: respond to the initial email received from the system or log in to your account and add in the information in the space provided.
What if I want to leave feedback on how DCTA handled my request?
In the resolution email that you receive there will be a link to fill out an online survey on how we handled your request. We highly encourage you to take a minute and fill out this survey so our staff members can further improve on their customer service!
What if I need immediate assistance?
For immediate assistance, you can contact our Customer Service team at 940.243.0077. The Customer Service hours are Monday through Friday from 5:00 a.m. to 7:00 p.m. and Saturday from 8:00 a.m. to 4:00 p.m.
GORequest is a great tool that allows you to contact DCTA when it's most convenient for you while also assisting us in improving the passenger experience. We are customer centric and believe in constant communication with the people we serve to be able to provide our riders with great service.
Have another question you want our customer service team to answer? Here's how you can submit them:
Send your feedback via GORequest and choose the menu option "#AskDCTA Series"
Post your question on our Twitter or Facebook page (be sure to use #AskDCTA)
Drop a note in the comments section on our Hop on Board blog
While we can't guarantee that every question submitted will be answered, we will consider all inquiries and will feature questions that will greatly benefit the majority of our riders.
---
Sign up for Updates
"*" indicates required fields