Fun Things To Do
Automobiles, Markets and Music: Fun Things to Do in September
September 4, 2018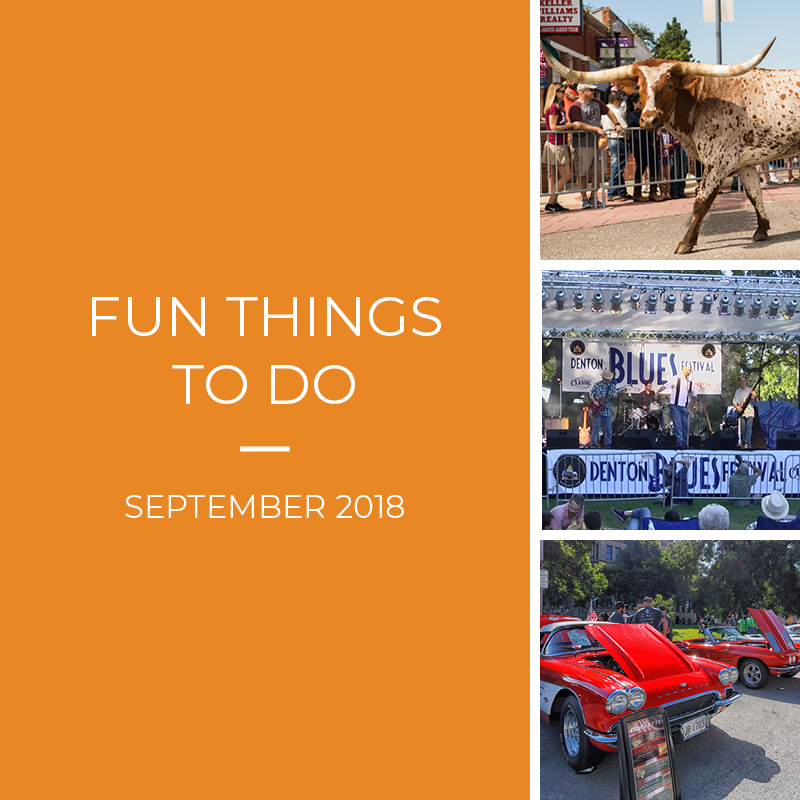 With summer coming to an end (goodbye Texas heat!) and Denton County residents heading into the last four months of the year, there are so many festivals, events and weekly get togethers ahead! Whether you're in the mood to listen to music, feel like you want to look at what talented locals have made this week or spend the whole weekend living it up at a festival, September is filled with so many fun things to do in Denton County!
Denton County Farmer's Market
Nothing's better than fresh fruits, veggies and food – and the Denton County Farmer's Market is one of the best ways to support your local farmers and get delicious and fresh food! Make your way to 421 W. Sycamore every Tuesday, Thursday and Saturday in September to taste and explore all the options Denton County residents have to offer. Ride Denton Connect Routes 7 and 8 to get there at 7 a.m. and stay until they run out! For more information visit, dentonfarmersmarket.com.
Yoga on the Plaza in Old Town Lewisville
What happens when school goes back in session and work and life get busy? Stress! That's why attending FREE yoga at Wayne Ferguson Plaza every Wednesday will give you a much-needed break to unwind and relax. From 6 to 7 p.m. every Wednesday in September, bring your mat and take part in Blue Anjou Studio's weekly teacher-led yoga class for the community. You don't need to be an expert to participate — just ride Lewisville Connect Route 22 to get in on the stress-relieving fun! For more information, visit blueanjou.com.
Denton Community Market
The vendors may change every week, but the fun times never stop at the Denton Community Market! From handmade art pieces and intricate knick knacks to adorable treats (for humans and pets) and farm-fresh veggies, North Texas residents can come together for FREE every Saturday in September from 9 a.m. to 1 p.m. to shop, sell and socialize. With dozens of opportunities to shop small and buy local, the market always has something new. Ride Denton Connect Routes 7 and 8 to get to all the goodies! For more information, visit dentoncommunitymarket.com.
Denton Arts and Autos
Hot rods, custom cars and chalk art, oh my! The Denton Arts and Autos brings together the world of cars and world of art to celebrate two great hobbies – all for FREE! Join in with riders and artists on Saturday, September 8, from 9 a.m. to 3 p.m. on the Denton Square to experience all things vintage and artsy! The Square will be filled with vintage cars, chalk art and more, so ride the A-train to the Downtown Denton Transit Center to easily get to the event. Visit dentonmainstreet.org/downtown-events//arts-autos-extravaganza-1 for more information.
Denton Blue's Festival
For 20 years, the Denton Blue's Festival has filled Denton County with the smooth sound of blues by bringing singers, musicians and more together at this soulful festival. Whether you look forward to dancing around to some blues or sitting back and relaxing, this FREE festival has an abundance of activities and concerts so that everyone can find something they enjoy. The Denton Blue's Festival runs from Friday, September 14, to Sunday, September 16, in Quakertown Park, and you can ride Denton Connect Routes 5 and 6 to get there! Visit dentonblackchamberonline.org for schedule information. (NOTE: DCTA does not operate services on Sunday)
Sip and Stroll Wine Walk at the Shops at Highland Village
Take a break from your hectic work week and join hundreds of others at the Shops at Highland Village for its Sip and Stroll Wine Walk! A $10 donation to Journey to Dream – Kyle's Place gets you a goodie bag, wine glass and access to seven different wine and food pairing stops throughout the Shops. Take part in this fun and charitable event on Thursday, September 20, from 6:30 to 9 p.m. at the Shops at Highland Village by utilizing our Lyft Discount Program! For more information, visit theshopsathighlandvillage.com/events/. (Note: You will have to leave before 9 p.m. in order for the Lyft Discount Program to get you back to your desired destination within the zone)
Lewisville Western Days
Howdy, partner! What do you get when you bring together some longhorns, amazing concerts, delicious food and maybe a bounce house or two? Lewisville Western Days! This weekend event brings together the best of Texas and celebrates the businesses and people that live here. The festival will take place at Wayne Ferguson Plaza on Friday, September 28, from 5 p.m. to 10 p.m. and Saturday, September 29 from 10 a.m. to 11:30 p.m., and it is FREE for a majority of both days ($10 admission after 7 p.m. on both days). You don't even need to find parking – hop on DCTA's free shuttle that will be running throughout the event! For more information and a schedule of events, visit lewisvillewesterndays.com.
What event will you #RideDCTA to get to? Let us know in the comment section below!
---
Sign up for Updates
"*" indicates required fields