News to Use
Top 5 Reasons to Utilize Our New University A-train Promotion
August 29, 2018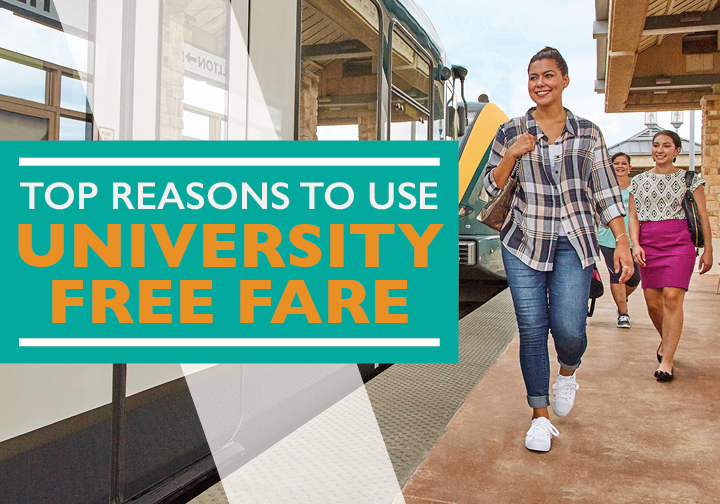 School is back in session, and what's a better way to ease into the semester than letting us take care of getting you to wherever you need to go! Now is the perfect time to take advantage of DCTA's new A-train promotion.
Beginning on the first day of classes, University of North Texas (UNT), Texas Woman's University (TWU) and North Central Texas College (NCTC) students, faculty and staff can ride the A-train for free until January 14, 2019! To ride free between the Trinity Mills Station in Carrollton and the Downtown Denton Transit Center, passengers just must present a valid university ID!
Here are some reasons why you should take advantage of this promotion:
1. Invest in your bank account and the economy
You can save nearly $800 a month with a yearly savings of close to $9,500! That's right, according to the American Public Transportation Association (APTA), two-person households can save a pretty penny in the DFW area by taking public transportation. What's more is for every $1 communities invest in public transportation, approximately $4 is generated in economic returns. Not only are you helping your financial bottom line, but you are helping the economy in your own city.
2. Help our environment
Denton County's air quality is consistently ranked among the worst in Texas. According to the Federal Transit Administration (FTA), public transportation can help improve air quality, reduce greenhouse gas emissions and save energy. Let our A-train take you where you need to go while contributing to a cleaner environment!
3. Get your DFW travel on
While our A-train can take you to exciting and fun places in Lewisville, Highland Village, Denton and Carrollton, it connects with the Dallas Area Rapid Transit (DART), so you can also see all that Dallas, Addison, Richardson and other great cities have to offer!
 4. Spend your commute time doing something you enjoy
If you are trying to get to downtown Dallas from Denton, it can take anywhere from 45 minutes to two hours to drive there depending on traffic. Instead of spending this time sitting in unpredictable traffic behind the wheel, take our A-train! You can use this time to start a new book or television show or get ahead on some work or school projects, and you won't have to worry about keeping your eyes on the road!
5. Avoid parking challenges
Parking spots can be expensive and hard to come by! If you're headed into Dallas for a concert or a basketball game, or if you're headed to Denton to experience the charm of the square, skip trying to find a place to park by taking our A-train. It can also save you from buying a campus parking pass as we have Denton and Lewisville Connect Bus routes that go to UNT and TWU and shuttles that go to NCTC. Also, all our train stations offer free parking for passengers!
Let us know in the comment section below where you plan to explore with our A-train!
---
Sign up for Updates
"*" indicates required fields