News to Use
UPDATE: Easy-to-Follow Steps to Use DCTA's Uber Discount Program in Highland Village
November 16, 2016
We want to make it easier for our passengers to get around Highland Village and have partnered with Uber to provide more transit options for those traveling within the designated Highland Village Zone. For this discount program, we're offering a $2 discount for rides in the DCTA view on the Uber app. If you request a ride through the Uber app that starts and ends within the Highland Village Zone (including the Medical Center of Lewisville), between Monday and Friday, from 5:30 a.m. – 7 p.m., a $2 discount will automatically be applied to the individual's total at the end of their trip.
DISCOUNT PROGRAM ZONE EXPANSION (UPDATE)
In May 2017, We expanded our Uber partnership in Highland Village by providing discounted trips to new areas in North Lewisville. The expanded zone includes additional medical facilities and employment centers around Medical City Lewisville. It also includes areas east of Interstate 35E that contain additional office and industrial areas not currently served by our Lewisville Connect Bus routes.
Our Uber Discount Program specifics will remain the same, including the $2 discount for trips that begin and end within the newly defined Uber Discount Program Zone.
This is a great deal to utilize! Planning to use it soon? We've got some easy step-by-step instructions for you to follow to take advantage of this new discount program:
Step 1: Be in the Designated Highland Village Zone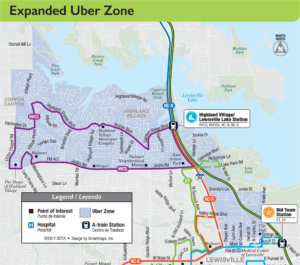 The DCTA discount is only valid on trips that are taken within the Highland Village Zone (including the Medical City of Lewisville). The Uber app will automatically set your pickup location when you open the app. Once you confirm your pickup location, you will be prompted to enter your destination into the app. Both your pickup location and your destination must also be within the Highland Village Zone for the discount to apply. If the pickup location, or destination, is not within the Highland Village Zone, the discount will not apply to your ride.
Step 2: Select the DCTA Discount Option

Once you have entered a valid pickup location and destination, you will scroll to the "Economy" section of the app and tap the icon labeled "DCTA" to selct the discounted ride. Your estimated fare for the discounted ride and the estimated time for pickup are provided for you to review before requesting your ride.
Step 3: Request Your Discounted Ride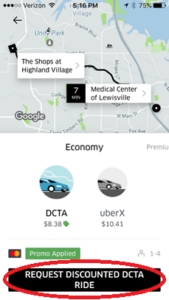 If you are ready to request your ride, tap the "Request Discounted DCTA Ride" button on the bottom of your screen. When you are matched with a driver, you will see an updated estimate for the pickup time appear on your screen, along with information about your driver and their vehicle. If at anytime you wish to connect with your driver, you can call or text them by selecting "Contact" in the driver's details.
Step 4: Take Your Discounted Trip

Once your driver arrives at your pickup location and the trip begins, the Uber app will display your trip route and estimated time of arrival to your destination.
Step 5: Confirm DCTA Discount

After the trip concludes, you will be prompted to rate your drive and can then view your receipt in the Uber app. You can also view the receipt in an email sent to the email address associated with your Uber account. If the trip started and ended within the Highland Village Zone (including Medical City Lewisville), a $2 discount on the total trip bill will be reflected on your receipt.
FRIENDLY REMINDER: This discount program applies to Uber trips only. No additional discounts will be offered on any DCTA bus or train services.
As the pilot program grows, DCTA hopes to expand it in more communities. If you've used the new discount program, we'd love to hear your feedback! Tell us your thoughts in the comment section below and/or through our GORequest customer tool.
---
Sign up for Updates
"*" indicates required fields