Fun Things To Do
Fall in Love with Fall: Fun Things to Do in September
September 3, 2019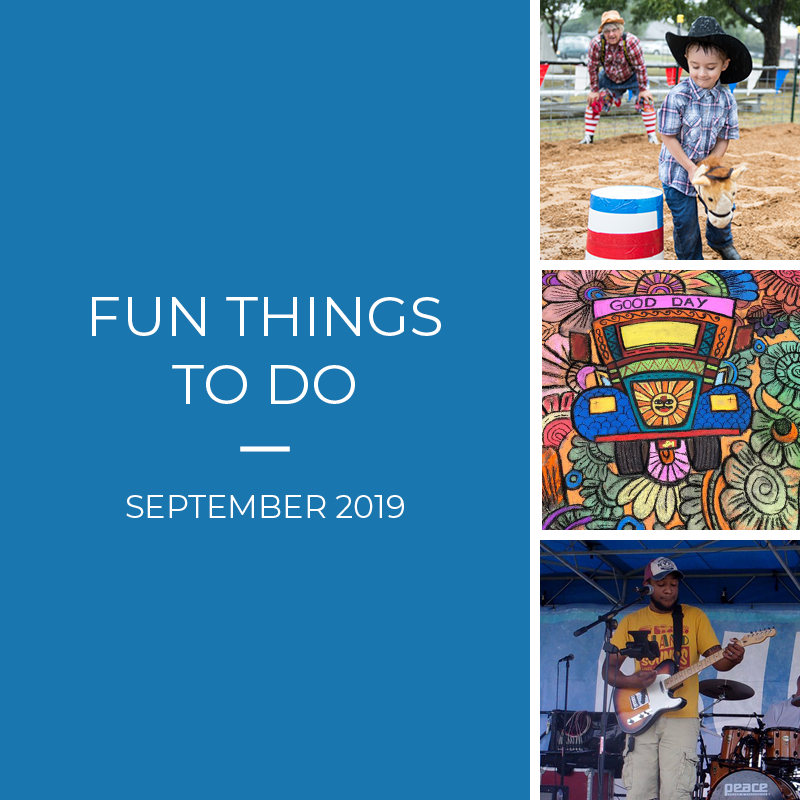 Students are back to school, the Pumpkin Spice latte is back at Starbucks and the stores are stocked with fall decorations which means it must be September! As temperatures (hopefully) lower, make plans to get out and make the most of the season with friends and family. From festivals, car shows and more, it's easy to #RideDCTA to all of this month's great activities.
First Friday's in Old Town Lewisville
Celebrate local vendors in the beautiful historic district of Old Town Lewisville! Join the Main and Mill Association for First Friday's from 6 p.m. to 10 p.m. on Friday, September 6, for good food, shopping deals and live entertainment and art for all ages. Admission and parking are FREE! To get to Wayne Ferguson Plaza and Main Street, ride our Lewisville Connect Route 22. For more information, visit mainandmillassociation.com/first-fridays.
First Friday's in Denton
Experience Denton's unique and beautiful art scene at First Friday's Denton. On Friday, September 6, businesses on the Downtown Denton Square will have a variety of events and activities such as crafts, live music, shopping deals, fun games and more. There will also be a petting zoo! To get there, ride our Denton Connect Routes 7 and 8. Most activities will begin at 6 p.m. and end at either 9 p.m. or 10 p.m. For more information, visit discoverdenton.com/event/first-friday-denton-9/?instance_id=125250.
20th Annual Arts & Auto in Downtown Denton
Rev up those engines at the 20th Annual Arts & Auto show! Join the Denton Main Street Association on Saturday, September 14, from 9 a.m. to 3 p.m. around the downtown Denton square to check out hot rods, classic and custom cars, trucks and even motorcycles – all for FREE! Hop on our A-train and ride to our Downtown Denton Transit Center (DDTC) for easy access to the event without the parking hassle. For more information, visit dentonmainstreet.org/arts-and-autos.
Denton Blues Fest
Fill your heart and soul with the smooth sound of blues at the free Denton Blues Fest! Enjoy blues acts, kid-friendly activities, arts and crafts, delicious festival food and more from Friday, September 21, to Sunday, September 22, in Quakertown Park. Ride Denton Connect Routes 5 and 6 to get there! Visit dentonblackchamberonline.org/ for schedule information.
NOTE: DCTA does not operate services on Sundays.
Lewisville Western Days
Strap on those boots and practice your two-step because Lewisville Western Days is back for another year! This weekend event brings together the best of Texas and celebrates the businesses and people that live here. The festival will take place at Wayne Ferguson Plaza on Friday, September 27, from 5 p.m. to 11:30 p.m. and Saturday, September 28 from 10 a.m. to 11:30 p.m. This event is free before 7 p.m. and $10 after 7 p.m. You don't even need to find parking (stay tuned for an announcement about our free shuttle service that will be running throughout the event)! For more information and a schedule of events, visit lewisvillewesterndays.com.
Yoga in The Plaza in Old Town Lewisville
Did you know September is National Yoga Month? Celebrate the relaxing way! Unwind and relax every Wednesday in September at Yoga in the Plaza in with Blue Anjou Studio. All skill levels are welcome to attend this FREE event, which starts at 6 p.m. Don't forget your yoga mat, a towel and a bottle of water! To get to Wayne Ferguson Plaza, ride our Lewisville Connect Route and 22. For more information, visit blueanjou.com/.
Denton Community Market
Enjoy the hidden gem of North Texas and head over to the Denton Community Market! This producer-only farmer's market is held every Saturday in September from 8 a.m. to 12 p.m. Come together for FREE to find fresh produce, handmade jewelry and unique art— there's something for everyone in the family! To get there, ride our Denton Connect Routes 7 and 8. For more information, visit dentoncommunitymarket.com/.
What is your favorite event this month? Which ones do you plan to attend? Let us know in the comment section below!
---
Sign up for Updates
"*" indicates required fields