News to Use
Getting There Is a Piece of [funnel] Cake!
September 16, 2016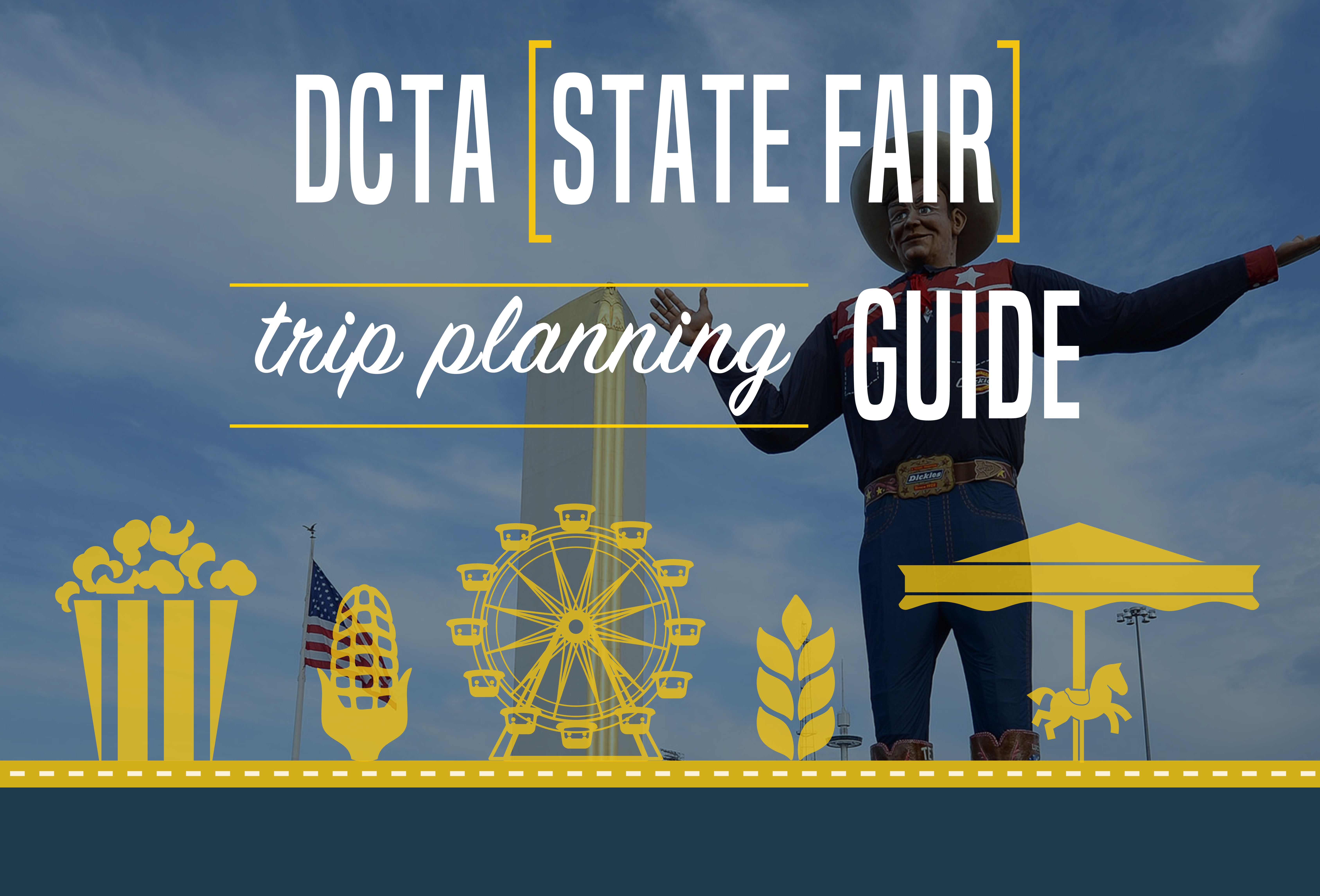 Munching on a sweet and tasty funnel cake in the sunshine as you wander the midway – what could be more fun than a day at the State Fair of Texas? Well, imagine wandering around the fairgrounds and relaxed because you rode the A-train instead of driving on I-35E and paying for parking. It's a nice picture, huh?
Many of us will make our way down to Fair Park at some point this October (and maybe the most adventurous of us will go on opening day). But wouldn't it be nice if you could do it for less? See how DCTA can make your adventure just a little smoother, save time and keep extra cash in your pocket!
HOW TO GET THERE
Never used public transit before? Look no further than DCTA's State Fair Planning Toolkit to find helpful fair travel tips, DCTA schedules, fun facts, and great discounts.
Getting to the fair using DCTA is simple! Just purchase a Regional Pass, hop on the A-train, and connect with the Dallas Area Rapid Transit (DART) Green Line to go all the way to the Fair Park gate. A regional pass is just $10 for adults, and there are reduced passes available for seniors (65+), disabled, Medicare cardholders and students ages five through 18 (students over the age of 14 require a valid high school or DCTA issued ID).
EXPANDED A-TRAIN SERVICE
We've expanded our A-train service and even added extra trains on Friday nights and all day Saturday to help you get there and back without a problem. But while that might be the start of your fair day, it's not the start of your fair planning. Don't forget – the A-train does not meet every DART Green Line train so plan accordingly.
#DCTAFAIRFUN PHOTO CONTEST
We know you're probably going to take a selfie with Big Tex anyway, so make sure you enter your photo in our #DCTAFairFun photo contest for a chance to win a $50 Visa gift card and DCTA swag!
Whatever you're trying to do with your day at the fair, DCTA has got you covered! Need more convincing? Check out our State Fair video!
---
Sign up for Updates
"*" indicates required fields