Fun Things To Do
Gingerbread, Presents and Santa…Oh my! Fun Things to Do in December
December 3, 2018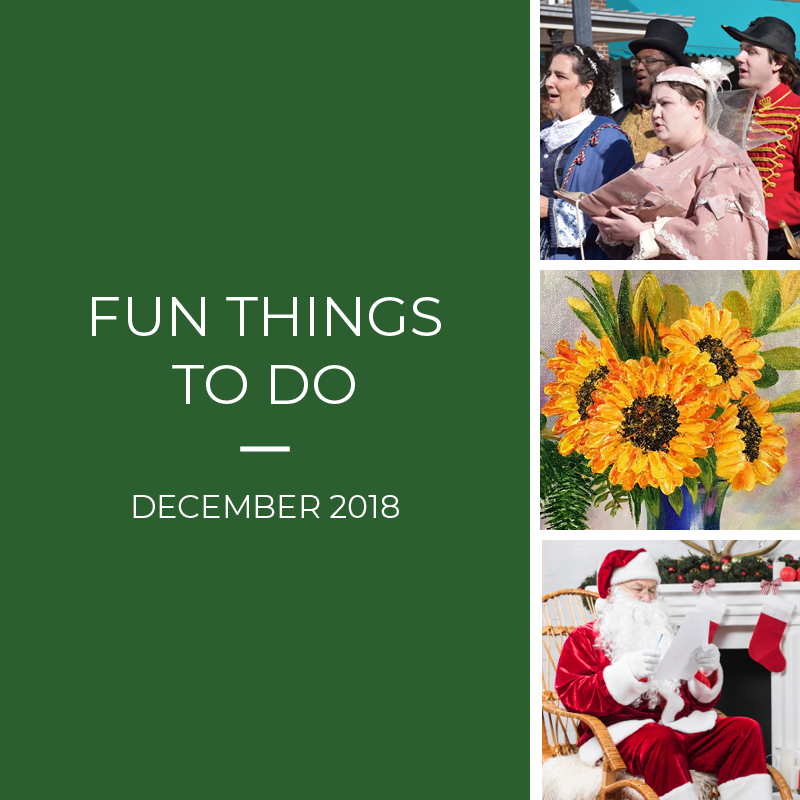 Are visions of sugar plums dancing in your head? Are you randomly breaking out into "Jingle Bells" or "Santa Claus is coming to Town?" Well, you're in luck because it's finally December – which means holiday cheer and traditions!
The holidays are a time to celebrate and make memories with your family and friends, so what better way to do that than taking part in all the holiday fun and events in Denton County? Take a look to see which event you can get to by ho-ho-hoping onto our services!
Yoga on the Plaza in Old Town Lewisville
With all the events and treats that come with the holiday season, sometimes it's hard to find a time to exercise! Attending the FREE yoga session at Wayne Ferguson Plaza every Wednesday for an hour gives you the opportunity to take a break and focus on you and your health! From 6 to 7 p.m. every Wednesday in December (when the weather permits), bring your mat and take part in Blue Anjou Studio's weekly teacher-led yoga class for the community. You don't need to be an expert to participate — just ride Lewisville Connect Route 22 to get in on the fun! For more information, visit blueanjou.com.
The Gift of Art Christmas Art Show in Lewisville
Who wants cookie-cutter art pieces from a big-box store when you could support local artists at the same cost? The Gift of Art is a holiday art sale geared toward purchasing artwork from North Texas artists. Artists submit pieces for consideration for this annual exhibit, and all pieces are meant to be valued below $300. Every day from December 1 to 29 from 10 a.m. to 5 p.m. at the MCL Grand, walk around this FREE gallery – and if you've fallen in love with a piece, you could even take it home! Ride Lewisville Connect Route 22 to explore the exhibit as much as you want throughout the month. For more information, visit mclgrand.com/the-arts/mcl-grand-art-gallery.
Holiday Stroll in Old Town Lewisville
What better way to kick off December than with Christmas lights, a parade, shopping, midway attractions, and a movie under the starts than at the Holiday Stroll in Old Town Lewisville! Join hundreds of North Texas residents on Saturday, December 1, from 8 a.m. to 9 p.m. at Wayne Ferguson Plaza as they kick off December in the most spirited way at this FREE event. Take a ride on Lewisville Connect Route 22 to get to the event. (PLEASE NOTE: Lewisville Connect Route 22 stops running at 6:30 p.m., but our Old Town station is within walking distance). For more information, visit cityoflewisville.com/about-us/city-departments/community-relations-tourism/special-events-festivals/holiday-stroll.
Zera Coffee Christmas Craft Fair in Denton
Grab a cup of hot cocoa and get ready to do some Christmas shopping at the second annual Zera Coffee Christmas Craft Fair! Take a break from the hustle and bustle of department store shopping and clear your online carts to go support local artists, crafters and more at this fun event! Get your holiday shopping done on Saturday, December 1, from 10 a.m. to 4 p.m. at Zera Coffee (located at 420 E. McKinney Street Suite 106) by riding either Denton Connect Routes 5, 6 or 7! Entry is FREE – only pay for your amazing finds and delicious coffee! For more information, visit .facebook.com/events/147379156217553/.
Yule Ball in Denton
Whether you are a fan of Harry Potter or would just love an excuse to dress up, the most magical event of the year comes to life in December. The Yule Ball is an event that has everything from crafting stations to food served by Alamo Drafthouse, Gnome Cones and more. This event is not only a way to celebrate a beloved classic, but it is also the perfect opportunity to support the community with other Potterheads. Get your fancy clothes on and make your way to the ball on Saturday, December 15, from 7 to 11 p.m., but don't forget to buy your $25 ticket for entry. Ride the A-train to the Downtown Denton Transit Center (DDTC) and take a quick walk to the Greater Denton Arts Council to get to this marvelous party! For more information, visit facebook.com/events/340722576734230/.
Santa Routes in Highland Village
Remember that song you had stuck in your head earlier? Well, Santa Claus is coming to town…a little early! Join the Highland Village Fire Department all week as they escort Santa through the neighborhoods of Highland Village. Every day from Sunday, December 16 to Friday, December 21, from 6 to 8:30 p.m., hop into a Lyft car and use our Highland Village Lyft discount so you can drive around and be on the lookout for Santa (just know that if an emergency call is received, Santa will return as quickly as he can and continue his route)! He is hitting a different spot every day, so check here to see what neighborhoods he'll swing by each day! For more information, visit highlandvillage.org/Calendar.aspx?EID=1340&month=12&year=2018&day=17&calType=0.
What event will you #RideDCTA to this month? Let us know in the comment section below!
---
Sign up for Updates
"*" indicates required fields