Fun Things To Do
Jingle Bells and Christmas Carols: Fun Things to Do in December
December 1, 2017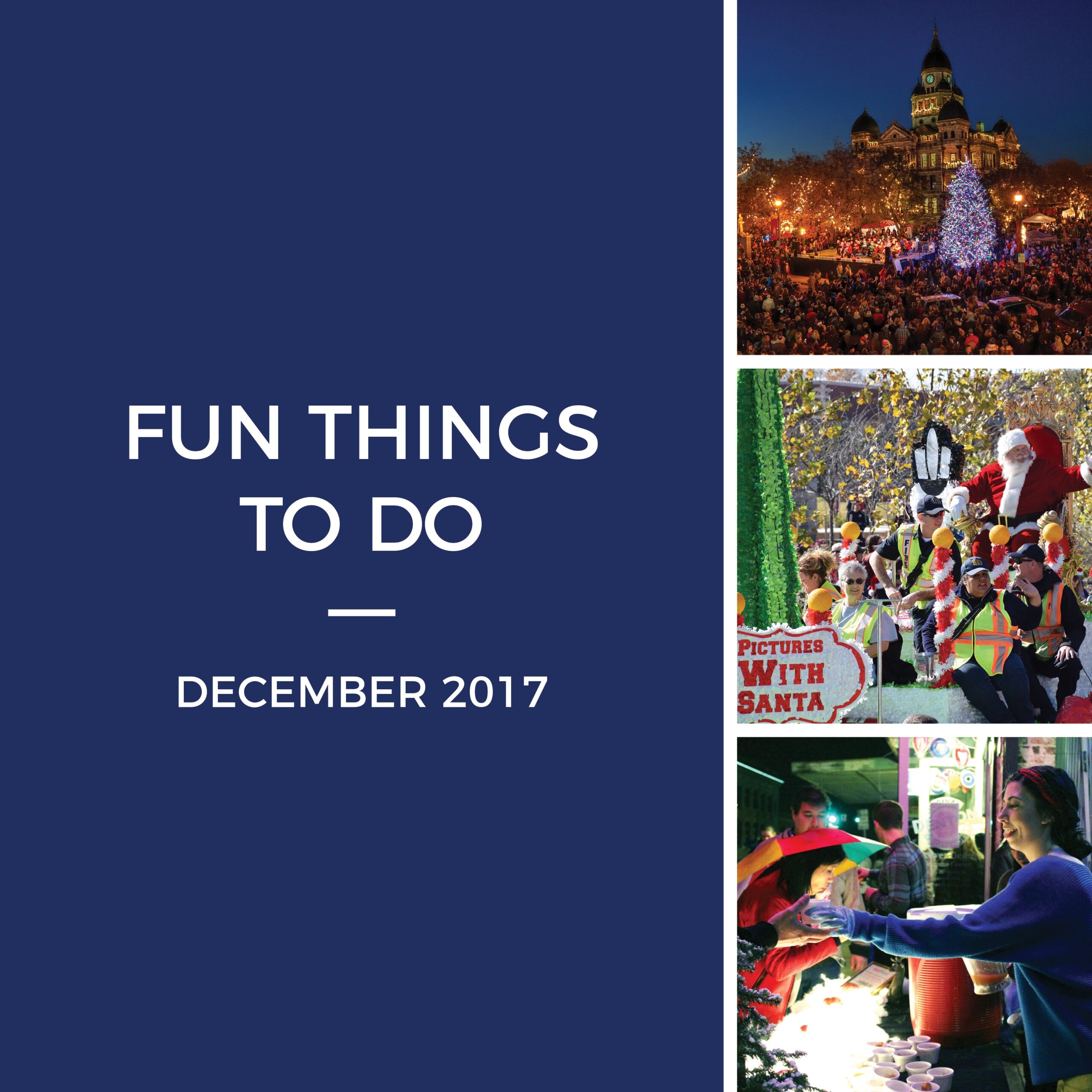 Bells will be ringing and Santa Claus will be coming to town all throughout the month of December in Denton County. Whether you're looking for a night full of taste testing hot apple cider or shopping for the perfect stocking stuffer, December has no shortage of holiday parades, tree lightings, shopping events and cheery carolers. See how DCTA can get you to all of these fun and festive events!
Holiday Carolers, Characters and Carriages in Highland Village
What's holiday shopping without carols and Christmas spirit? The Shops at Highland Village will have groups of carolers, holiday characters, photos with Santa and horse drawn carriage rides happening throughout the Shops every weekend during December. Take our Highland Village Shuttle on Fridays to get to the Shops and stay entertained throughout their extended holiday hours of 9 p.m. (PLEASE NOTE: The Highland Village Shuttle does not run on Saturday or Sunday). For more information on other events happening at the Shops, visit theshopsathighlandvillage.com/holiday/.
Denton Holiday Lighting Festival
For 29 years, the Denton Holiday Lighting Festival has blocked off the streets of the downtown Square to celebrate the kick-off of the holiday season. From the tree lighting on the Courthouse Lawn to the choirs that sing in the streets, this festival is sure to get you in the holiday spirit. The free event will be held from 5:30 p.m. to 9:30 p.m. on Friday, December 1. You can tell our rail and bus operators the secret code word "JINGLE BELLS" to ride the A-train and Connect buses to the event for free! For more information, visit dentonholidaylighting.com/.
Wassail Weekend in Denton
What's better than taking in all of the beautiful sights at the Holiday Lighting Festival? Doing it while drinking an array of wassail! Merchants on and around the Square will be brewing up their best batch of hot cider, competing to earn the title of Wassail King or Queen. The free event will take place on Friday, December 1, from 5:30 p.m. to 8 p.m. and Saturday, December 2, from 1 p.m. to 4 p.m. throughout the Square. You use the code word "JINGLE BELLS" on Friday to ride for free and can ride Denton Connect Routes 7 and 8 to get to all the wassail spots. For more information about participating merchants and ways to vote, visit dentonmainstreet.org/wassail-weekend.
Lewisville Christmas Parade
Whether you're wanting to have breakfast with Santa, look at motorcycles or wave at parade floats, the Lewisville Christmas Parade celebrates the fun, festive spirit of the holidays. Lewisville Main Street will host its annual Christmas Parade at 8 a.m. on Saturday, December 2. The free event will host a variety of activities and events for families all around North Texas. Take Route 22 to get to the Parade, and found out more information at cityoflewisville.com/Home/Components/Calendar/Event/20748/22?curm=12&cury=2017.
Dan's Winter Market in Denton
From unique jewelry and stained glass to paintings and handmade candles, Dan's Silver Leaf is bringing in a variety of local artists and craftsmen together for Dan's Winter Market. The market will be held from 1 p.m. to 5 p.m. on Saturday, December 9, at 103 Industrial St. in Denton. Denton Connect Routes 7 and 8 will take you right by Dan's. For more information, visit facebook.com/events/124385224923861.
Denton Community Market's Holiday Indoor Market
Do you need some last minute gifts for your holiday celebration? The Denton Community Market is hosting its first Holiday Indoor Market full of local gifts and treats just in time for the holidays. The market will take place from 5 p.m. to 9 p.m. on Thursday, December 14, at the Patterson-Appleton Arts Center. Denton Connect Routes 7 and 8 can get you to the market. For more information, visit dentoncommunitymarket.com/event/winter-holiday-market/.
Let us know in the comment section which events you plan to attend!
---
Sign up for Updates
"*" indicates required fields