Rider Tips
Know the Rider Code
August 29, 2016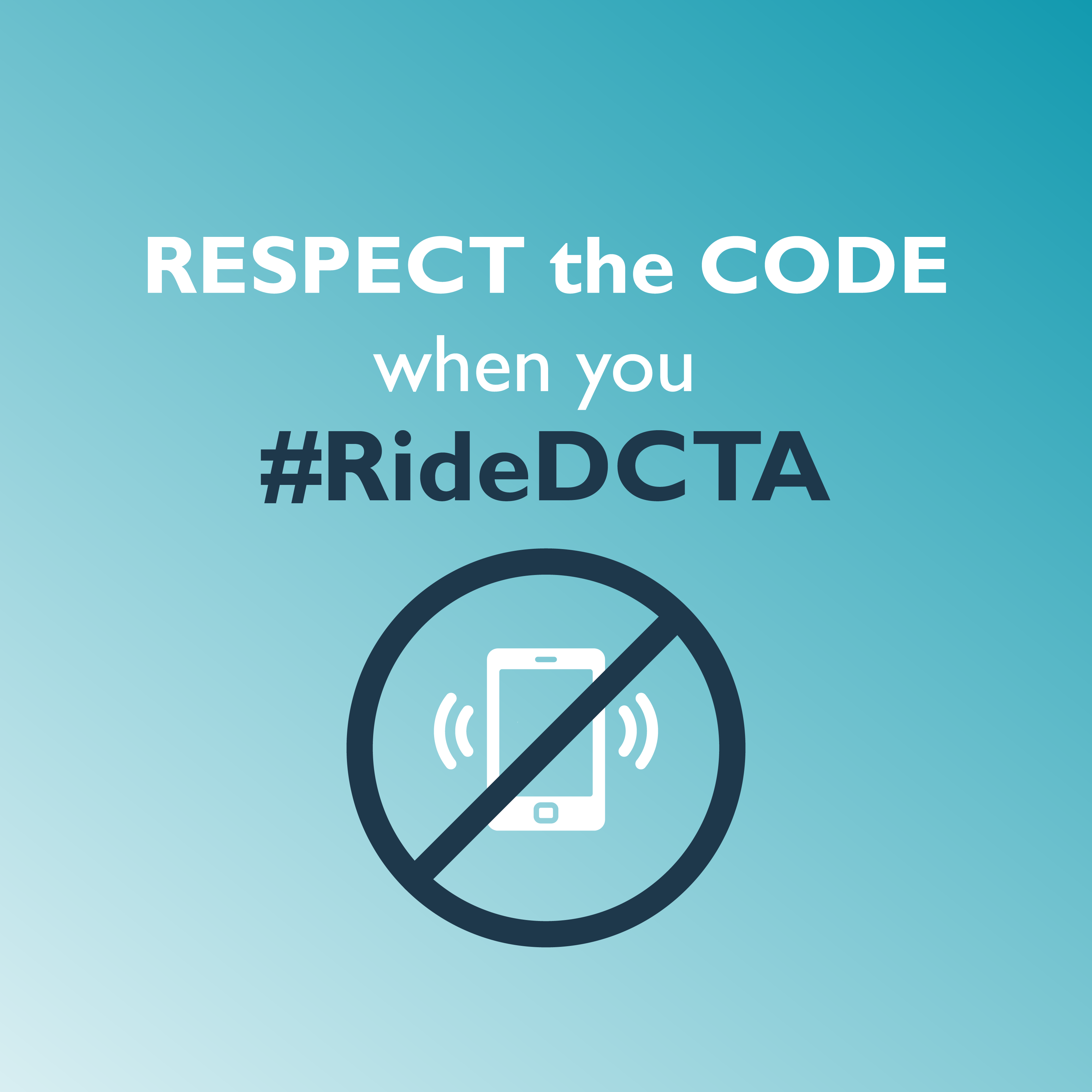 No one likes rules or having people tell them what to do. We get it. But it's also true that no one enjoys having their commute disrupted by noisy, rude, or just plain obscene behavior. It's important to be aware of others while riding DCTA, so we have established a Rider Code of Conduct to help ensure the safety, security, comfort and convenience for all who use DCTA vehicles and facilities. Set an example by being the kind of passenger you would like to ride with by following these simple rules:
Be considerate:
Offer seats to those who many need them
Turn off cell phone ringers and speak at a low volume if you must take a call
Use headphones when listening to electronic devices
Keep your feet off the seats of DCTA vehicles
Refrain from the use of profanity and disruptive or threatening behavior
Only service animals are allowed on DCTA vehicles
Be appropriate:
Shirts and shoes are required
Do not distract the driver or operator of your vehicle
Consumption of any alcoholic beverage or possession of an open container of any alcoholic beverage on DCTA property is strictly prohibited (non-alcoholic beverages are permitted when in a spill proof or screw top container)
Eating on DCTA vehicles is not permitted unless medically necessary
Smoking or chewing tobacco in any form, including electronic cigarettes or vaporizers, is prohibited on DCTA platforms, bus stops, vehicles or facilities
Be safe:
DCTA does not allow unlawfully carried handguns, weapons, or any other items intended for use as a weapon in or on any DCTA facility or vehicle
Explosives, car batteries, flammable liquids, or other materials considered hazardous by the U.S. Department of Transportation are not allowed in or on any DCTA facility or vehicle, except as authorized by DCTA
Report any unusual packages or suspicious activity to authorities or DCTA personnel.
Call 911 to report any emergencies
At DCTA, we want to make sure you have an enjoyable experience while you are getting where you need to go. When in doubt, use the Golden Rule. Or ask your driver – they are there to help. Together, we can follow DCTA's Rider Code of Conduct and make everyone's ride pleasant and safe.
---
Sign up for Updates
"*" indicates required fields