Fun Things To Do
Lucky You – Fun Things to do in March!
March 1, 2018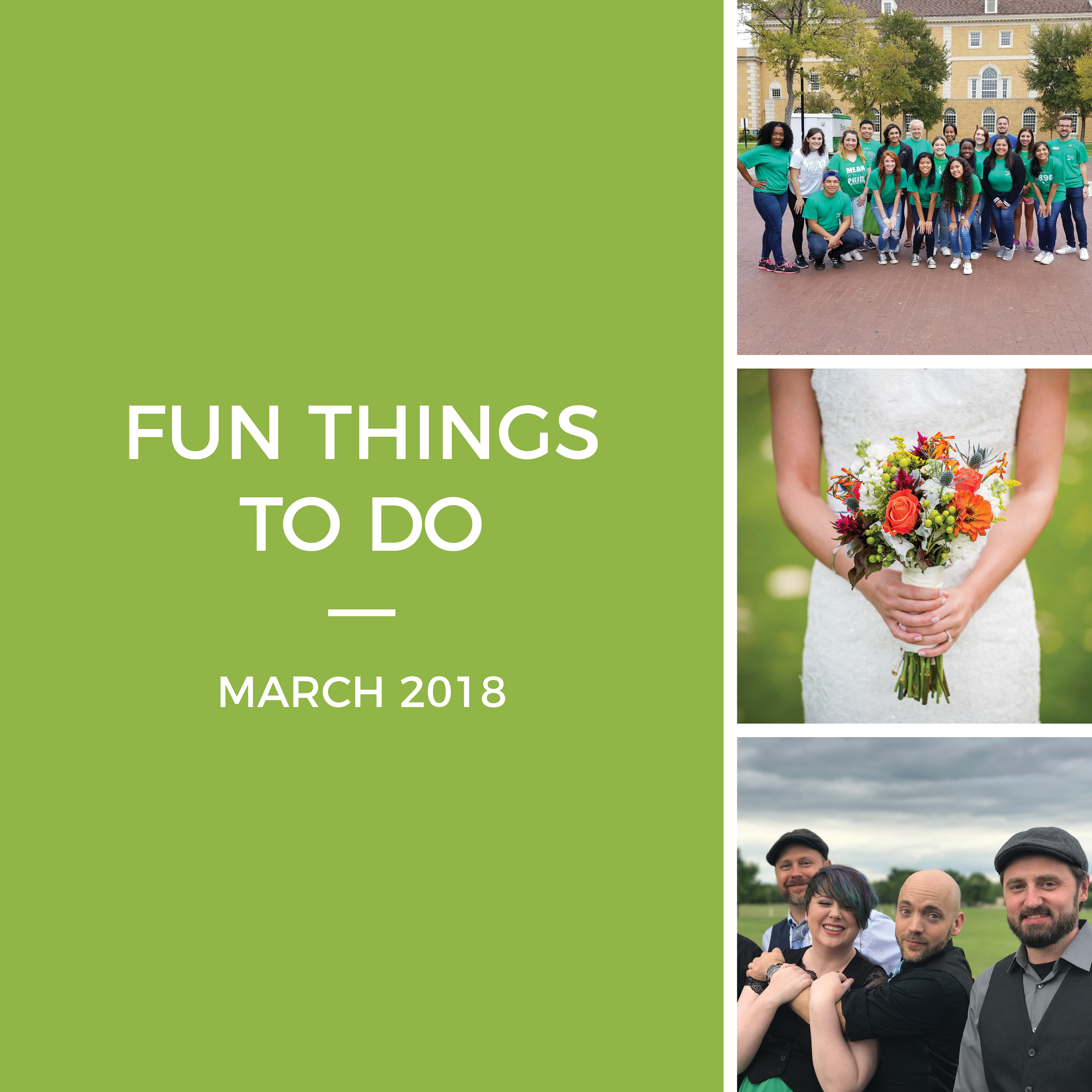 Between St. Paddy's day, spring break and the start of spring, Denton County has an abundance of fun and unique events happening in March. From concerts and festivals to giving back and getting hitched, here's how we can get you to all these fun events.
Union Fest at UNT
Spring semester can be tough, but the University of North Texas (UNT) Union has a way to help you push past senioritis and midterms! Union Fest at UNT is a day full of fun activities, freebies and surprises for UNT students. The FREE festivities (with student ID) will be on Wednesday, March 7, and will go from 8 a.m. to 8 p.m.  While you're riding Denton Connect Routes 7 and 8 to get to class, make sure to stop by the Union to see what surprises are in store. For more information, visit studentaffairs.unt.edu/university-union/union-fest.
Texas Storytelling Festival in Denton
Whether it's for educational purposes, entertainment or tradition, stories have been passed down for thousands of years. The 33rd Texas Storytelling Festival celebrates the stories we have lived through and dreamed of. The festival provides opportunities to listen to storytellers, master classes, workshops and more to get your imagination going. It will take place during various times from Thursday, March 8, to Sunday, March 11, at the Denton Civic Center. Take the A-train to the Downtown Denton Transit Center (DDTC) and transfer Denton Connect Routes 7 and 8. If you're local, just take the bus routes. (PLEASE NOTE: DCTA does not run service on Sundays, and the Connect Bus service ends around 6 p.m. on weekends). For more information and specifics on the schedule, visit tejasstorytelling.com/festival/index.html.
Texas Tunes: Josh Grider Band
A new month means a new musician performing for the Texas Tunes series! The Josh Grider Band is known for its catchy and upbeat takes on country tunes with songs like "Good People" and "You Dream I'll Drive." The concert starts at 8 p.m. on Saturday, March 10, at the MCL Grand Theatre. Tier 1 seats are $30 and Tier 2 seats are $20 with a special day-of rate of $15 for Lewisville residents (based on availability). Don't worry about driving to the show – take the A-train to Old Town Station for a quick and easy way to enjoy the concert without worrying about parking. For more information, visit mclgrand.com/performances/mcl-grand-presents/texas-tunes.
St. Paddy's Texas Style in Lewisville
Feel the luck of the Irish with a Texas twist this St. Paddy's Day! Make plans to visit Wayne Ferguson Plaza on Saturday, March 17, from 2 p.m. to 10 p.m. for a day full of music, carnival activities, zip lines, Irish food and drinks and a movie. Who knows, you may even find a pot of gold! Don't forget to put on your best green attire before boarding Lewisville Connect Route 22 bus (service ends at 6 p.m.). Don't live in Lewisville? Take the A-train to our Old Town Station and take a short stroll to all the "green" festivities. For more information on this FREE event, visit facebook.com/events/526944904347129/.
The Big Fake Wedding in Highland Village
We're going to the chapel, and we're going to get…fake married! The Big Fake Wedding is making its way to Highland Village to give hand selected vendors the ability to perform their services as they would at a real wedding but without the pressures of bridal shows. While vendors showcase their stuff, attendees can try great food, dance, listen to music and experiences surprises just as they would at a real wedding.  Make sure to "RSVP" and purchase a $25 ticket to save your seat. The Big Fake Wedding is Wednesday, March 21, from 6:30 p.m. to 9 p.m. at Hidden Pines Chapel (2380 Nelson Parkway). Take the Highland Village Connect Shuttle to get to this night full of fun and love. For more information, visit thebigfakewedding.com/rsvp/dallas-7/.
UNT's BIG Event 2018
UNT's largest day of community service is back! The BIG Event is a day full of giving back to the city you live in while working with thousands of other people in your community. The BIG Event originally started at Texas A&M University and the passion to give back has spread nationally – especially in Denton. The event is Saturday, March 24, from 7:30 a.m. to 2 p.m. and starts at the UNT Union. Ride Denton Connect Routes 7 and 8 to save your energy before serving and to rest after a full day of service. If you are a UNT student, faculty member, staffer or alumni, visit orgsync.com/89079/forms/308649.
Tell us in the comment section below what events you plan to attend!
---
Sign up for Updates
"*" indicates required fields